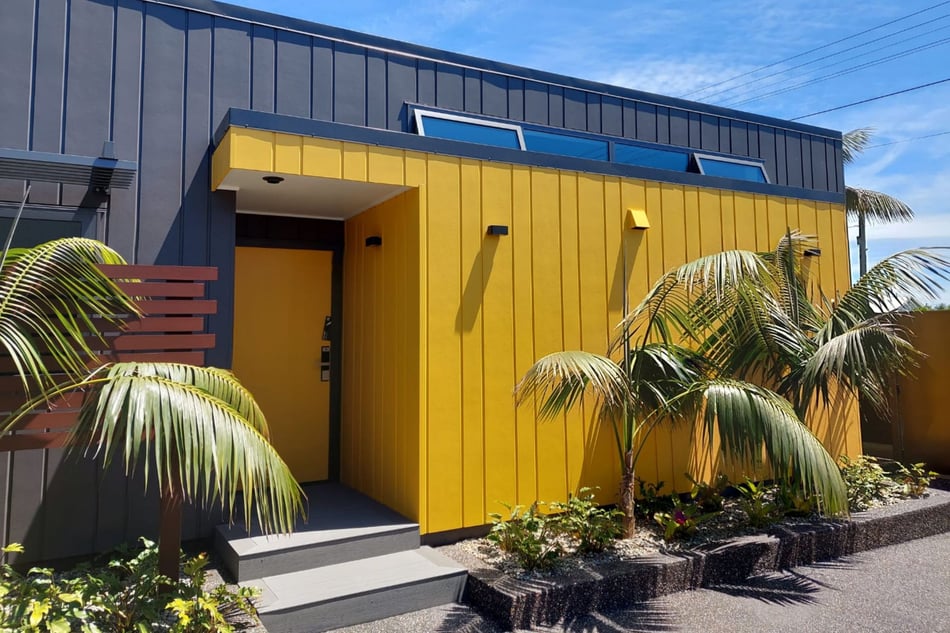 A pop of colour at your front door can help add personality to your home and make an impressive entrance! However, when choosing a finish for your aluminium windows and doors, colour is only one part of the equation. The location of your site will help determine the performance requirements of your surface finish and ensure that the product you choose is fit for purpose. This is particularly important in harsh or exposed environments, such as along the coast.
In this blog, we compare the different surface types and colour options available to help you decide on the right finish for your aluminium joinery.
Powdercoat range and warranty
Powdercoating is a tougher surface finish than conventional paint and withstands New Zealand's often extreme weather conditions. It's a polyester layer that is baked onto the aluminium, creating a finish that is durable, economic and low maintenance, making it a great choice for windows and doors!
As powdercoating is a layer on top of the aluminium, it gives you the freedom to choose from a range of colours. All our aluminium is powdercoated by an approved Interpon powdercoater, therefore you can expect good colour uniformity which gives the aluminium a consistent look throughout your home. There are different ranges of powdercoating available and the best option will depend on your specific site conditions and the longevity required.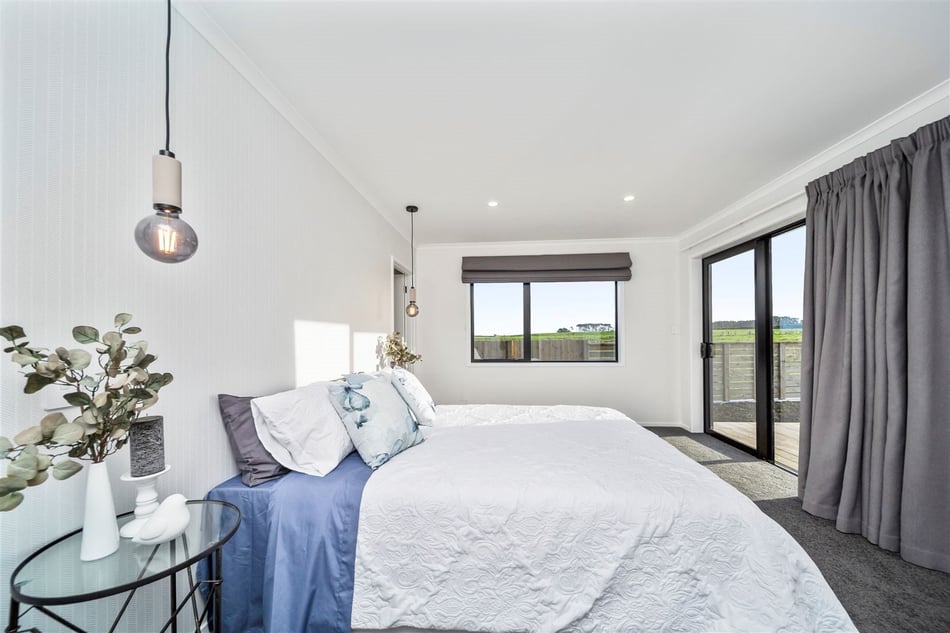 Interpon D1010 Premium - Residential
Interpon D is a warranty-grade powder coatings range engineered specifically for residential aluminium applications. This range includes several coating technologies designed to meet the various AAMA standards requirements and has excellent colour retention. Find out more about Interpon powdercoats here.
This versatile product was formulated for residential developments and light commercial projects that are up to 3 floors from the ground. It is suitable for a broad range of interior and exterior product applications and is a cost-effective solution, making it our most popular powdercoat option! However, as the colour can deteriorate in harsh environments, it is only recommended for properties that are 100m or more from the high tide line, but it does have a 15-year film and colour integrity warranty.
Interpon D1010 Premium - Commercial
The commercial powdercoat range is a high-quality product with excellent colour retention and a hard-wearing finish. It is slightly heavier duty than the residential powder, and also has a 15-year durability warranty for film integrity. It is recommended as an extremely durable coating for aluminium joinery on major architectural developments, including high-end residential and commercial developments and high-rise buildings. It is also suitable in areas where the environment is more exposed than normal. This includes coastal locations, although it would still need to be at least 10m from the high tide line.
Interpon also offer speciality powdercoat ranges for situations where colour retention is absolutely critical, including D2525 Futura. This is an industrial-grade product with advanced powder technology and a 25-year durability warranty. However, as the cost of this range is significantly more expensive, these are rarely used.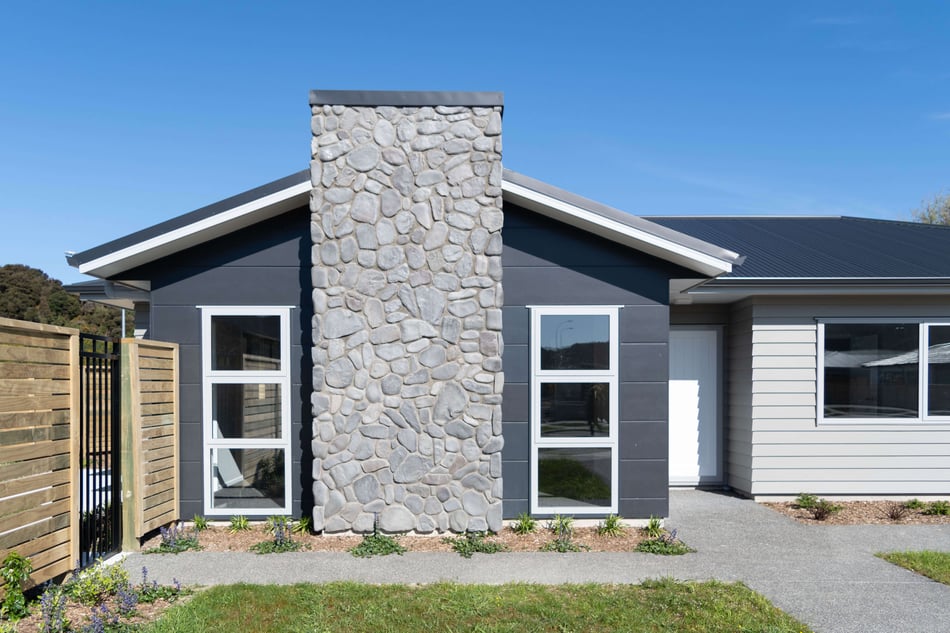 Powdercoat range: Finishing options
There are three different finishes available; Matt, Satin and Textured. Each of these has their own unique advantages and the best option will depend on your aesthetic preference and location of use.
Matt is more scratch resistant and easier to care for, making it the most popular finish choice for both the production team and the customer.
Satin colours have a sleek and modern look, however, are less commonly used as they tend to show marks and fingerprints more and are harder to clean.
The Textured finish is specifically designed for use on entrance doors, as it has a stippled finish which is more durable and assists with hiding surface marks. This finish is also more resistant to scuffing and easier to clean. (Textured finish is sometimes referred to as Mannex finish)
Most Interpon powdercoats are only available in a Matt finish, as they have reduced the range of Satin finish colours as they are less popular and more prone to scratching and scuffing.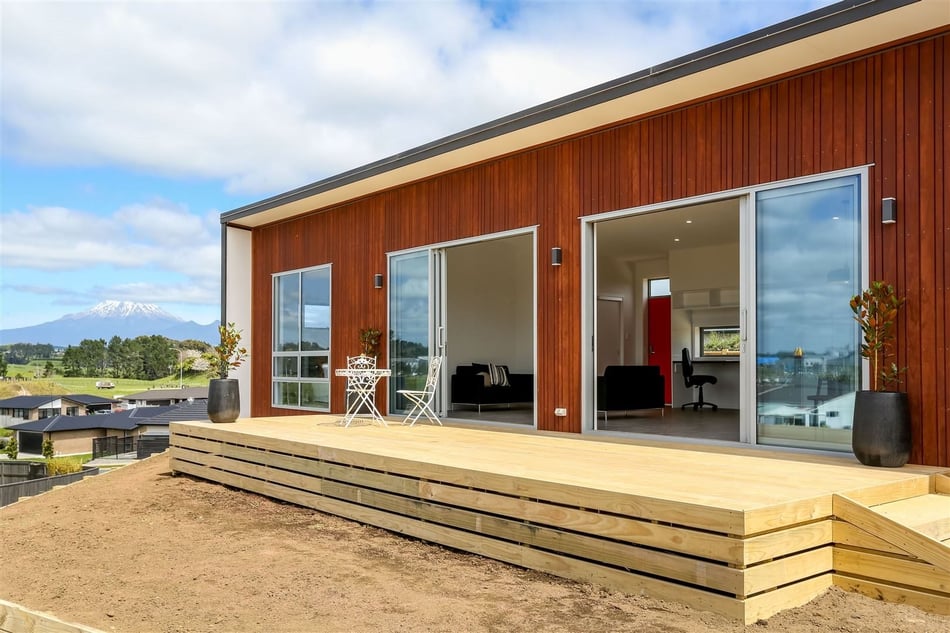 Other finishing options
Andoised is an alternative finish to the favoured powdercoating range. Anodising is a simple electrochemical process that increases the thickness of the natural oxide layer on the surface of the aluminium. The result is a durable, corrosion-resistant film with a satin-look finish that forms a protective layer on the base of the metal. Different measurements of the anodised coating are suitable for different environments, and the thickness and depth can be varied by processing time and application.

It has the advantage of protecting aluminium surfaces from chipping, flaking, peeling or blistering, as the coating becomes part of the metal. Although proven resistant to the New Zealand elements, anodised aluminium tends to be a less popular option due to longer lead times, higher price, and quality concerns as the surface can be affected by acidic pollutants. The anodising finish has a warranty of five years, whereas powdercoating finish warranties start at ten years.
Colour range
There is a wide range of powdercoat colours available to choose from to complement your internal and external colour schemes. You can view our full range of colours here, which include the commonly favourite neutral options, our speciality entrance door range of brights and the woodgrain powdercoat. Our most popular colour options are Matt Black, Matt Appliance White, Silver Pearl, Matt Flaxpod, Matt Grey Friars and Matt Ironsand.

Colour steel coordinates range
When building a new home, you may want to match your roof colour to your windows. Most of our standard colours are also available in the colour steel range, you can view their colours here. If you aren't sure if your coloursteel choice is available for your windows, reach out to us via live chat, phone or email.
Colour fading
When choosing your aluminium joinery, it's important to consider that some colour options will fade over time with U.V exposure. For example, Bunnings stores usually have bright red aluminium joinery, however, at an older branch, this may have faded to pink frames. If you're in an area regularly exposed to the sun, avoid choosing bright colours and opt for a softer alternative. The standard range of Interpon powders have a 15-year Aluminium Colour warranty, offer good colour retention, and are formulated to meet standards AS3715 & AAMA 2603.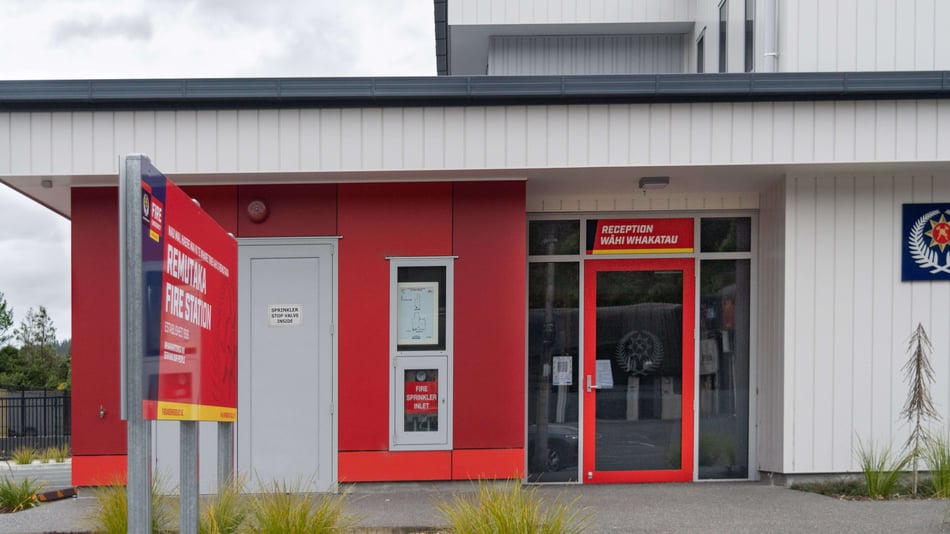 While the colour you select for your aluminium joinery can be based on the aesthetics you are wanting to achieve in the home, it's important to take into consideration the site and environmental conditions when selecting the type of finish to ensure long-term durability.
For more information regarding the surface finish and colour options we have available, please download our latest colour brochure. This is packed with tips that will help you choose the best option for your new aluminium windows and doors.
Download the colour brochure