*This blog post includes the latest information on the NZ Building Code changes announced on 15 July 2022 in regard to the transition period for insulation settings for new housing.
Toward the tail end of 2021, it was announced by the Ministry of Business, Innovation and Employment that the New Zealand Building Code H1 energy efficiency rules would be changing in 2022. The changes announced would be the biggest advancements to the Building Code in over a decade.
These changes, specifically around insulation, will help boost the energy efficiency of homes by reducing the energy needed to heat new homes by up to 40%, resulting in both dramatic energy bill reductions and positive health aspects for Kiwis. The positive environmental impact of these insulation changes will help support the country's efforts in achieving net-zero carbon emissions by 2050 too.
The requirements, which are to be introduced in several stages over the next two years, will vary according to which of the six new climate zones the new home is being built in.
A broad overview of the insulation changes reveals that for all residential buildings (including apartments) and non-residential buildings less than 300m², roofing insulation requirements will almost double and H1/AS1 and H1/VM1 window insulation levels will increase significantly too. Wall insulation requirements will remain relatively unchanged at this stage, due to the supply and design complexities these changes present.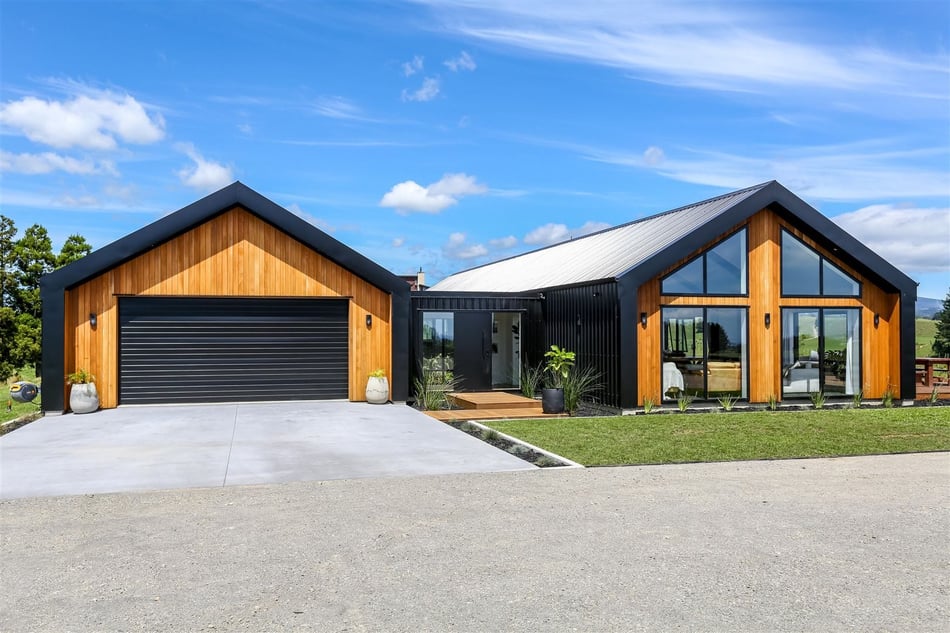 In this article, we focus specifically on window insulation. We cover the changes you need to know about, including how and when these changes will come into effect and what impact they will have on your future projects.
Why is the building code changing?
The Building Code exists as a minimum standard for a range of 8 categories spanning classified uses (A1) to energy efficiency (H1) that all new buildings in New Zealand must comply with. When we compare our standards to other International Energy Agency (IEA) countries around the globe however, New Zealand is lagging behind.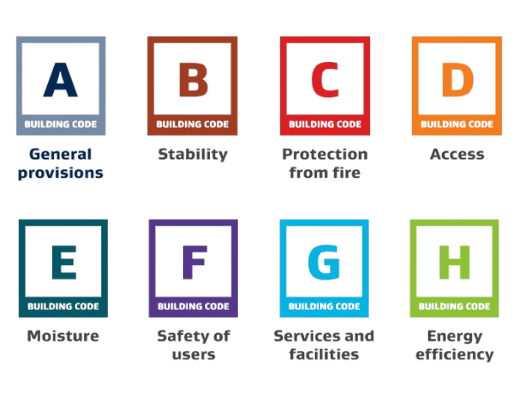 Changes to our Building Code are well overdue. These new insulation changes will help to lift the standard of construction, bringing it closer to other international standards. They'll raise the health of Kiwi homes, boosting the wellbeing of the whānau they house and reduce power bills which overall will be kinder on wallets and gentler to the environment helping make sure our buildings are prepared for the future effects of climate change too.
Future proposed improvements to the New Zealand Building Code are also currently being considered, which include reviewing the interface, or junction, of the windows with the wall cladding, air leakage of the building envelope, and ventilation requirements for healthy homes.
Download DWGS and technical files
When is the building code changing?
The previous Acceptable Solution H1/AS1 Fourth Edition Amendment 4 can be used to show compliance until 2 November 2022 and can be used for building consent applications submitted before 3 November 2022.
The new window insulation requirements in H1/AS1 and H1/VM1 will have an interim approach with the deadline for the final increase varying between regions.
2 November 2022: All parts of the country, climate zones 1-6 will be required to meet the first interim increase (R0.37 for windows) by this deadline.
1 May 2023: The colder parts of the country, climate zones 3-6 will then be required to increase the set minimum standard for their respective zones (R0.46 for zones 3-4 and R0.50 for zones 5-6) over the next 6 months later to meet the final requirements by 1 May 2023.
This deadline was extended from the original deadline of 2 November 2022 in recognition of the pressure this put on the residential construction sector.
3 November 2023: Climate zones 1-2 will be required to meet the final increase of at least R0.46 for windows by this deadline.
How does it affect window insulation?
The new window insulation requirements in H1/AS1 and H1/VM1 will see each climate increase the R-value significantly.
An R-value is essentially a measure of thermal resistance, or the ability to prevent the transfer of heat. The larger the number, the harder that insulation is working at preventing heat conduction. The less heat loss, the lower your energy bills, the warmer your home, and the healthier your family. In warmer climates, the R-value prevents external heat from being transferred into the home, which reduces the need to cool the home in the summer too.
The current R-value minimum requirement is R0.26, which achieves compliance with the use of non-thermal aluminium windows & clear double glazing. The new minimum R-value will vary depending on the climate zone you intend to build in and can be achieved in new homes with various solutions such as heat reflective glass with Low-E coatings, uPVC or timber frames, or aluminium thermally broken window frames.
The country had previously been divided into three climate zones with the Central Plateau and the entire South Island making up zone 3, and Northland and the rest of the North Island spanning zones 1 and 2 respectively. The climate zones have since been reviewed and fine-tuned, dividing the country now into 6 climate zones. See the map below for these zones and continue reading for more information on what the R-Value changes for each of these zones involves.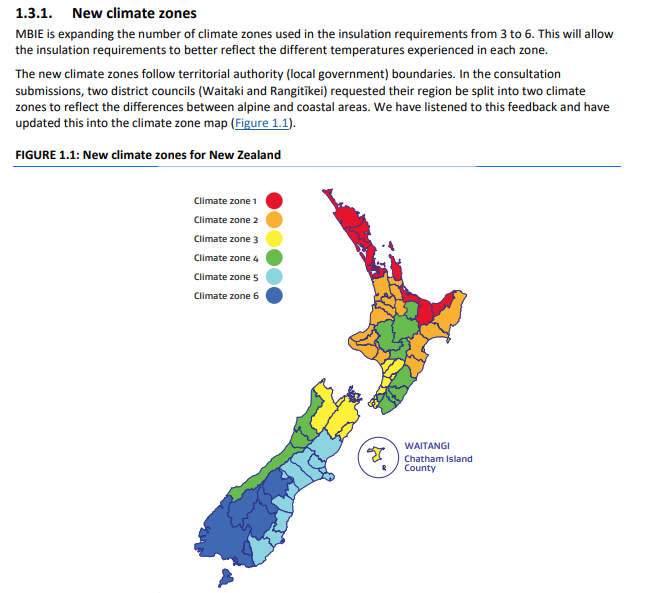 Source: https://www.mbie.govt.nz/dmsdocument/13808-consultation-document-building-code-update-2021
If you are in Zones 1 and 2, you will require R0.46
To comply in Zones 1 and 2, including Northland, Auckland, Coromandel, Bay of Plenty, Hamilton, East Coast and Taranaki, standard non-thermal aluminium frames with argon-filled, double-glazed low-E glass with a thermal spacer between the glass can be used to achieve R0.37.
From November 2023, to meet the second increase of R0.46, thermally broken aluminium frames will need to be used too.
If you are in Zones 3 and 4, you will require R0.46
To comply in Zones 3 and 4, including Manawatu, Horowhenua, Wellington, Nelson, Marlborough, Chatham Islands, Central Plateau, Wairarapa and the West Coast, thermally broken aluminium frames, double-glazed low-E glass with a thermal spacer, such as Viridian Lightbridge or Metro Low E Max will be required to meet R0.46 that will come into effect from 1 May 2023.
If you are in Zones 5 and 6, you will require R0.50
Zones 5 and 6, including Canterbury, Coastal Otago, Inland Otago, Southland and Stewart Island, must meet R0.37 from November 2022 and increase further to R0.50 by May 2023.
To comply with the new standard, thermally broken aluminium frames, with argon-filled, double-glazed high-performance low-E glass such as Viridian Performatech or Metro Low-E Xtreme, with a thermally improved spacer will be needed to achieve R0.50.
Will the building code changes increase the cost of building?
In short, yes. Meeting a higher standard of insulation will naturally come at a higher cost. There remain some discrepancies on what the expected cost increase will be, but regardless of the new upfront cost, it's likely the cost will balance itself out over time. Money saved from energy efficiency gains and the benefits yielded from healthier families, easily counters the increased up-front costs.
Overall, the longevity of homes built to the new standards and the long-term positive impacts on our environment, as well as the health and wellbeing of our whānau and tamariki, make these changes a no-brainer.
The UNO Windows & Doors team are prepared for the upcoming changes and are making the necessary improvements ready to meet these new requirements for our respective regions. Rest assured your project is in safe hands with us.
If you have questions about how the H1 changes could affect you, or your clients' upcoming projects, or you require additional resources surrounding these changes, our team are here to help. Get in touch and we'll supply you with the resources and advice you need.