While windows and doors have many practical purposes, such as security, access and ventilation, they're also used as an element of design, for framing a view, adding personalised features and creating a sense of space and light within your home. Through the use of varying sizes, styles and colours, you can achieve a unique joinery solution that meets your requirements and complements the architecture and surroundings of your living environment.
With the pandemic meaning extra time spent indoors over the past year, the way we see our homes has changed. They're no longer just a place to sleep and eat, but our safe spaces to seek refuge, work, learn and relax, and this has influenced the latest home design innovations. In this blog, we'll cover the top 9 latest popular window and door trends to inspire and guide the design of your new home.
Design trend | Full-height windows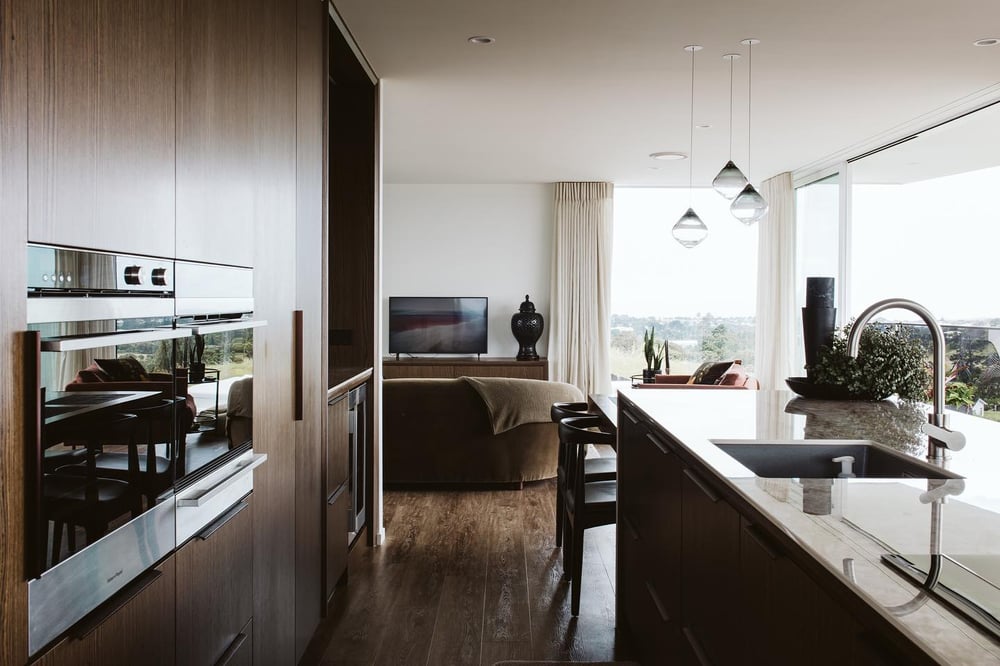 As our desire to connect with the outdoors grows, floor-to-ceiling windows have increased in popularity in new builds recently. These expansive windows are great for framing a view and letting an abundance of natural light into the home. This is accompanied by a movement to 'unplug' from technology, with full height windows proving a great way to take the central focus in a living room away from the TV and into nature. Mirrors can also be used on the opposite walls to extend the outdoor feeling, and light, sheer curtains add textural elements into the interior.

With the most recent technology in glass and aluminium resulting in more energy-efficient windows, you can now add in floor-to-ceiling windows without compromising warmth or chewing through power to keep your inside temperature consistent. Aluminium joinery works well for these larger window units, as it is a strong material that allows for a larger pane of glass with a slimmer, sleeker frame.
Design trend | Seamless entertaining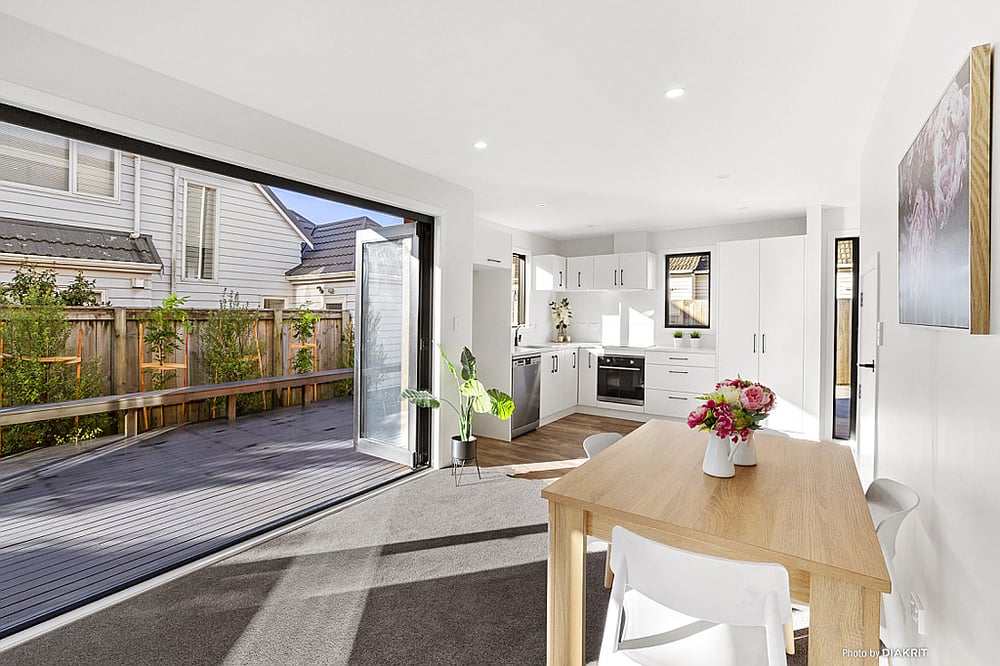 New Zealanders love to entertain and spend quality family time in their backyards, and with the rise in popularity of fire pits, pizza ovens, louvres, and outdoor heaters, there's plenty of options for enhancing your outdoor space to allow for year-round usability. Windows and door solutions that encourage open-plan, social spaces that Kiwis thrive on have been consistently popular over the past few years. These include sliding, bifold, or stacker doors, which connect the living and outdoor spaces and create a seamless flow. Stacker doors allow you to have around two-thirds of the door width open, maximising the available walkthrough area.
Pass-through windows also help to transform modern kitchens, improving the functionality and convenience of entertaining. These bifolding or sliding windows connect the kitchen with the outdoor entertaining area, such as a deck, pool or patio, by creating a service area for drinks and food. Paired with bar stools, you've got the perfect snack break location for the kids, or company at happy hour while you cook.
Design trend | Digital door locks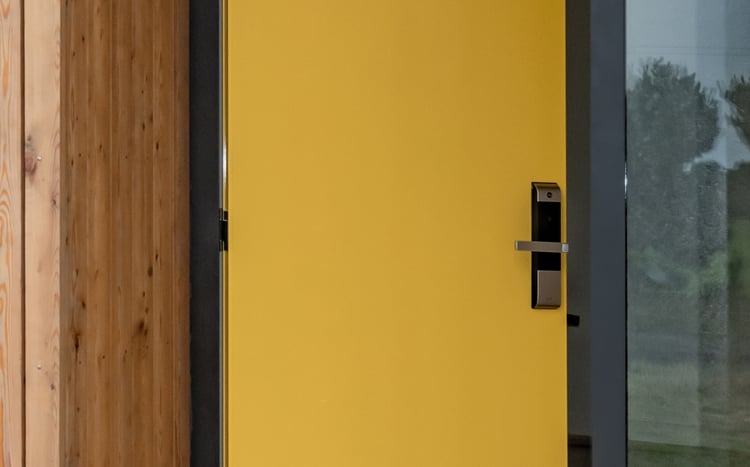 While there's a movement towards creating tech-free zones throughout the home, less obtrusive gadgets that improve convenience while blending into the surrounding decor have also taken off lately. These include heating, blinds and kitchen appliances that can be controlled remotely or are voice-activated, TVs that look like artwork when not in use, or digital assistants such as Alexa and Google Home.
This integrated technology can also apply to your entrance doors, with the use of digital door locks at the primary entry points within the home. These are quickly gaining popularity as they offer a quick, convenient and secure access solution for busy households. They are typically keyless and have Bluetooth capabilities, combining high security with innovative technology. Each will allow you to unlock the door with your smartphone or a PIN code and you can create, manage, track and deactivate digital keys from the app.
Design trend | Inviting outdoor escape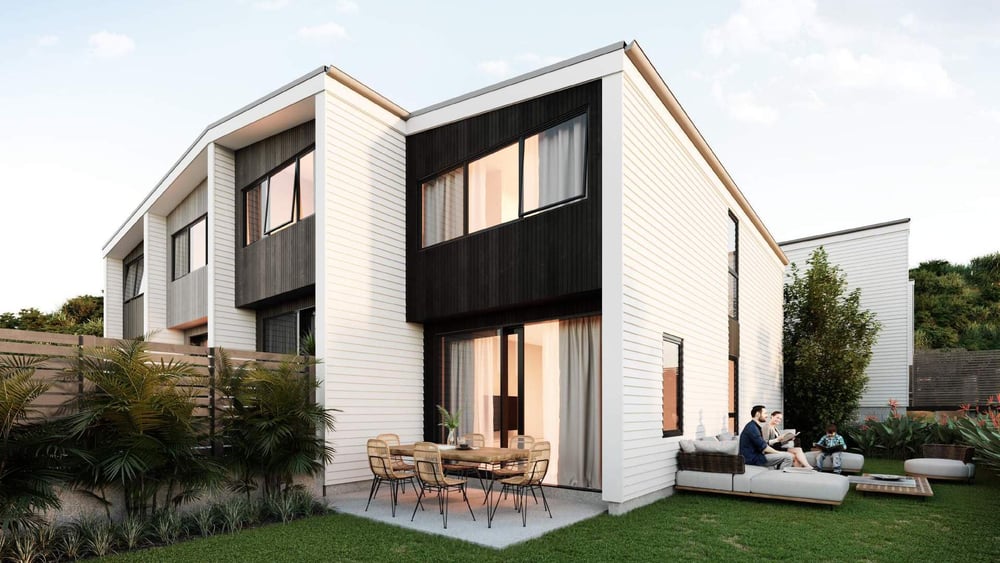 With a focus on mindfulness in recent times, there has been an emphasis on spending time in nature to boost our moods and find a sense of calm. From inner-city balconies to expansive backyard areas, the desire to escape the home and create a private oasis to relax in has become increasingly popular.
Sliding doors are a popular option when you want a spacious feeling, but don't want to increase your home's footprint, as they add more natural light and create a sense of openness without actually adding space. Adding a sliding door onto a small patio or balcony area from the master bedroom helps to enhance the view and create a private area to relax for an early morning coffee or yoga session.
Design trend | Neutral colours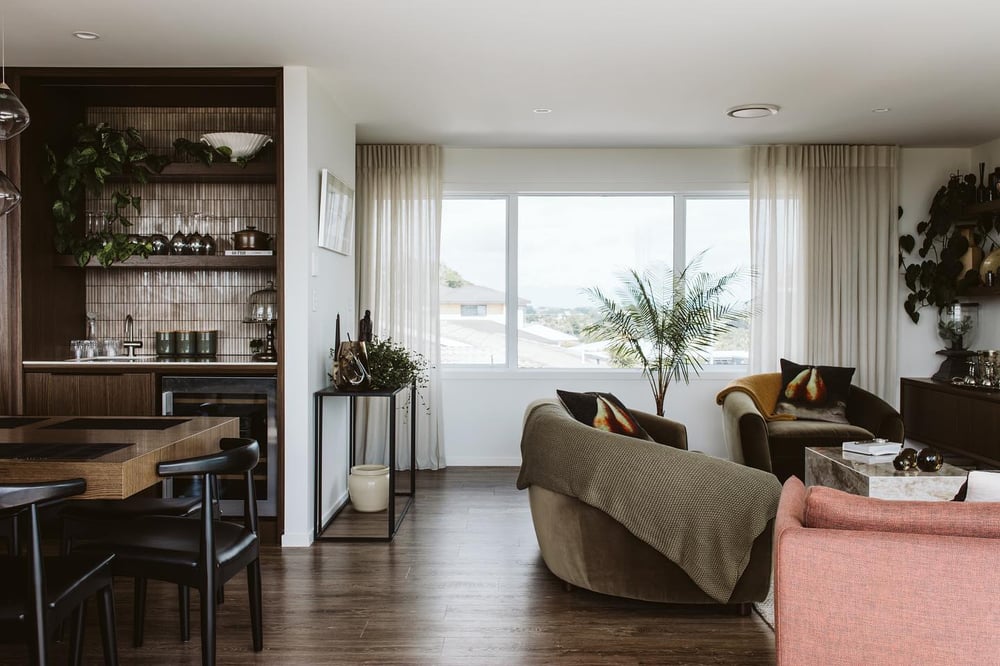 The powdercoat colour of your windows and doors has a large impact on the overall look and feel of your home. On recent new builds, we're seeing a move away from coloured joinery, with a focus on neutral colours, such as charcoal greys and soft whites. Keeping in neutral when it comes to your window and door joinery helps to future-proof your home, as it provides a solution that you and any buyers down the track will be happy with and avoids costly changes. These neutral shades also have better colour retention than bright options, which are more likely to fade.
While both light and dark greys have been gaining in popularity, the original white and black options remain the crowd favourites, as they both create a timeless, modern, look that match any interior and exterior colour scheme. The classic white creates a light, crisp and fresh look, while the black provides a contemporary, bold and sleek alternative.
Design trend | Environmentally-friendly windows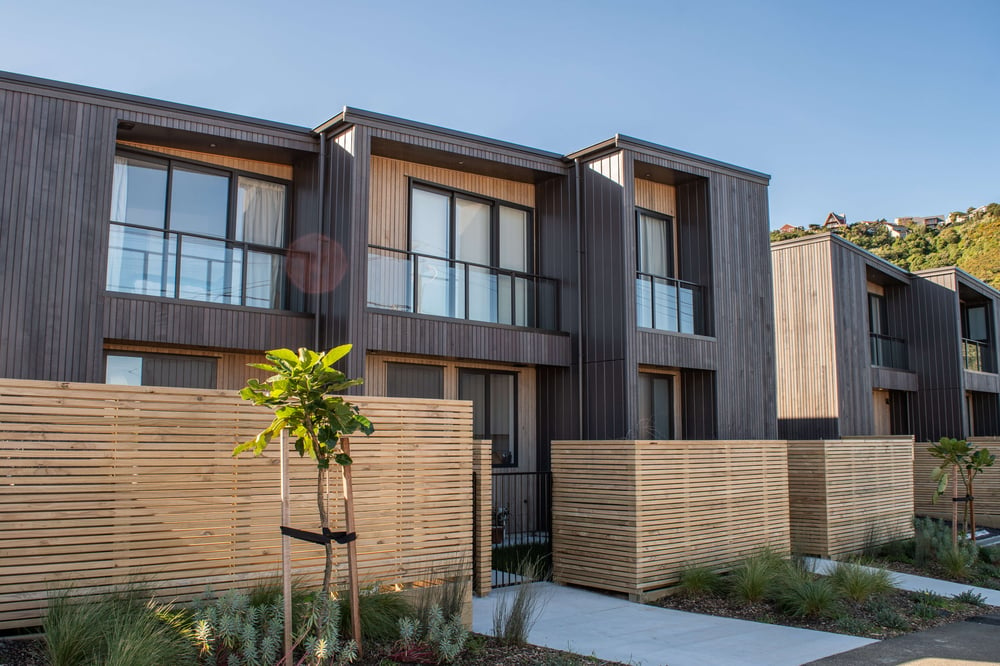 With the rise of green building principles putting emphasis on the responsibility to the environment and efficient use of sustainable resources, it has never been more important than now to keep sustainability in mind when sourcing products and materials for your home. Aluminium is known for its longevity and as such is an environmentally friendly material. Its long lifespan and durability against the elements make it the perfect sustainable choice of material for windows and door joinery.
Alongside the use of aluminium, the type of glass being chosen for windows and doors also reflects a move towards creating passive, energy-efficient homes. The correct glass will enable you to maximise the amount of natural light in your home and conserve warmth, ultimately saving you money on electricity. Options such as low-E glass have good thermal performance, and combined with a good home ventilation system, help your home to stay drier, creating a healthier living environment.
Design trend | Flush door sills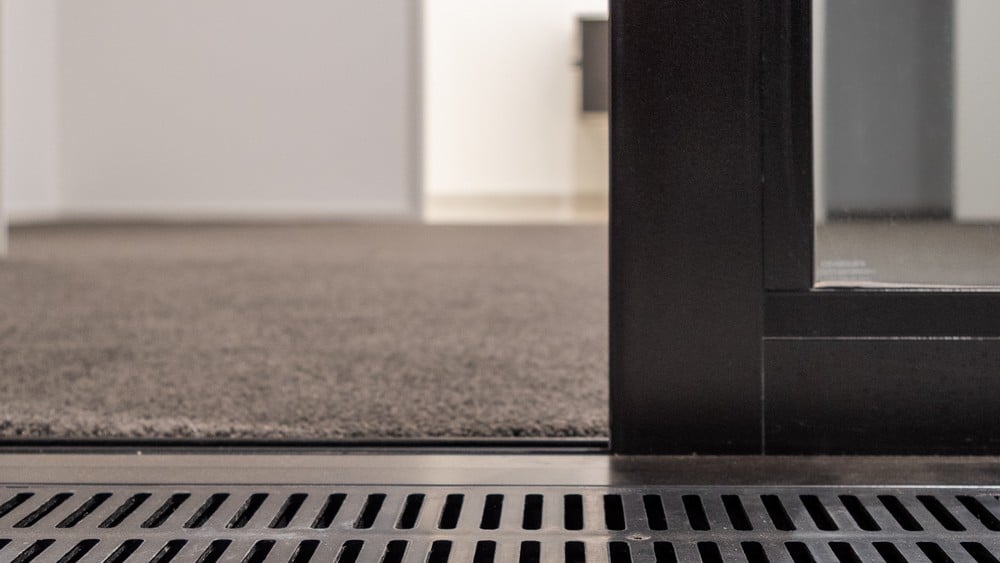 A flush door threshold means there is no variation in the floor level between the inside and outside of the home. While they not only looking appealing, the plentiful practical benefits they bring means there's little wonder why the flush sill door is a growing trend! As there is nothing to step over, up or down, they make the home safer by reducing slip, trip and fall hazards. They also improve accessibility for everyone, including people with walking aids or wheelchairs, giving owners the flexibility to age in their home with confidence or expanding the market of purchasers if you choose to sell in the future. The flush door track is easy to clean and enhances the indoor-outdoor flow in the home's design, which is great for entertaining.
At UNO Windows & Doors, all of our sliding doors have flush sills at no additional cost and we can help the builder with rebate sizes to ensure you get the best result!
Design trend | Connection with the surrounding environment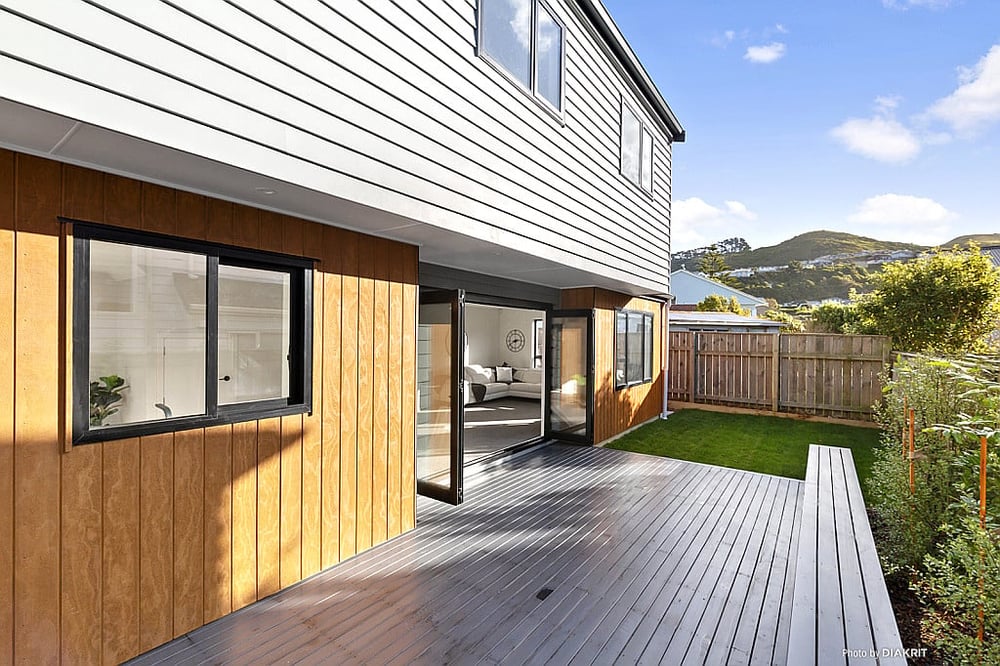 Architects, designers and builders have been increasingly using the concept of biophilic design, which works to create a strong connection to the natural environment. Bringing the natural elements indoors through the use of large windows, skylights, indoor planting and doors that create a seamless flow can create a lighter, fresher area that boosts the moods of the occupants.
As a result of the stress associated with the global pandemic, a new appreciation for nature has formed as a way to balance wellness and the beautification of our homes. This has been reflected through our growing obsession with houseplants, as well as our desire to add more natural light and ventilation into the home to create an inviting, calming space.
Design trend | Maximising natural light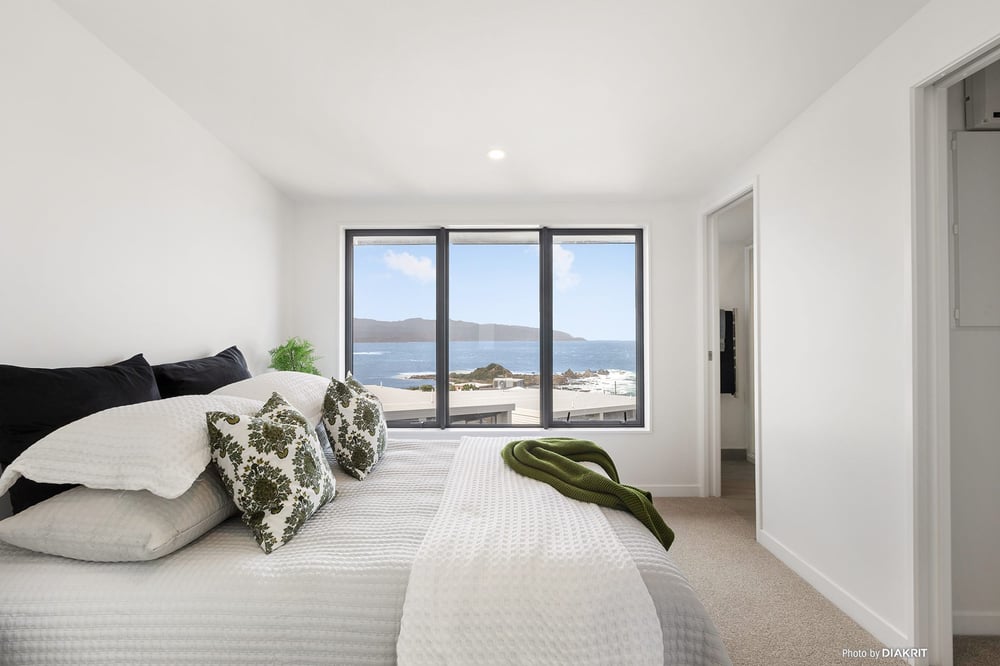 Window and door placement which lets you enjoy the natural light is always a key consideration in new homes. However, with a recent survey showing that 73% of clients have asked architects to increase natural light in their design, the importance put on creating open spaces with more windows that follow the sun throughout the day has never been greater. The same survey also shows that 70% of homeowners agree natural light is a top contributor to their feeling of wellbeing at home. An abundance of natural light not only boosts the mood and creates a more cheerful-looking environment, but it can also help regulate healthy sleep and wake cycles.
Thanks to the energy efficiency of modern windows and doors, it is now possible to have larger glass panels which means that you can enjoy sweeping, uninterrupted views and have natural light fill your home. Maximising natural light is especially important in connected apartments or townhouse blocks, where opportunities for windows are limited. For these types of builds, it's recommended to capitalise on the view across multiple levels, and make sure the windows you do have are big and bold, a win-win for indoor comfort and street appeal!
The more windows used, the more open and inviting the space feels - who doesn't love sunlight streaming into the room? Sun-drenched window seats and private reading nooks have also been growing in popularity, as they both provide a practical and charming way to maximise the functionality of the home. Decorated with throw cushions and blankets, these cosy and inviting areas of the home are a great way to take some time out of your day to relax, connect with the natural environment and enjoy the view.
As we continue to spend more time at home, the latest window and door trends reflect the importance of creating spaces to help us feel cosy, secure, productive, and better connected to those around us. For more inspiration regarding popular window and door options, download our inspiration guide.
UNO Windows & Doors manufacturer and install aluminium windows and doors are an excellent addition to your new build. To view some of the latest residential and commercial builds UNO Total Windows & Doors have been working on, check out our projects page. Whether you're looking to introduce more natural light or embrace modern features, we'll listen to your needs and take a personal interest to ensure the job is delivered on time and is manufactured to the highest standard. Contact us today using the form below to discuss your plans further!