If you're building a new house or renovating, don't overlook the smaller features! Paying extra attention to detail when it comes to your window and door hardware can enhance the aesthetics and security of your home.
From handles to locks, this blog will cover what you need to know about aluminium window and door hardware, including the different features, design and layout considerations. The right choice of hardware will improve the quality, appeal and durability of the joinery and provide the ultimate finishing touches in your home!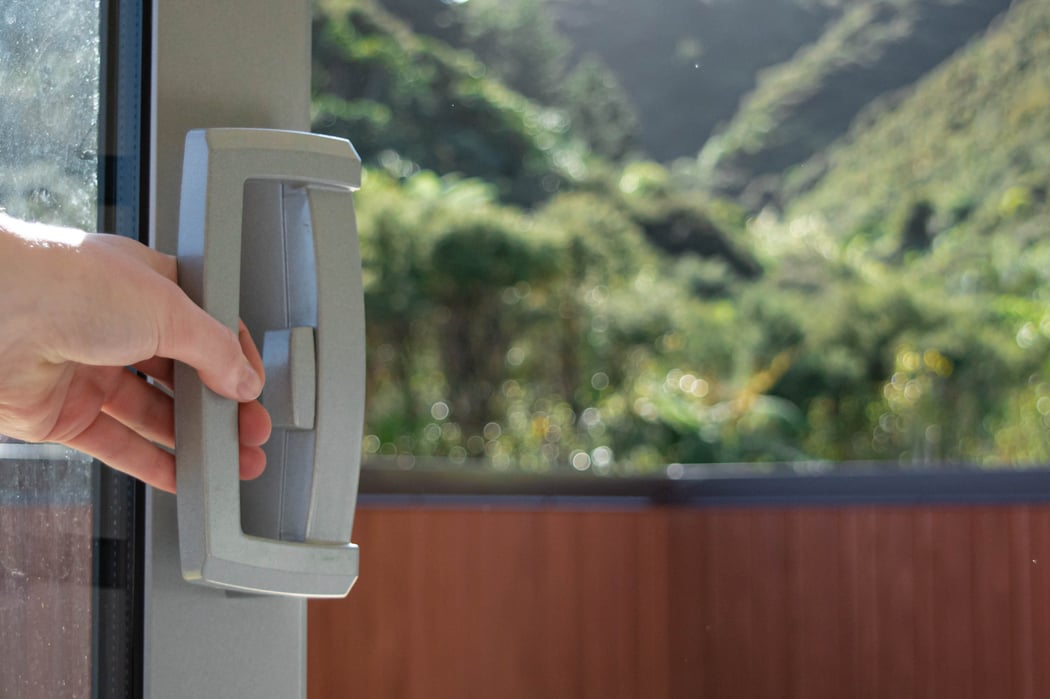 Door hardware
More than just a simple accessway, doors also have functional purposes such as security, controlling the flow of people and assisting the energy efficiency within your home. From the humble lever through to the sleek pull handle, the hardware used on your doors needs to be fit for the purpose it is intended to serve, including:

Entrance door handles
As the entry point into your home, your front door can make a positive first impression for guests. The handle will be frequently used, therefore it needs to be hard-wearing and user-friendly, while also complementing the aesthetic look of your entryway. From a simple knob, a decorative door lever or a long pull handle, there are many options to consider.

One of the most popular types of entrance door hardware in new homes are the pull handle due to its slim, modern design, such as the three options pictured above from UNO Windows & Doors. These can be colour-matched to your window and door powdercoat colour to create a seamless look or you can opt for the brushed nickel option. They are paired with a thumb lever set for locking and are available in both 450mm or 600mm lengths. Powdercoated finishes have a longer warranty than plated finishes such as the Brushed Nickel option.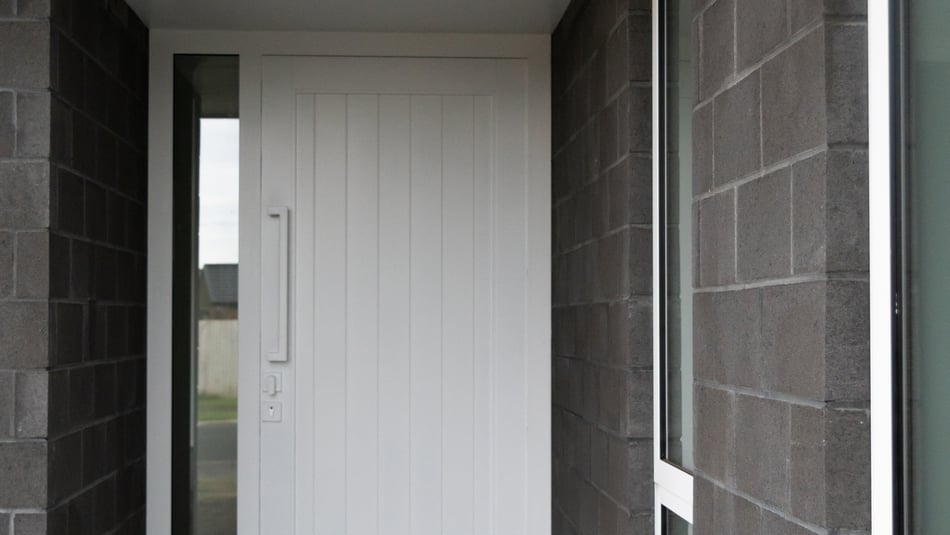 It's best to use a handle style that suits your home's overall decor and that matches throughout, as this subtly creates a cohesive look. For example, while a traditional victorian style in brass with a large rectangle backplate and curved handle or knob may work for period homes, a sleek, chrome lever design would suit a modern, minimalist apartment.
Entrance door locks
Front door locks are an important hardware consideration to keep your household and belongings safe. We have mechanical, keyed, or digital options available, depending on what suits your family's lifestyle and the design of your home.
Mechanical and keyed locks: These offer a traditional secure locking solution and are available with either a pull or simple lever handle. All keyed handles from UNO Windows & Doors can be keyed alike to the other locks in your home for "one key" convenience.

Digital Door Locks: These provide a complete keyless experience with bluetooth connectivity options, combining high security with innovative technology. They're popular at the main entry point into the home for busy households, as they offer a quick, easy, keyless, and secure access solution. We supply

three types of secure Yale digital locks

: Yale Assure Bluetooth lock, Yale 3109+ digital door lock, and Yale 4109+ digital door lock, as those pictured above, which can all be accessed with a smartphone or pin code. These locks come with a ten year mechanical warranty and a three year electrical warranty.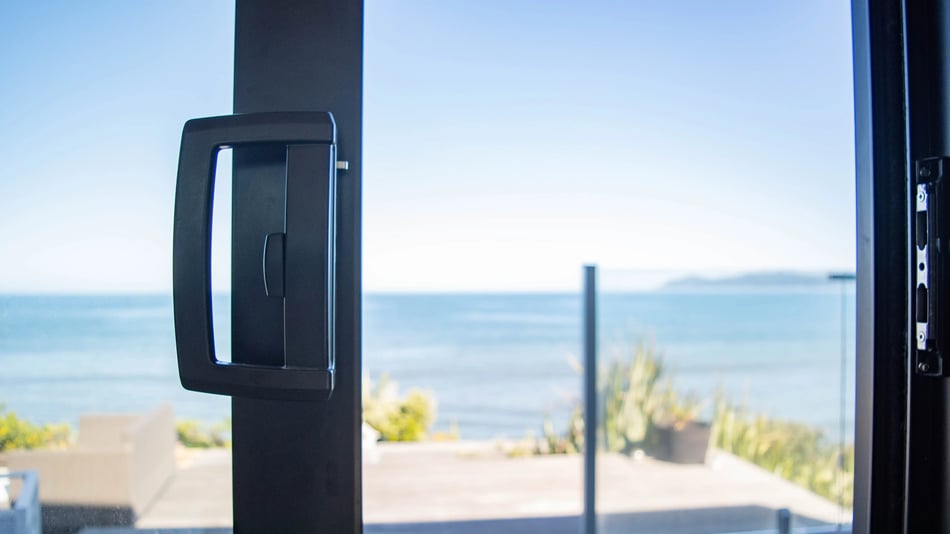 Other external door handles
While your front door may make a statement entry, it's your other external doors that will often create the seamless indoor-outdoor flow within your home. Standard hardware for sliding, hinged, stacked and bifold doors, such as those pictured below, are primarily focused on functionality and reliability, while still remaining visually appealing.
We supply the New Zealand made Aria Hardware range, which are all sturdy products with a 10 year mechanical warranty. It is designed to be a consistent hardware style across your home and can be colour-matched to your window and door powdercoat colour to ensure optimum integration.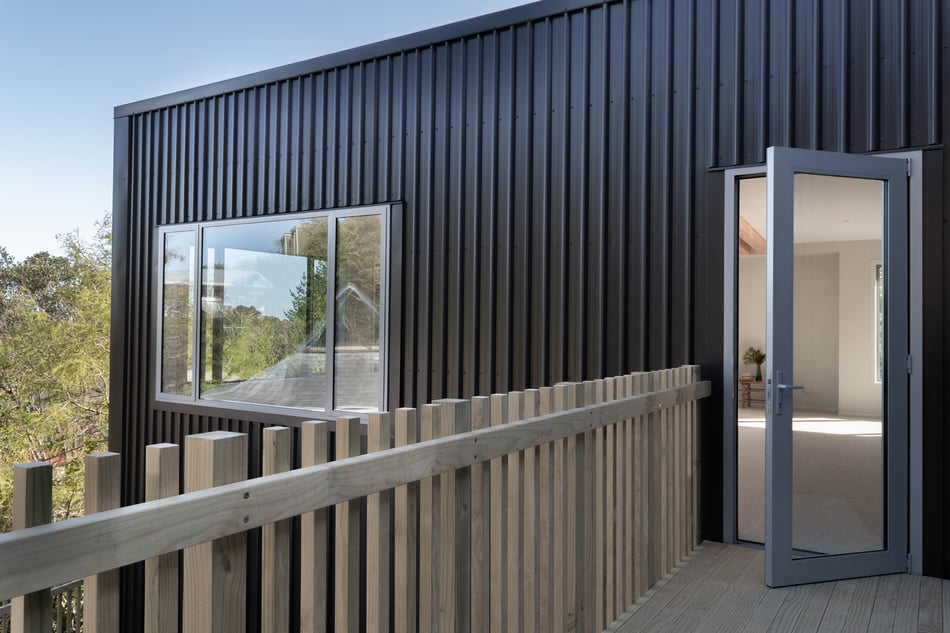 Open and close mechanisms
To assist with windows and doors staying in their desired position, there's also the option of adding a restrictor stay or a door holdback. Restrictor stays are mechanisms used to limit the window opening, usually to around 130mm. Restrictor stays are commonly used in bathrooms as they allow for ventilation while still maintaining privacy and a level of security. The door holdback is designed to latch the door open and some styles have a convenient foot release.

Window hardware
The hardware on your windows should be a combination of both function, security and design. There are three types of handles available from UNO Windows & Doors in the Aria range as pictured above, depending on the window configuration you are wanting. Similar to the doors, these can also be powdercoated to match your other aluminium joinery and have a 10 year mechanical warranty.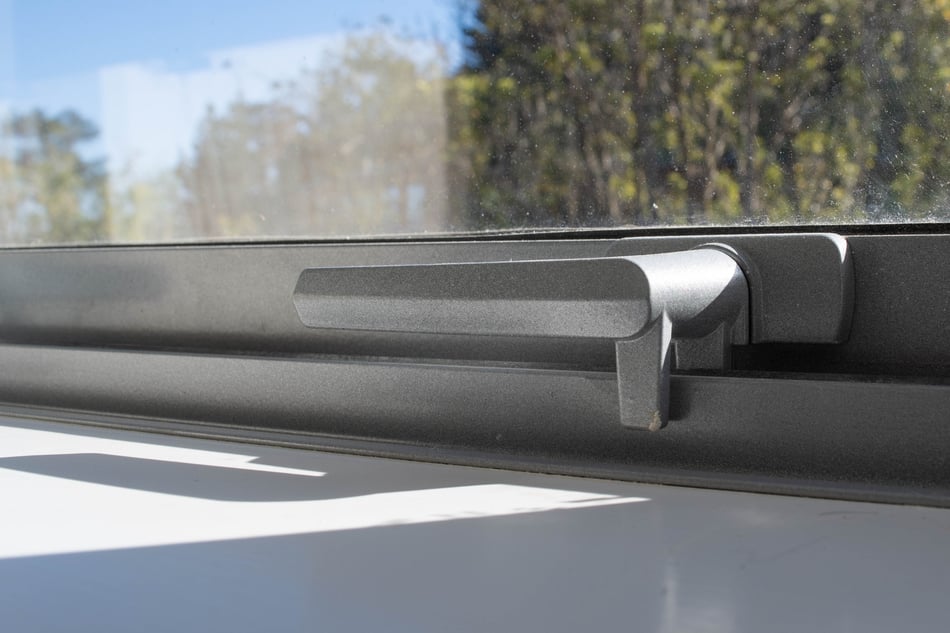 The aluminium window and door hardware within your home should strike a balance of practicality and visual appeal. The best option for your space will depend on the overall look of your home, the style and configuration of your joinery, as well as your overall budget.

UNO Windows & Doors partner with leading hardware manufacturers to supply a range of aluminium joinery hardware options. To see our full range, download our hardware brochure by clicking on the link below. Alternatively, please feel free to reach out to one of our experienced team members to discuss your aluminium joinery requirements further.
Download the hardware brochure