It can be hard to choose the perfect windows and doors for your project, especially when some companies might not have the capacity, or delivery network to support your needs. That's why we've put together this blog explaining the jobs we're able to collaborate on, to hopefully save you time and confusion. We know construction projects can be stressful and that you want to find the perfect partner to work with you every step of the way.
We know we're not the best fit for every project and that's why we carefully determine which projects we specialise in. In our case, we supply new build projects such as multi-residential developments, new homes, townhouses, and light commercial projects such as schools and offices. But there are a few more factors to know about. So continue reading to see if we're the perfect fit for your next job.
Renovations, retrofit double glazing, and replacement windows
We do not supply the retrofit or replacement window segment of the market however, there are companies which specialise in this area, and we can give you their contact details for these types of projects. Our factory is designed and set up for larger projects, where window and door units are manufactured in a custom-built facility for particular large-scale projects enabling us to work to the construction programme to keep projects on schedule.
Each project involves a carefully planned timeline, and our systems and manufacturing processes are designed for the new build market meaning we are unable to supply individual or low-volume orders.
So if your project is a renovation, where should you look? Fortunately, within our industry experience, we have some great options where to get your new windows and doors. While we are focused on larger projects, there are companies like The Double Glazing Co, Fairview, and Homerit who are specialised in retrofit & replacement windows. That means they're well-practised in renovations and are prepared for the variable nature of your project.
One-off window and door units
Our preferred projects are those with at least ten units, which means we won't take on projects with one-off windows or doors, as our factory is set up for larger project runs.
So if your project only requires one or two units you may find our friendly staff recommending you to another provider in your region. In that case, we recommend looking for a company that can help you with your project such as NZ Windows, Altus, or Affordable uPVC Windows instead because they are specialised in supplying one-off windows for smaller projects.
Projects in the far North and South Island
If your project is located in the upper parts of the North Island, the East coast, or in any South Island region, we will not be a good fit for you.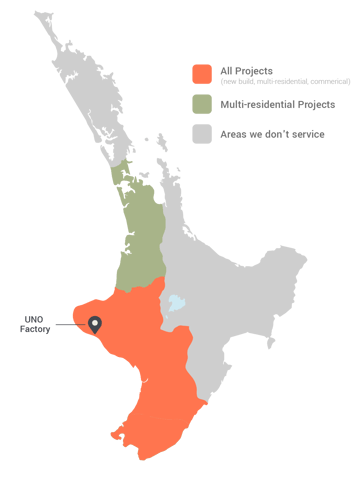 As a Taranaki-based business, we service the West coast of the lower North Island, areas including Auckland and Hamilton for multi-residential developments, and Taranaki, Manawatu, and Wellington regions for new build homes, multi-residential developments, and light commercial. These are the regions to which we can ensure we provide the best possible service every time. Unfortunately, if you are beyond these service areas, we won't be able to assist you.
We recommend looking for a local supplier instead so that you can get hands-on guidance throughout your project. There are a range of suppliers to choose from in those areas, for example, Fairview services Northland, Hawkes Bay, and the whole South Island.
What projects do we work on?
You might be wondering, what projects do you accept? In a nutshell, our projects tend to be larger-scale, modern projects like new build homes, multi-residential developments, and light commercial buildings. That's because we have the production systems and capacity to create a lot of windows and doors at once, and deliver them to the site efficiently. When it comes to designing, manufacturing, transporting, and delivering our units, we like to dedicate ourselves to the full process and large-scale developments are where we shine. Check out our projects page for more details on the types of projects our team undertake.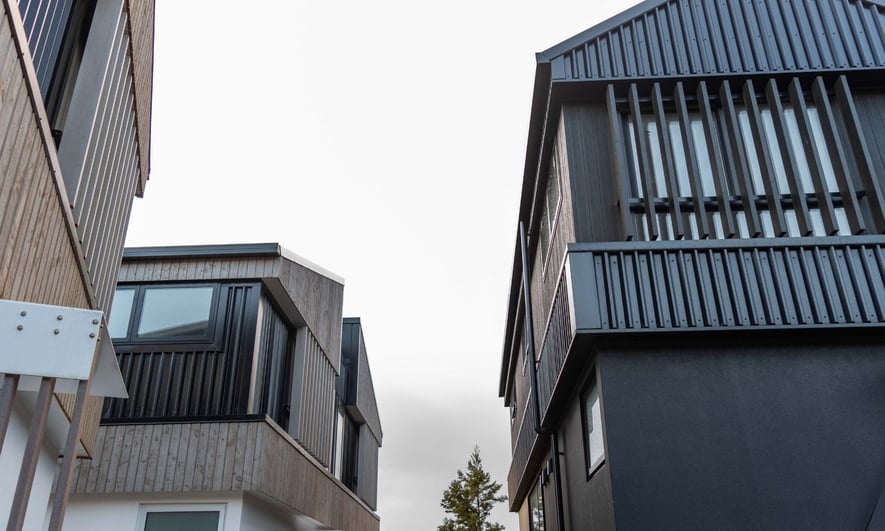 If your next project is a new build with a contemporary design and has more than ten windows, you're likely a perfect match for us! We love creating new windows for this kind of project because the process is consistent, streamlined, and easy to plan ahead. That allows us to provide clients with seamless service and high-quality windows and doors every time.
Since 2006, we have provided quality aluminium windows and doors for projects throughout the Lower North Island. We like to work closely with our clients to ensure the project runs smoothly and the new windows and doors are perfectly suited to the building. While not every project is a good fit, we have found our process to be successful and well-suited to situations where volume, efficiency, quality, and functionality are key priorities.
If you're an architect, developer, or are planning a new build ideally a multi-residential project, we could be a great company to partner with. You can download our free product brochure or contact our team to find out more about our process so that you can be sure we're the best fit for you.
Contact us