Having a seamless indoor-outdoor flow is one of the most popular selling aspects of any kiwi home. New Zealanders love to have a functional and stylish outdoor area to entertain friends and relax in their own backyard. The trick to creating a cohesive environment is to blur the boundary between indoors and out by choosing doors best suited to each area of your home.
As the entry and exit point into your home - doors can make a lasting impression! However doors aren't only a design feature or humble accessway, they have many functional purposes such as security, controlling the flow of people, and assisting with energy efficiency. External doors also need to be strong and durable as it's important that they can withstand New Zealand's often harsh weather conditions, including exposure to high levels of UV, heavy rain and strong winds.
If you're in the market for new doors, there are some important things to consider. This blog will outline the different door types and materials, as well as glazing, thermal efficiency and locking options.
Which material should you use?
The most common materials for external doors are aluminium, uPVC, steel and timber. Although each has advantages and disadvantages when weighing up affordability, functionality, durability and style, aluminium joinery stands out from the rest!
Aluminium is a strong, naturally occurring metal and being a recyclable and reusable material, it is a sustainable choice. The chemical composition of aluminium makes it extremely durable. Aluminium is stronger than uPVC, meaning frames are thinner and are able to support larger panes of glass. So your view isn't restricted by the opening size or bulky uPVC frames. It is also lighter than steel, which means aluminium doors are easier to slide and manoeuvre.
Over time timber and uPVC are more likely to deteriorate when exposed to the weather. Wooden joinery needs regular maintenance as it is vulnerable to moisture damage, which can result in warped frames, rotting or stiff openings. Aluminium joinery, however, is low-maintenance thanks to it naturally being both corrosion and UV resistant, and only requires cleaning with soapy water every three to six months.
When it comes to aesthetics, timber is sometimes preferred because of its natural and distinctive finish. However, aluminium is now available in an authentic woodgrain look powdercoat finish, which means you can achieve the same look without the regular maintenance.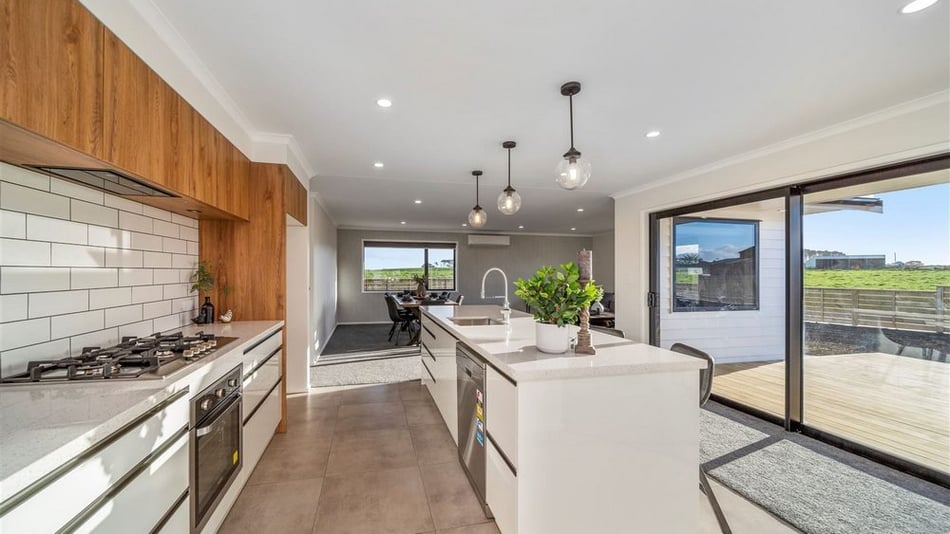 Aluminium door opening styles
There are five main types of aluminium doors to choose from:
Hinged: Hinged on the side, these are the most common type of door in all building types. These are available as opening inward or outward, depending on the location and use of the door. Hinged doors are well-suited to smaller openings, such as garages, laundries and back entrances. However when combined with a stylish entrance panel, they can be an excellent choice for your front door.


French: Double-hinged doors, also known as french doors, are ideal when you want a wider opening or if you prefer the traditional hinged style. They add character and style and are a great fit for a classic home.


Sliding: Sliding doors are easy to operate and run horizontally along a smooth sliding track which guides one panel behind the fixed pane. These are best suited for areas where space is at a premium, such as a deck or pathway, as the door doesn't obstruct the passage like it's hinged counterparts. Combine with an awning window for an alternative ventilation option.

With a flush track, our range of sliding doors can be installed to align with the floor level providing a sophisticated and level-step finish. It's important to keep the tracks clear to maintain smooth operation of the sliding door and the flush track makes cleaning a much easier process. The flush sill track also reduces the trip hazard, making them a convenient option in any home, but especially for the elderly, wheelchair users or families with toddlers.


Stacker: This type of door has two or three sliding panels that stack behind each other and is ideal for accessing a patio or deck area. A stacker door's multiple sliding panels maximise the opening size, creating cohesion with your outdoor living space. They also have a flush track to eliminate the trip hazard and enhance indoor-outdoor flow. Biparting stacker doors are a great choice for a large opening and tend to be a more affordable alternative than a bifolding door.


Bifold: This modern style is a home entertainer's dream, providing great indoor-outdoor flow with their ability to span large lengths! Bifolding doors fold back onto themselves in an accordion-style to create a large opening (between 2-10 panels are possible). There are multiple configuration options, including all panels folding to one side or biparting.
All these door types are available in many different configurations, depending on the layout of your home and personal preferences. An opening or fixed window to the side of your door or as an overlight offer further opportunities to bring light inside or provide for additional ventilation.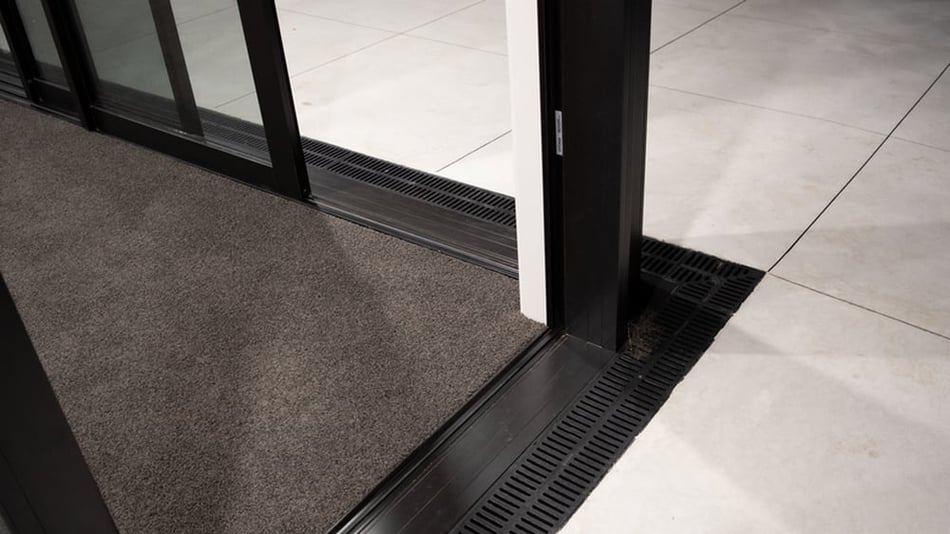 Thermal efficiency
With a growing emphasis on energy efficiency and healthier homes in New Zealand, using thermally improved materials is an important consideration. Thermal doors are made from a different aluminium profile to standard doors, with a nylon insulator built into the profile to reduce the heat transfer through the frame and improve thermal performance.
Regular aluminium doors typically aren't good insulators as the frame allows heat to transfer from inside to out, therefore the thermal option keeps the indoor temperature more consistent regardless of the season which in turn reduces the power bill - a win-win!
Glazing
Glazing is an important part of all doors, so it's important to consider the glazing options. Some glass combinations can reduce heat loss from your home in the cooler months and may assist to regulate the inside temperature when the weather is warmer, as well as acting as a sound dampener The R-value is a rating which measures how well a material can resist heat flow. 'R' stands for thermal resistance - the higher the value, the better!
Single glazing: Single glazed glass only has one layer separating the inside from the outside, which does little to reduce the transfer of heat, light, sound or UV. As government regulations now require double glazing in most building situations, single glazing is not commonly used.


Double glazing: Double glazing has two layers of glass with a sealed or insulated air space between, providing additional insulation from external environments and reducing condensation. An inert gas such as argon or krypton can also be added to the air space, to further enhance the insulation. The New Zealand building glazing standards require all exterior glass in new homes to be double glazed, to provide a warmer, drier living environment.


Safety glass: The difference with safety glass compared to standard glass is that it forms small fragments when broken, rather than shattering into sharp pieces and risking injury. Safety glass is available with either single or double glazing and the safety glass range includes both toughened and laminated options.
When assessing a project, we analyse factors such as location, size of the opening, requirements and building purpose, therefore you can be assured that any glass we supply complies with current NZS 4223 glass safety standards. We also discuss factors such as sound reduction, fading, UV and security, so the final solution is compliant and enhances the comfort of your home.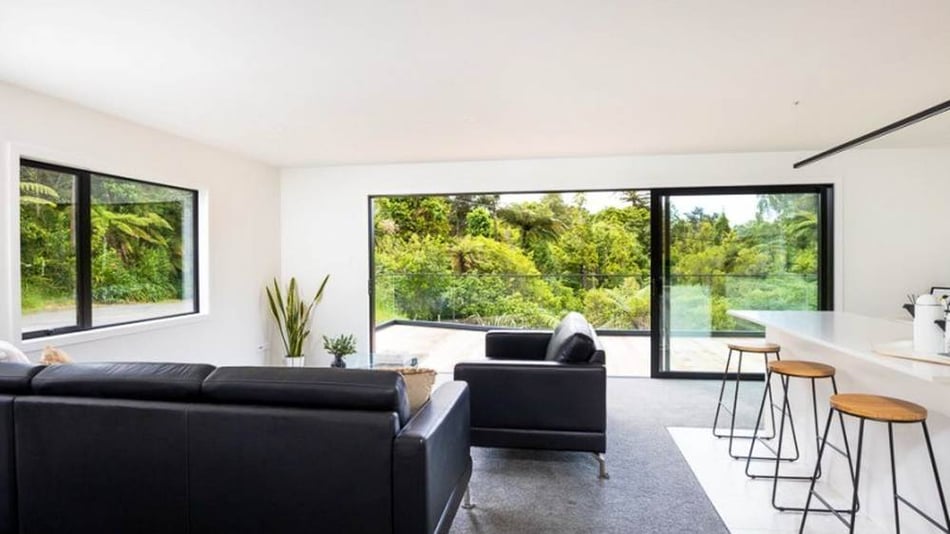 Colour
There is a wide range of powdercoat colours available to choose from, to complement your internal and external colour schemes. You can view our colour palettes here, which includes the popular neutral options, our specialty entrance door range of brights and the natural woodgrain powdercoat.
Hardware
From the humble lever through to the sleek pull handle, the style of hardware used on your doors needs to be fit for purpose. Select from a range of modern hardware, with handles that will make a statement at the entrance of your home and standard hardware for sliding, hinged and bifold doors, all offering functionality and reliability.
Digital locks
Digital locks at the main entry of homes are also gaining popularity. They offer a quick, easy and secure access solution for busy households. There are three favoured types of Yale digital locks to consider: Yale Assure Bluetooth Lock, Yale 3109+ Digital Door Lock and Yale 4109+ Digital Door Lock. These are keyless and have Bluetooth capabilities, combining high security with innovative technology. Each will allow you to unlock the door with your smartphone or a PIN code and you can create, manage, track and deactivate digital keys from the app.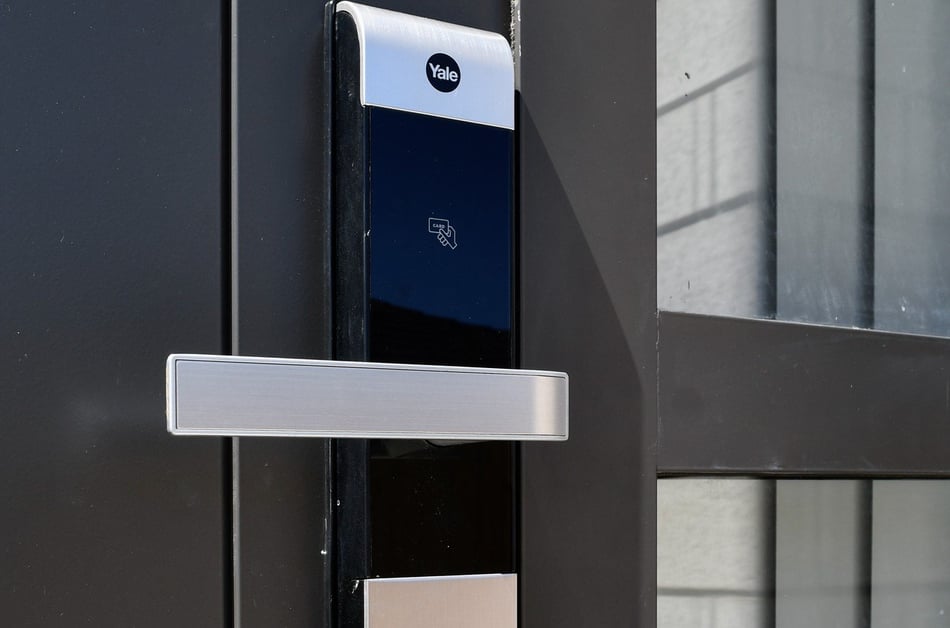 Aluminium is a great choice for your doors as it provides style, durability, affordability and functionality! Making your outdoor area a natural extension of the indoors by choosing the right type of door will also add value to your space and improve onsell potential.
Whether you prefer the more traditional french door set or a sleek stacking door, there's an aluminium door style to suit each area of your home. If you or your builder would like to discuss these further, please reach out by clicking on the button below.
Contact us