Each new building project brings its own unique challenges and opportunities; getting the doors right is a crucial aspect of the design process. Each type of door can offer unique benefits to your space, but it's essential to know the pros and cons before you make your decision.
All of our doors are designed for New Zealand conditions with function and style in mind. Our aluminium joinery is ideally suited to our local environment while still providing a sleek, modern access point for any space. Every door in our range is tested to exceed New Zealand Standards, proving they are durable, reliable and weather-tight for even the stormiest climates.
When designing your next project, we encourage you to consider the safety, ventilation and practicality these doors can offer. No matter which glass door you choose for your project, you can rest assured that all of our windows and doors have a consistent, modern flat face frame. These frames are easy to clean and tie your project together both in function and aesthetics. The only question now is which type of door will suit your space best.
How to decide which door is right for your space?
Knowing your options for a project can be the difference between a dysfunctional space and an architectural masterpiece. Your door choice is no exception. Accessibility, light, airflow and view are some of the most important considerations to make when choosing a door.
Questions to ask when choosing a door:
What is this door's primary purpose? Accessway, view or outdoor flow for entertaining?
Would this room benefit from getting extra natural light?
Is the view from this door worth maximising?
Is it important to have good airflow through this door?
Will this be a high-traffic access point?
Types of doors
When you know the purpose and priorities for the door and the space it facilitates, the next step toward making your choice is understanding the different options. Each door has its own set of pros and cons and can transform the space dramatically.
Sliding doors
The design of a sliding door is simple but effective. One half slides behind the other, leaving an opening half the width of the overall door frame. This design is functional and reliable.
Sliding doors are the most cost-effective option in the range, but that doesn't mean they lack quality. All of our sliding doors include flush sills which are popular as a safe and seamless design. If your design vision requires a durable, safe and sophisticated door, the sliding doors in our range are ideal. Not only that, if maximising the view is a priority for your project then sliding doors are a great option.. The larger panes of glass allow your space to see more of the outside world and simultaneously let more light in. Sliding doors are popular in smaller spaces because they bring in light, airflow and outdoor access without hindering the interior space.
Stacker doors
Whilst sliding doors can only open half of the overall door, stacking doors can open nearly two thirds. Having that extra opening can be crucial to your space.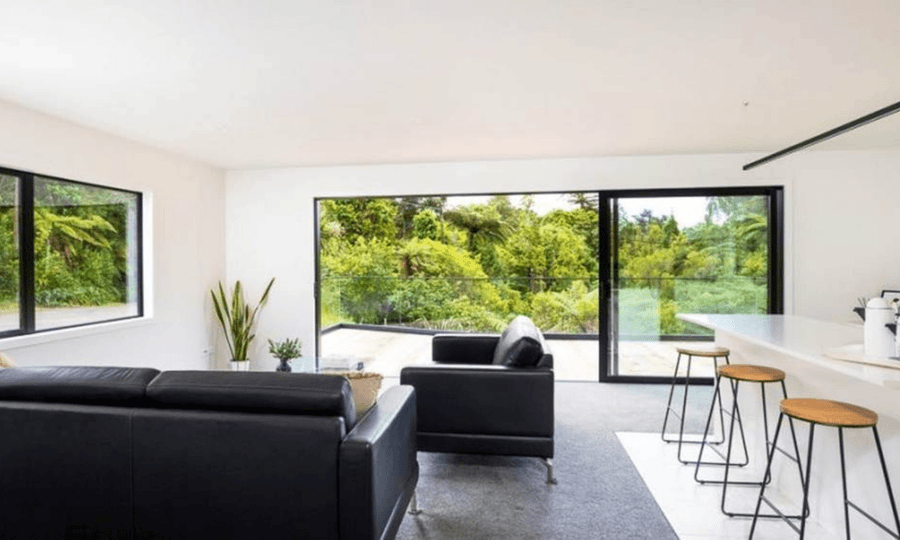 If you are looking to capitalise on indoor-outdoor flow, stacker doors will give you the perfect balance of practicality and aesthetic. Like the sliding door, the stacker option also comes with a flush sill or level step for a flawless transition.
Living areas are the most common room to benefit from this feature because the full height glass, paired with the ease of access, allows for a harmonious blend of indoor and outdoor areas. Often spaces like this require a door that maximises the view whilst allowing external access. The stacker door ticks all of these boxes in style. If you are looking for an even wider opening, we recommend looking at bi-parting stackers. This allows your space to have double the opening a single stacker offers, which means double the accessibility and airflow.
Bifold doors
Bifold doors are a set of panels which are designed to fold back on each other. This allows the opening to be the full size of the door frame and leaves only a neat accordion-style stack of panels to the side.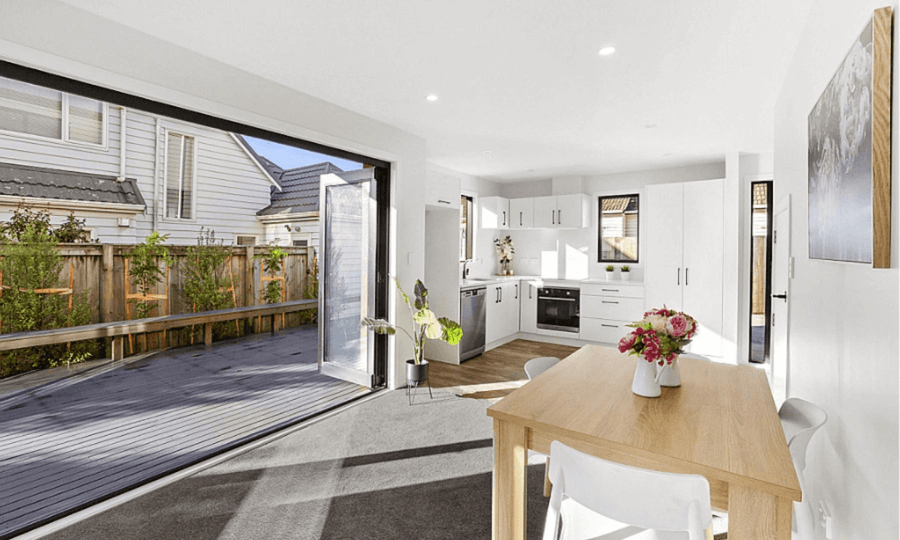 Typically the stack of folded panels is designed to sit on the exterior side of the frame meaning it doesn't take up any interior space. This is an excellent choice for taking advantage of outdoor living space without losing any internal function.
The appeal of a bifold door is the ability to amplify your space within seconds. This seamless transition between indoor and outdoor space is a significant focus of New Zealand residential architecture. The discreet bifold design successfully combines the two spaces leaving the opening unobstructed. For an impressive and versatile feature in your latest project, we encourage you to look into a bifold door. With a range of configuration options from 2-10 folding panels, you can effectively expand your space beyond the confines of the interior walls.
Our external bifold doors do not include flush sills because, if the threshold is flat, the door panels sit above the track rather than creating a seal against it. This would dramatically reduce the weather-tight abilities of the door and not measure up to our usual quality. For some projects, the benefits of bifold doors will outweigh the need for flush sills but it is worth looking at our sliding or stacking doors as a possible alternative.
Using bifold doors in commercial spaces
Many commercial spaces can also benefit from using bifold doors as internal divisions. These environments often need to be adaptable to their constantly changing dynamics. Using a flush-threshold bifolding door as a temporary divider can give these spaces the option to evolve to fit the needs as they arise.
Each architectural project has its own set of priorities and goals, and the doors you choose could be make or break. No matter your priority, we have the right product for your project. Our doors range offers durability, functionality and aesthetics to seamlessly blend into your design. The only thing you need to decide is which type of door function will maximise the impact of your design.
If you are an architect or developer looking for the right door for your next project download our doors brochure to read more about our full range of options. Or get a quote and discuss specs with a member of our team to ensure your doors are the best fit for your project.