We take on a wide variety of projects each year ranging from large townhouse developments to residential new builds, which keeps the team busy all year round.
Most years, choosing a favourite project isn't an easy decision and this year was no different! With so many awesome projects, it's hard to choose the best. Nonetheless, we've put together a selection of popular projects that give a snapshot of the past year.
So whether you're interested in seeing what the team got up to this year, or you're after some inspiration for a project of your own, take a look at the team's favourite projects for 2021!
Buller Street project, New Plymouth
Window and door units: 28
Powdercoat: Gunmetal Metallic Kinetic Duratec
Glass: Green tint double glazing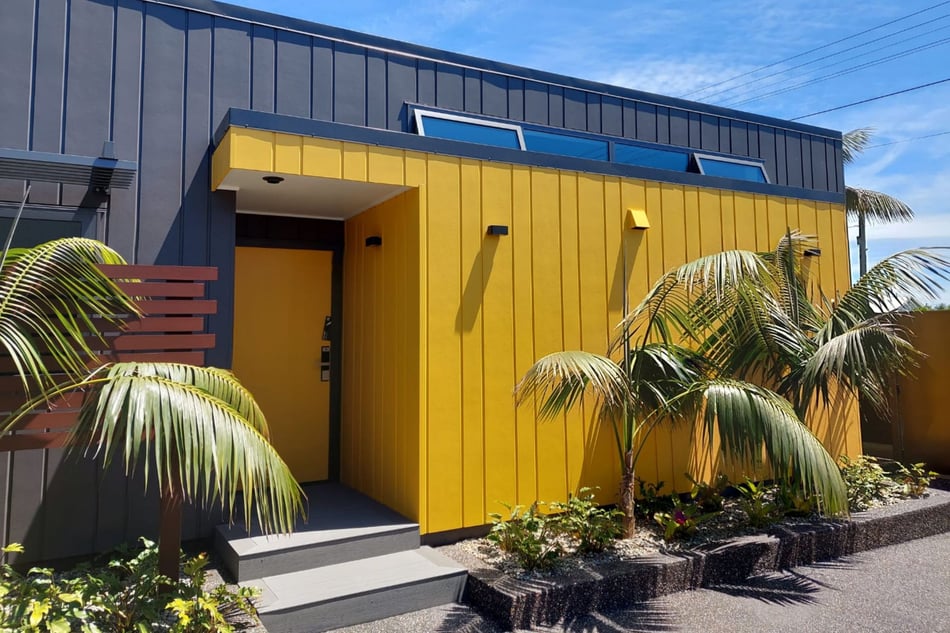 A ray of sunshine to passersbys and an absolute joy of a project to have collaborated with. This brand new statement home is situated in one of New Plymouth's most sought-after locations. In close proximity to cafes, shops, beaches, and the coastal walkway, this sunny abode is a summer lover's dream! With 3 bedrooms, 4 bathrooms, and a separate dwelling with another 2 bedrooms, 2 bathrooms, and outdoor living, this is a residential project like no other.
We supplied 28 window and door units for this home. This included a variety of different sized awning windows, bifold windows, and stacker doors in black powdercoat aluminium joinery. The bold entrance door in sunflower field yellow, one of our eight specialty botanic bounty colour options. It also features the popular yale digital lock hardware, providing users with a range of security options for setting up pin codes or one-time access codes.
"From a marketing perspective, the small house in the Buller St Project stands out from the rest. Not just because it's bright and modern, but it's got a great selection of windows & doors with a large stacker door onto the patio area and a bifold window, which is an awesome choice to connect indoors and out! And appropriately, the entrance door colour is called sunflower field." - Jayne Suckling (Marketing Support)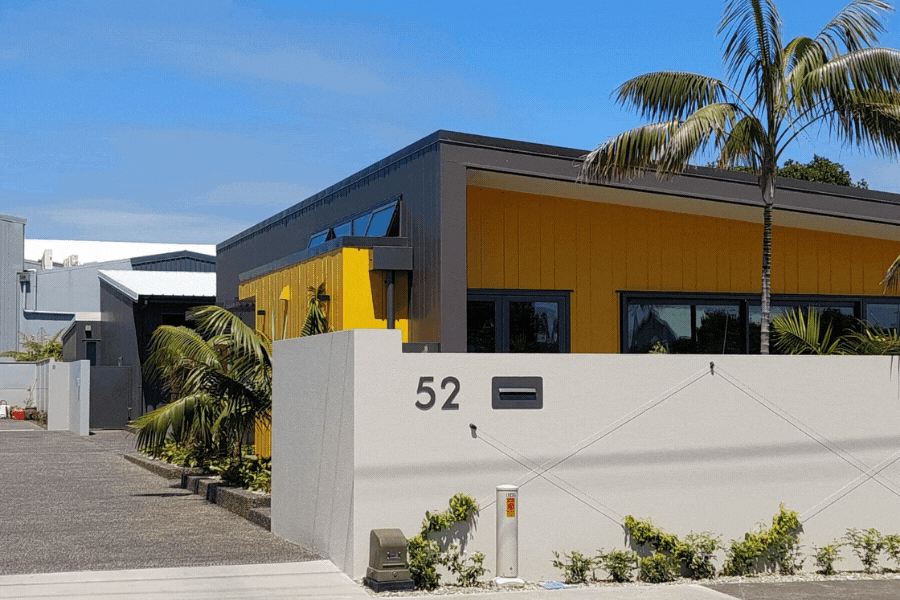 78 Orangi Kaupapa Road, Wellington
Window and door units: 80
Powdercoat: Matt Ironsand
Glass: Clear Double Glazing
Wellington townhouse development by Gibbons Co, The Mark, is spectacularly positioned on the city fringe in the hilltops of Northland. Boasting floods of light and uninterrupted iconic views of the city, harbour, and rolling green hills, these houses capture the very essence of well-balanced living. With eight townhouses in total, this project was an extensive task but one that the team thoroughly enjoyed being a part of.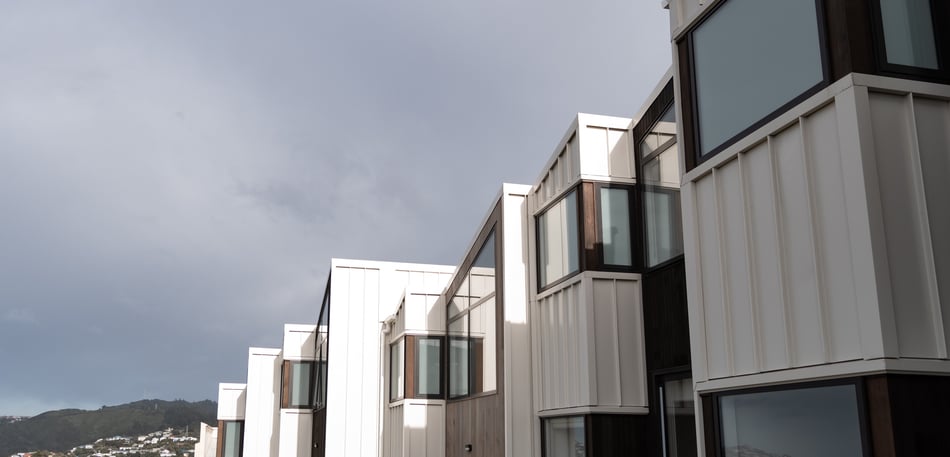 With generously sized window and door units that maximise the natural light and views and a selection of awning windows and sliding doors in Matt Ironsand powdercoat joinery throughout each of the homes, these townhouses really do showcase city living at its finest.
Amazing design - great to see the finished result!" - Jonathan Thomas (Sales)

"Creating the products for the OK road project was pretty awesome. Seeing the window and door units get built from scratch and then transformed into finished townhouses where they'll remain for others to enjoy was a great process to be a part of." - Brock Fairweather (Fabricator)
Randwick Road Townhouses, Wellington
Window and door units: 59
Powdercoat: Matt Grey Friars
Glass: Clear Double Glazing
Complete with four townhouses, two stand-alone homes and one duplex, the Randwick Rd Townhouses were another modern development the team were proud to be a part of. This project was an exciting first-time collaboration with Wellington-based Design Network Architects and Top Notch Construction. Situated in the hilltop suburb of Northland by Ian Galloway Park and just 10 minutes from central Wellington these houses are idyllic city homes.
We supplied a total of 59 window and door units for this project that included standard residential units, sliding doors, entrance doors, and fixed and opening windows.
"New customer, cool design. They were great to work with!" - Amy Thomas (Project Management)
61 Springvale Road, Whanganui
Window and door units: 31
Powdercoat: Matt Ironsand
Glass: Clear Double Glazing
This brand new residential home was a favourite for many of the team. A great client to work with, a beautiful new home, and a great selection of windows and doors always makes the ideal job for the team.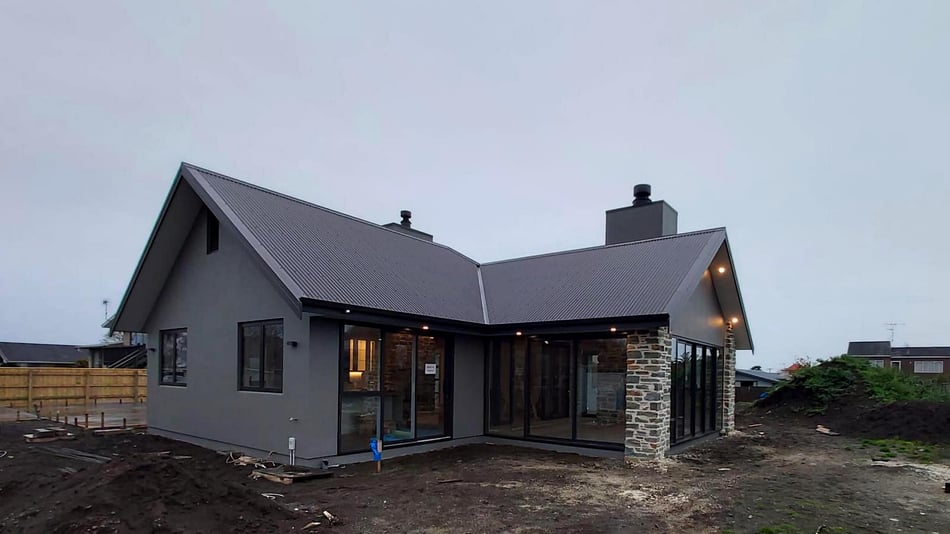 With stacker doors and awning windows in Matt Ironsand powdercoat joinery throughout, this home is going to be an absolute dream! We're looking forward to seeing the final result of this new home once the landscaping is complete.
"Nice house. Good selection of windows." Maurico Sibulski (Design & Technical)
35 Ludlam Townhouses, Wellington
Window and door units: 31
Powdercoat: Matt Ironsand
Glass:Clear Double Glazing
On the East coast of the Miramar peninsula in Wellington, these brand new Seatoun townhouses are a sight to behold. With a total of 57 window and door units across five houses including a selection of fixed and opening windows and large sliding doors these homes have been designed to blend in with their environment, and maximise natural lighting.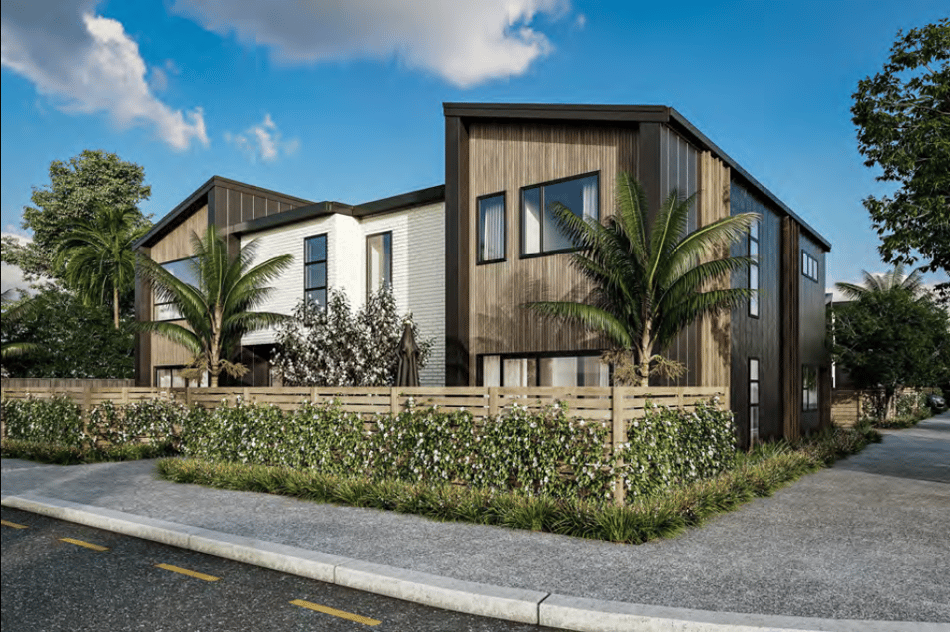 "Love that the architect has chosen large windows and doors that will allow natural light to flood inside. They've also chosen a powdercoat colour to match the trim around the wood cladding which will give it a consistent look. After seeing a lot of the plans and drawings for this development and communicating with the building team onsite, it'll be exciting to see these new townhouses finished!" - Amy Thomas (Project Management)
UNO Windows and Doors, Hawera
Window and door units: 25
Powdercoat: Matt Flaxpod
Glass: Grey tint low-E with Argon fill
Despite a busy year with so many interesting projects, we'd have to admit that this one might just top them all! The team are very excited to have begun work on our brand new factory.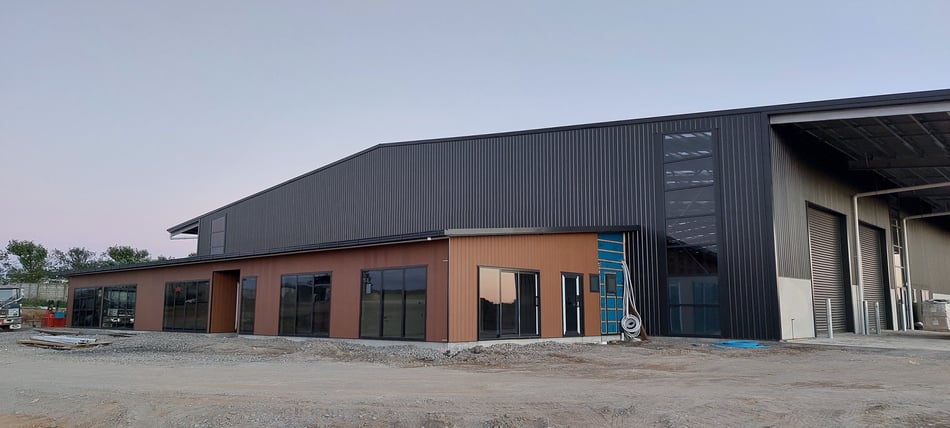 With the project already underway, 2022 will be an exciting year for the team as we relocate from our Normanby base to the brand new Hawera factory. With 25 window and door units and a floor plan of 3,000m2, the new site will be around four times bigger than the current factory.
But the new factory isn't the only exciting upcoming change for us, so stay tuned, 2022 might just be our biggest year yet!