An entrance door is your opportunity to make a striking first impression. As the entry point into domestic life, a front door creates an inviting atmosphere and showcases the home's style. It sets the tone for the entire house – welcoming guests and creating a private haven inside.
To help you find the ultimate entrance door for your residential project, this article outlines the key considerations that should be factored into the final decision including colour, configuration, hardware, and the latest H1 requirements for entry doors in New Zealand.
How to choose an entrance door
When it comes to a front door, consider what you want the first impression of the house to be. An entrance door sets the stage for anyone entering and also emphasises street appeal. This is especially true when factoring in the home's value, as initial impressions are key.
Alongside aesthetics, the front door should also be functional, secure, and durable. Let's explore your options in more depth:
Entrance door configurations
First of all, you need to decide on the style and panel type of the entrance door. Front doors are typically either a single or double design, and are generally hinged inwards. A single-hinged door is the most common of the two and provides a simple, space-conscious option.
Double-hinged doors, also known as French doors, enhance your project's character and are a great fit for a classic look. The wider entranceways are suitable for wheelchair users and can also be helpful when moving large furniture into the house.
Entrance door panels
There are many panel configurations available for entrance doors, each with a unique appeal. Some include glass inserts or patterns to create a distinctive look for your project, while others are simple and sleek. Additional windows can also be added to the side of the front door to increase visibility or for extra ventilation. At UNO Windows & Doors, our glass options include clear, tinted, Low-E, and opalescent.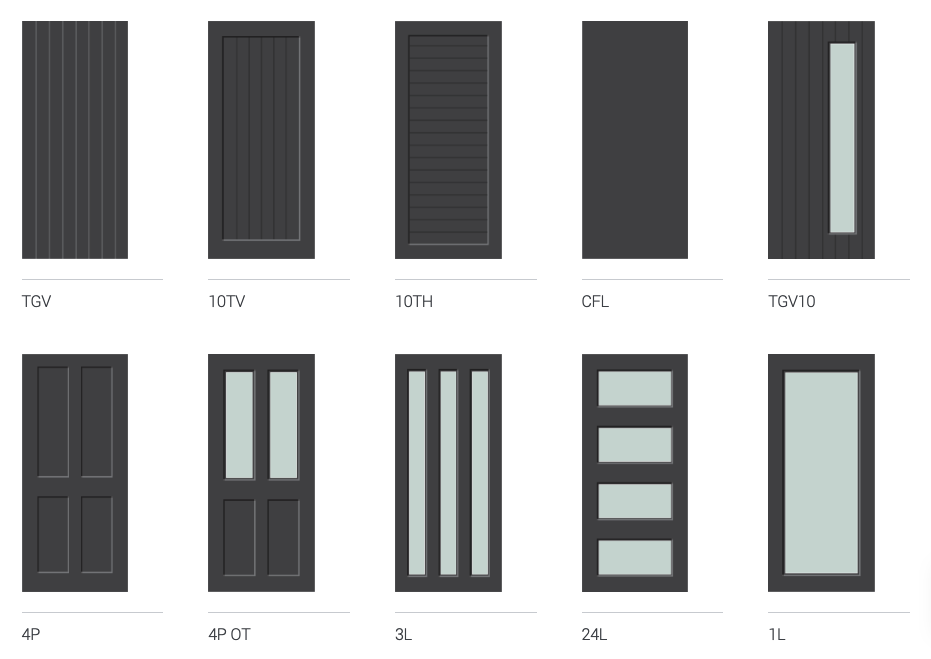 See more entrance door configurations
When selecting a door panel, think about the overall style of the house. If it consists of crisp modern lines, a simple panel with vertical lines (TGV Panel) will blend well. If the home is traditional, a four-panel design (4P) will complement it nicely.
Entrance door glass inserts
Before selecting the front door, consider if windows could be incorporated into the design. This is an opportunity to let more natural light into the home, as well as add an extra touch of interest. Think about whether you would like people to be able to see inside your house, or whether you would like residents to be able to see outside. If the house is close to the street, privacy may be more of a priority.
Durable materials
Entrance doors are one of the most used parts of a house which is why they need to be made of durable, reliable, and practical materials. While wooden doors look appealing, they are susceptible to warping and fading in the wind, rain, and UV rays.
On the other hand, being lightweight, strong, and low-maintenance, aluminium doors are one of the most popular choices. They are easy to install, can withstand the harsh New Zealand weather, and meet H1 energy efficiency requirements. With a thermally insulated frame, aluminium joinery can maintain the internal temperature of the house in any of the key climate zones.
If you are drawn to the wood grain of traditional doors, consider opting for one of our aluminium doors with a wood-grain powdercoat finish. The dark cedar option looks natural, but the door won't warp or fade over time – providing the ultimate practicality and weather resistance.
Colours
The colour of a front door can have a big impact. Some people prefer to match the front door with the other windows and doors throughout the house, while others prefer to turn it into a contrasting focal point. Whatever approach you choose, be sure to consider how it ties in with the rest of your design choices.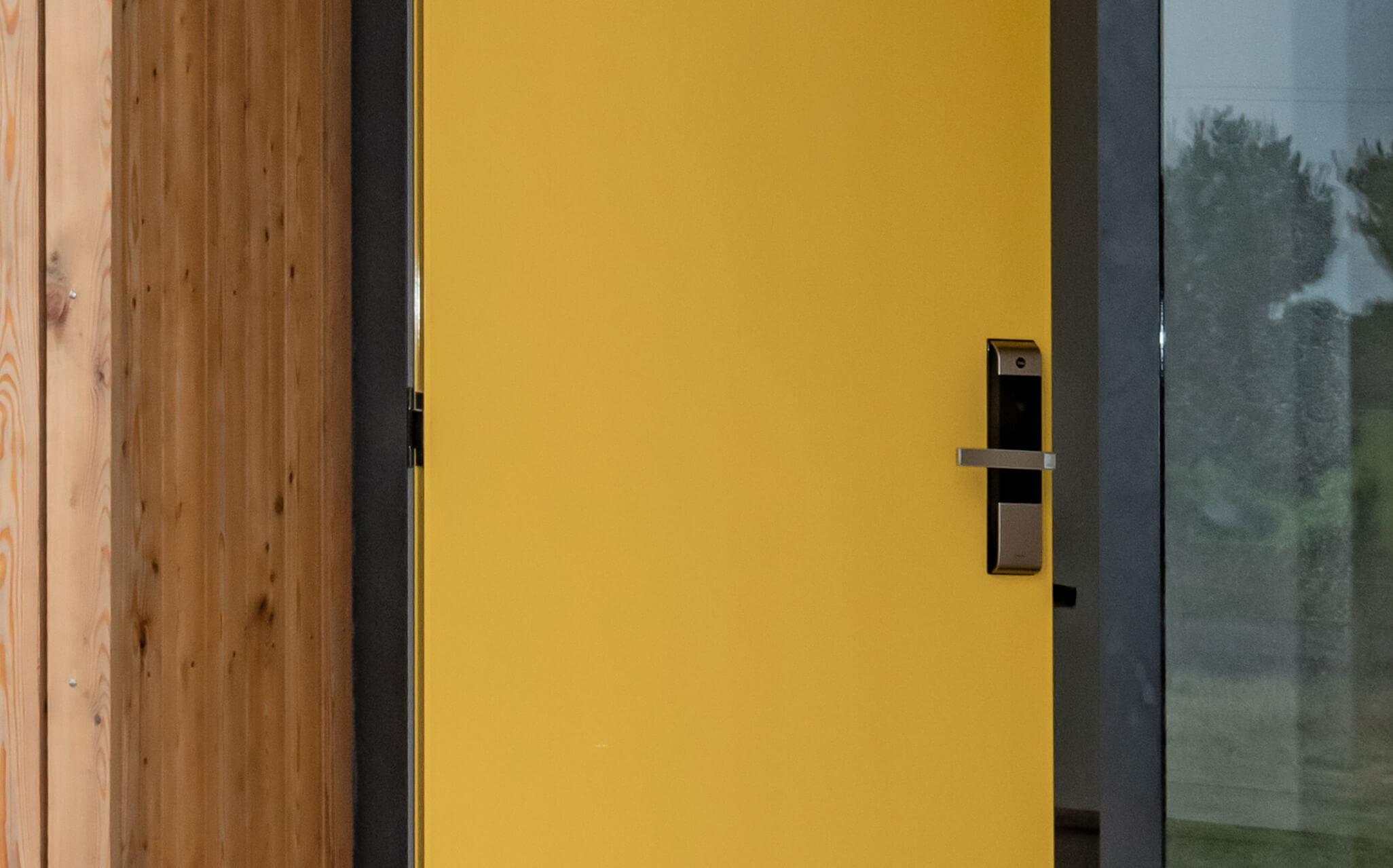 At UNO Windows & Doors, our full range of powdercoat shades can cater for any design style. As architect Antoni Gaudí famously said, "colour in certain places has the great value of making the outlines and structural planes seem more energetic" – so don't miss this unique chance to impress. Whether it's an upbeat vibrant colour, a minimal neutral tone, or a natural woodgrain powdercoat, the entrance door can differentiate your project from the rest.
While bright colours are full of personality, neutral colours are usually the most popular. This is because they work cohesively with external and internal elements and usually appeal to a wider demographic in terms of resale value. Although a bold choice may look good now, think about how it will look in the future as well.
Entry door hardware
Entrance doors must be secure and reliable which is why selecting the right hardware is all about balancing functionality, security, and design.
The hardware should be robust and user-friendly to withstand years of frequent use. Additionally, you must choose hardware that suits the lifestyle of the occupants. Some will prefer a traditional keyed lock while others may like the convenience of a digital lock.
Mechanical and keyed locks
With either a pull or lever handle, mechanical locks are the traditional type of lock used to secure a house. They are simple and effective and can be colour-matched to your other joinery.
Digital locks
For modern households, integrated digital locks are becoming increasingly popular for the quick, easy, and secure access solutions they offer. Residents can simply use their smartphone or a PIN code to unlock the home, rather than digging around for the keys every time.
Download the hardware brochure
For unrivalled safety and reliability, consider the Yale range of digital locks. With Bluetooth capabilities, each of these locks combines high security with simplicity and convenience.
H1 compliant entrance doors
The first stage of new window and door insulation requirements in H1/AS1 and H1/VM1 came into effect on 3 November 2022 with the current minimum R-value requirement in New Zealand being R0.37. The next stage of these changes will come into effect on 1 May 2023 for climate zones 3-6 and 3 November 2023 for climate zones 1-2.
Current R-value requirements for entrance doors in New Zealand:
Climate Zones 1-6: Minimum requirement is R0.37 (increased 3 November 2002).
Future R-value requirements for entrance doors in New Zealand:
Climate Zones 1-2: Minimum requirement of R0.46 from 3 November 2023.
Climate Zones 3-4: Minimum requirement of R0.46 from 1 May 2023.
Climate Zones 5-6: Minimum requirement of R0.50 from 1 May 2023.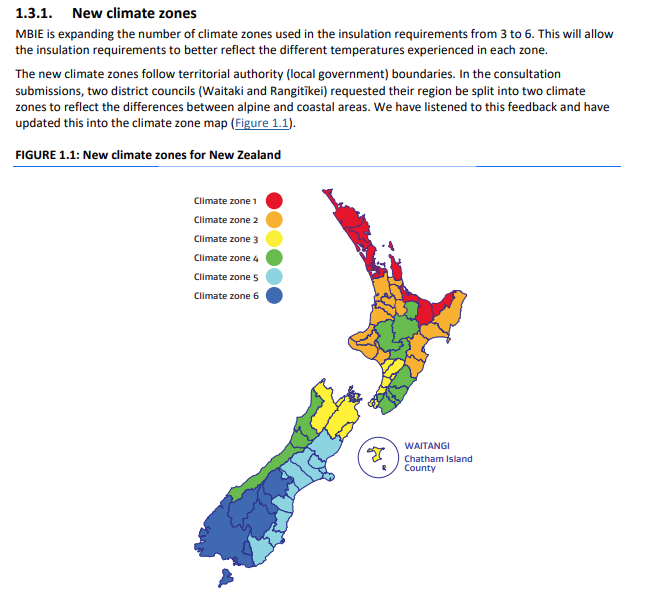 NZ climate zones sourced from MBIE.
For entrance doors, this means employing the latest thermally insulated technology to meet the new increased R-value requirements. The use of thermal breaks in the joinery and panels reduces heat transfer, increases durability against extreme conditions, and minimises any movement in the aluminium that could cause the door to warp or bow.
As an experienced supplier and installer of aluminium joinery, you can rely on UNO Windows & Doors when choosing an entry door for your next project. We have a wide variety of door configurations, panels, colours, and hardware to choose from – with quality assurances and warranties included.
Standard inclusions for UNO Windows & Doors entrance doors are:
A 10-year mechanical warranty on all hardware.
Weather-resistant aluminium.
A wide range of panel styles and colours.
Digital and mechanical hardware options.
Automatic compliance with H1 requirements.
For more information and industry insights, speak to our team today. Or, to find your ideal solution, download the entrance door brochure and technical files here.
Download the entrance door brochure