Finalising the joinery for a project can be daunting, but getting it done early will pay off in both time, money and quality. Our team are dedicated to delivering joinery that fits the brief, stays within budget and is installed on schedule. However, those factors can't always be guaranteed if we don't have the finalised specs on time. To ensure you get the best possible joinery solutions for your specific project, consult with our team early on.
Collaborating effectively
Getting your joinery specs sorted early gives everyone involved the chance to collaborate and coordinate their efforts for the project. The build process can easily become disjointed if the architect, developer, builders and manufacturers are not on the same page, and it tends to show up in the form of complications across the project.
That's also why having one supplier for your windows and doors makes the whole project run smoothly. It means you'll only have one point of contact to communicate with which is simpler, clearer, and less overwhelming. With us, you can rest assured knowing your joinery is taken care of all in one place, with one consistent and reliable team.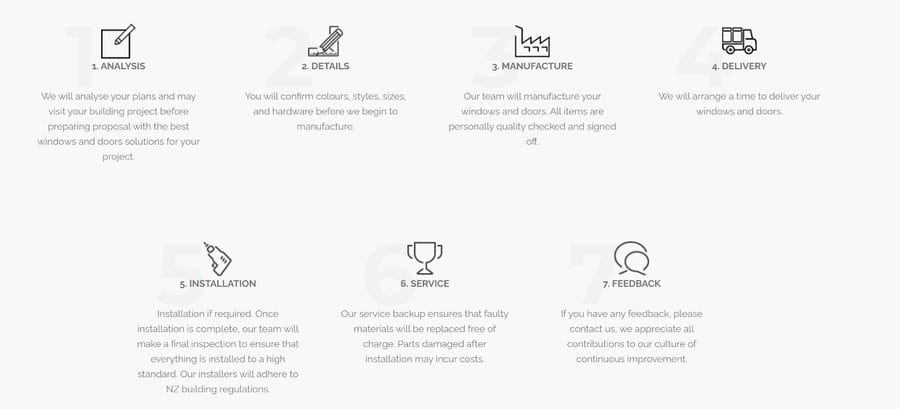 Our process explained.
To avoid any obstacles, organise the details of your windows and doors early on to give your manufacturers the chance to work with the architect and developer proactively, rather than in the last-minute rush. This ensures a smooth build with windows delivered on time and in spec.
When all the collaborators work together, the project will benefit from the expertise of each contributor. This will mean the best solution is selected for each problem and the result is as considered as possible.
Window and door Considerations:
Choosing the best product for each project, ensuring compliance with

NZS4211

&

NZS4223

by providing a preliminary structural design report, and cross-sections in DWG & PDF.
Choosing common standard window sizes & configurations to ensure an on-time manufacturing process.
Choosing the best powdercoat and

glazing

selections based on project location and clients' desired outcomes.
Make sure the joinery meets the brief at every stage of the process.
Where installation is required, we work closely with the project manager to ensure the joinery will be installed and ready within the required timeframe.
Get expert advice
Organising your joinery specs ahead of time gives you the chance to tap into the expert industry knowledge of your manufacturers. Our team has over 15 years of design and production experience which is well worth taking advantage of. When choosing joinery solutions, several factors need to be considered, and we can guide you towards the best possible outcome.
Joinery needs to effectively factor in the following:
Water tightness and weatherproofing.
Functionality in terms of opening, closing and sealing.
Security and privacy.
Weight, strength, and durability.
Building Code compliance.
By discussing your options early on in the process, you'll ensure your joinery is the best it can be, and the most appropriate solution for each application.
Industry-level information
Working closely with an experienced and skilled joinery manufacturer means access to detailed drawings, support for installation and information on rebates. What that means in practice is that builders, glaziers, architects, and other tradespeople are given the necessary resources to do their jobs effectively. Each stage of a new build project is inextricably connected to the rest which means each step needs to be carefully calculated before going ahead.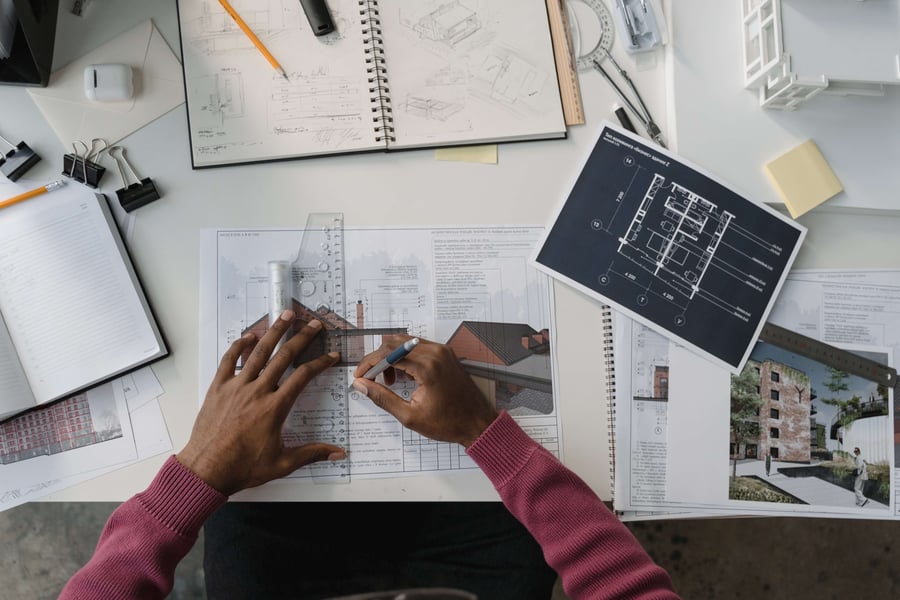 Information provided by us:
Detailed drawings for the architect, builders, and other tradespeople to refer to throughout the build process, including configurations, dimensions, and useful notes. This means miscommunications can be eliminated, and all those involved can complete the work smoothly.

Dimensioned

rebate

details.
Height from floor level to window sill to achieve the most cost-effective sizing (less than 800mm incurs more cost due to the impact standard

NZS4223

).
Common standard window sizes and configurations.
Flush sill requirements (all of our sliding doors have high-quality flush sills as a standard inclusion to improve safety as well as create a smooth transition for indoor-outdoor flow, and are guaranteed to meet industry regulations).
Timeline guarantee
A significant benefit to being organised is that it ensures your project can be spec'd, materials ordered and then delivered on time. If we specify your project in advance, we can plan for all the necessary work that goes into the joinery manufacturing process, including ordering material, allocating production time, and preparing shop drawings where applicable. Ensuring the right amount of time goes into these steps is what allows us to deliver your joinery within the discussed timeframe, which is not always possible if we receive specs later on.
Another thing to note is that joinery installation will have an impact on other aspects of the build, and impact when the overall project is completed. This means getting joinery completed on time is crucial to having the other build steps completed, such as cladding, interior wall linings and floor coverings.
Anyone who has been involved in a building project before will know the implications of a certain step being delayed. To avoid being behind schedule, and the stressful repercussions of that, be sure to get us to specify your windows and doors so we can deliver a quality result.
With us, you'll have one cohesive team working with you from beginning to end. That means having one point of contact from design and specs through to manufacturing, delivery, and in some cases installation. We also work closely with the prenail supplier to ensure all windows and window openings are compatible before installation so that you can avoid any unexpected delays. Our team are experienced and skilled, which means you'll be in the best possible hands throughout the building process.
Industry solutions
Working with industry experts like us means you'll get the most cost-effective solutions for the project. From over 15 years in the industry, we've picked up on all the best ways to save money while still delivering joinery of high quality. Since each project is different, and climates and regulations vary from place to place, it's difficult to give a blanket rule or guideline to follow. That's why it's worth consulting our professionals throughout the design process to select the best options specifically to suit your requirements.
Our team can help you with:
Finding time-friendly solutions that allow you to install windows and doors within your designated timeframe. This way you can finish the project sooner, without worrying about compromising on quality.
Choosing the

right finish and colour

to make an impression. Getting this right can elevate your project in terms of feel, aesthetic and ambience, but it doesn't need to break the budget.
Deciding on sizes and joinery solutions for specific spaces, our team will give you expert suggestions for the most cost-effective sizes and configurations while still making a statement with your windows.
Choosing the best profiles to meet the latest changes to insulation laws

, and the best way to keep costs down without sacrificing functionality.
Avoiding unexpected joinery Costs
Changing your joinery specs late in the process is likely to incur extra costs because of the time and variables that need to be considered. Even if the new specs can be delivered later, the time lost on the original design is substantial and will be factored into the final bill. As well as the joinery itself, the flow-on effect of last-minute changes can affect other elements of the building process and ultimately result in thousands of dollars extra on top of the initial quote. So collaborating with us directly to specify the windows and doors on your project will benefit you significantly, at the very least save you from unplanned building expenses. Our team knows how to collaborate well with architects and other tradespeople, and therefore keep the overall building costs within budget. That's why consulting with us early will help to keep your budget where it should be, and reduce unwarranted surprises.
With joinery specs prepared early in the design process, our team can guarantee faster delivery, quality solutions and comprehensive support for the project. To ensure all the important details are organised and requirements are met, consult with the team early on. We'll make your project a priority, and be sure to design and produce the highest quality aluminium windows and doors for your new build.
If you need joinery specs for your new build project, get in touch for help finalising the details to ensure a successful project outcome.
Contact us