Recently, you may have noticed the phrases 'thermally-insulated', 'thermally-improved', or 'thermally-broken' cropping up and it's more than just a buzzword because, in the next 12 months, thermally-insulated window frames will be required to meet the new minimum H1 standard across all of New Zealand.
As most architects, developers, and builders know, by the tail end of 2023, thermally insulated windows, also known as thermally-broken windows, will be non-negotiable for residential projects throughout the country. If you're planning a new residential project and looking for high-performing, energy-efficient solutions that modernise and future-proof the home, upgrading to thermal windows ahead of this deadline should not be overlooked.
To understand the hype around thermally insulated windows, let's explore how they perform and the benefits of installing them in your new project.
What are thermally insulated windows?
When installing aluminium windows, the frames are just as important as the glass itself. While double glazing and Low-E glass can reduce heat loss through the glass pane, there will still be a certain amount of heat transfer through the surrounding frame. This is especially the case with the commonly used, and conductive, aluminium frames. To overcome this, thermal breaks must be built into the frame to stop heat from escaping and cold from seeping in.
How does a thermal break work?
Thermal energy is transferred through materials that are touching, so by forming a physical, resistive barrier, this energy pathway can be blocked. To achieve this, thermally broken windows have a continuous polyamide bar that wraps around the entire frame. Being a low-conductive material, polyamide interrupts the heat transfer and helps to maintain a comfortable temperature in the house all year round.
R-values and U-values
To understand how a window's thermal insulation stacks up against the required standards, you need to understand R-values and U-values. A U-value measures how much thermal energy is conducted through a particular material or item. This can range from low heat transfer (0.1) to high heat transfer (1.0).
On the other hand, an R-value represents how well a material resists thermal transfer based on its thickness and conductive properties. In other words, the higher the R-value is, the lower the U-value will be.
In the New Zealand Building Code, requirements for insulation are set according to R-values.
Why thermally insulated windows are necessary
To understand the reasoning behind the new insulation standards, let's examine the key advantages of thermally broken frames.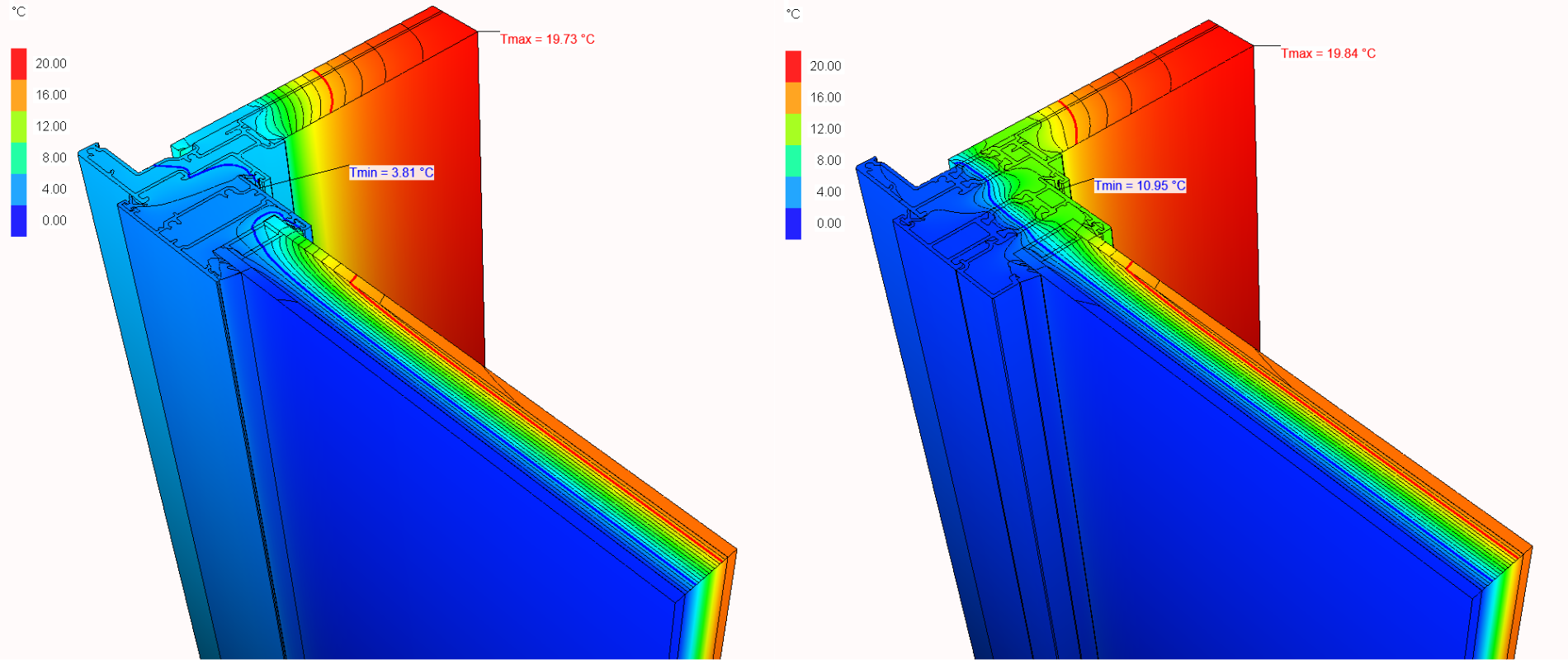 Non-thermal (left) vs thermal (right).
Energy savings
To maintain a healthy and comfortable home, the temperature inside should be at least 18°C but without the correct insulation, that requires a lot of energy to maintain in both summer and winter. By preventing heat transfer in and out of the house, a thermally broken frame helps to keep internal temperatures steady.
Long-lasting window frames
The popularity of aluminium is for good reason — it is low maintenance, cost-effective, and recyclable. And in New Zealand's changeable climate, the UV stability, corrosion resistance, and strength of aluminium are unmatched, even when compared with UPVC or timber windows.
Previously, the only downside with aluminium frames was the heat loss, but now, with thermal insulators, this is no longer a problem. This means aluminium windows with the thermal insulation strips will remain the number one choice.
Sound insulation
As well as heat, sound can easily transfer through aluminium frames — which for urban residential homes, is a major drawback. By incorporating the thermal insulation strips, the sound transfer is also reduced, helping to keep external noises out and inside noises in.
Condensation free windows
In New Zealand, we're no strangers to condensation and unfortunately, aluminium frames have been a contributor to this. As the warm moisture in the air hits the cold metal, it cools and forms droplets. Over time, this moisture can degrade the metal and produce mould.
However, with thermally broken windows, the chance of condensation forming on the frame is dramatically reduced. With condensation issues, it all comes back to how much moisture is inside your home and the amount of ventilation provided within your home.
New standards in the building code
In the next 12 months, the NZ Building Code H1 standard for all new build homes is changing. Since 2007, double glazing has been the standard but as we slowly catch up to global insulation standards, this is overdue for an upgrade.
Starting in November 2022, more energy-efficient solutions will be the new minimum in New Zealand, including argon-filled double glazing with Low-E glass. These higher standards will bring many benefits, including:
Reducing the energy used to heat new homes by up to 40%.
Saving residents thousands on energy bills.
Boosting residents' health.
Supporting the country's goal of net zero carbon emissions by 2050.
The changes will be introduced in phases and will vary based on the six climate zones outlined by the Ministry of Business, Innovation and Employment (MBIE).
On top of other insulation components, such as in the roof, floor, and walls, the new standards for windows will require thermally broken aluminium framing and argon-filled, double glazed, Low-E glass with thermal spacers.
Zones 1 and 2
If your new project is located in Northland, Auckland, Coromandel, Bay of Plenty, Hamilton, East Coast, or Taranaki, you must comply with the standards laid out for Zones 1 and 2. From November 2022 the required R-value will be R0.37 and will increase further to R0.46 by November 2023.
Zones 3 and 4
If your new project is located in Manawatu, Horowhenua, Wellington, Nelson, Marlborough, Chatham Islands, Central Plateau, Wairarapa, or the West Coast, you must comply with the standards laid out for Zones 3 and 4. By May 2023, the minimum standard for these areas will be increased to R0.46.
Zones 5 and 6
If your new project is located in Canterbury, Coastal Otago, Inland Otago, Southland, or Stewart Island, you must comply with the standards laid out for Zones 5 and 6. From November 2022 the required R-value will be R0.37, and will increase further to R0.50 by May 2023.
If you are an architect, developer, or builder with a new project on the horizon, opting for thermally broken windows should be your first step. Not only will your clients be satisfied with the improved energy efficiency, but you will also be well-prepared for the changes ahead.
Eager to discuss your next new build or multi-residential housing project? Contact the team at UNO Windows & Doors. We will guide you through the new minimum standards of your region and find a solution that works for you.
Please note that we do not supply windows for renovation projects or individual replacements.