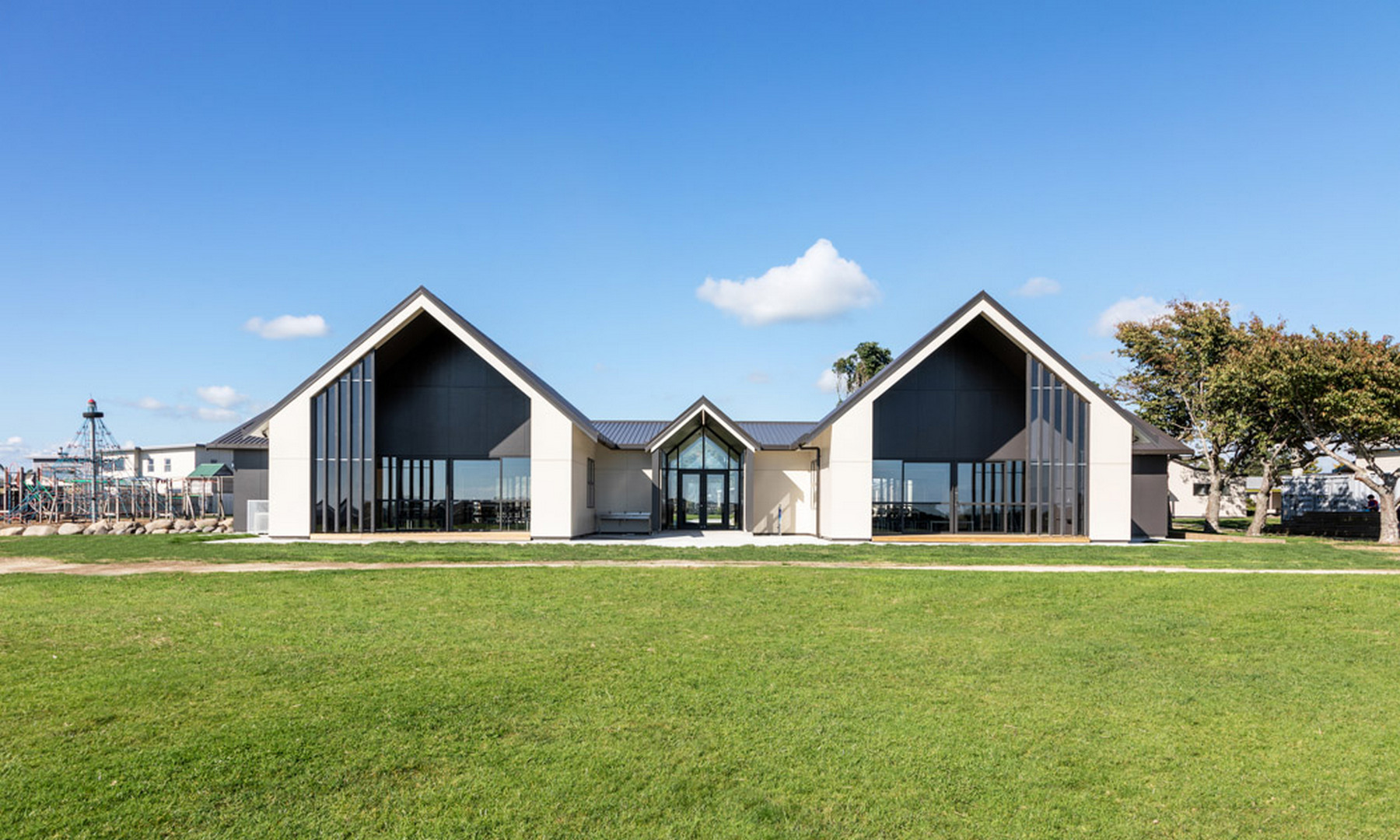 A school that fosters community.
Project name
Puketapu School
Category
Commercial
Location
Bell Block, New Plymouth
Puketapu school
In recent years, Puketapu school has grown significantly due to new housing developments in the Bell Block area. Since 2014, the roll has nearly doubled meaning the school had to convert their hall and library into temporary classrooms to accommodate the growth.

To keep providing the best possible education to local children, they needed a more permanent solution, and that's why they invested in a new custom-built classroom block, designed to deliver the best education experience both now and in the future.
The school's enrollment has nearly doubled in recent years, so a new classroom block was a must.
With significant increases in enrollment numbers that are continuing to climb, the new classroom block needed to be adaptable, enduring, and cohesive. It was important the building reflected the local community and aligned with the values of families and hapū in the area. That's why each of these groups had input in the design and collaborated to create a space that continues to meet those needs for many years to come.

The new building needed to be a practical learning environment, and therefore versatile, durable, and easy to clean. That's why the layout of the interior can be divided into four separate classrooms, or eight smaller sections, and has a kitchen area and craft space in the centre.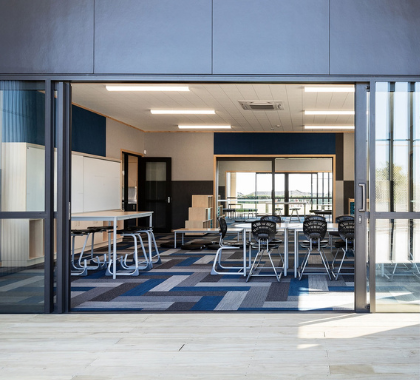 A bustling centre that will be a space for people to come together and learn for generations to come.
UNO partnered with architect Ardern Peters and Southcoast Construction on the project and supplied a total of 43 window and door units for this robust new classroom block.

The Matt Ironsand aluminium frames used will maintain their sleek appearance and stand the test of time, even in the intensity of the classroom setting, while the laminated or 'safety' glass serves to reduce both sound and fading. This functional combination allows effective light and ventilation into the classroom, facilitating a healthy, happy, and warm place for teachers and students all year round.

The overall design of the building speaks to more than just practicalities however, as it also represents significant aspects of the local community. In fact, the interior colours of blues, greens, timber, and Matt Ironsand were chosen to represent the land and sea. And above it all are the marae-inspired ceilings as a nod to the school being "a whanau group, under one roof".

The school principal Ngatai Walker said the build was completed on time and on budget making it a positive experience throughout. Walker shared that he's "grateful to have this new space. It's a quality 21st-century learning environment for our kids."
Window & door units
UNO supplied 43 window and door units for this project in a range of aluminium windows and doors.

Duratec powdercoat
Dulux Duratec powdercoat colour used throughout this project was Matt Ironsand to give the building an earthy look and feel.

Clear laminated glazing
A mix of double and single glazed clear laminated glass was used throughout this project. Double glazed for exterior units and single glazed for interior units. Commercial suite
The commercial suite was used on this project, commonly used for architectural and commercial applications as they are suitable in demanding environments.
A range of window and door units were used extensively across this new classroom block, maximising light, accessibility, and spaciouness.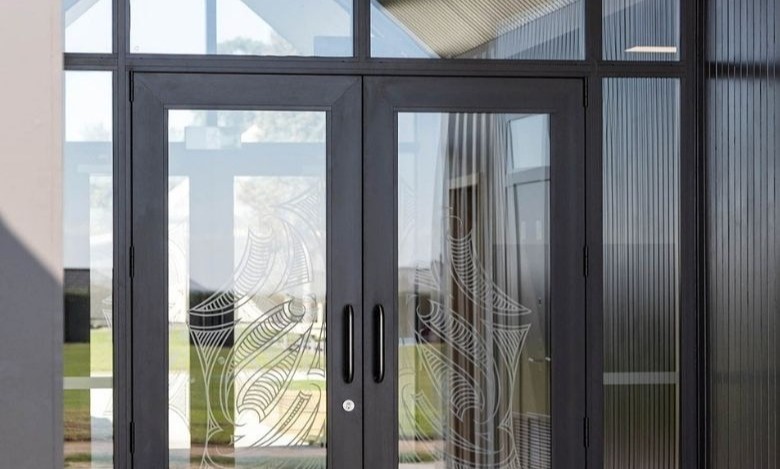 Hinged doors
Hinged doors were used as the main accessway in and out of the classroom block. The glass doors allow natural light into the corridors and can be pinned back, or swung shut with ease.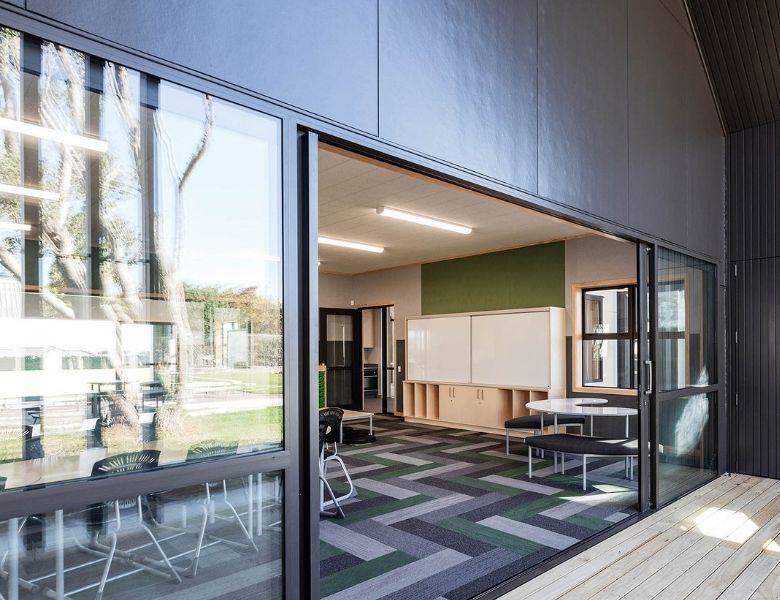 Sliding doors
Interior and exterior sliding doors were used to divide space as needed. They are convenient and easy to operate, facilitating accessibility and spaciousness.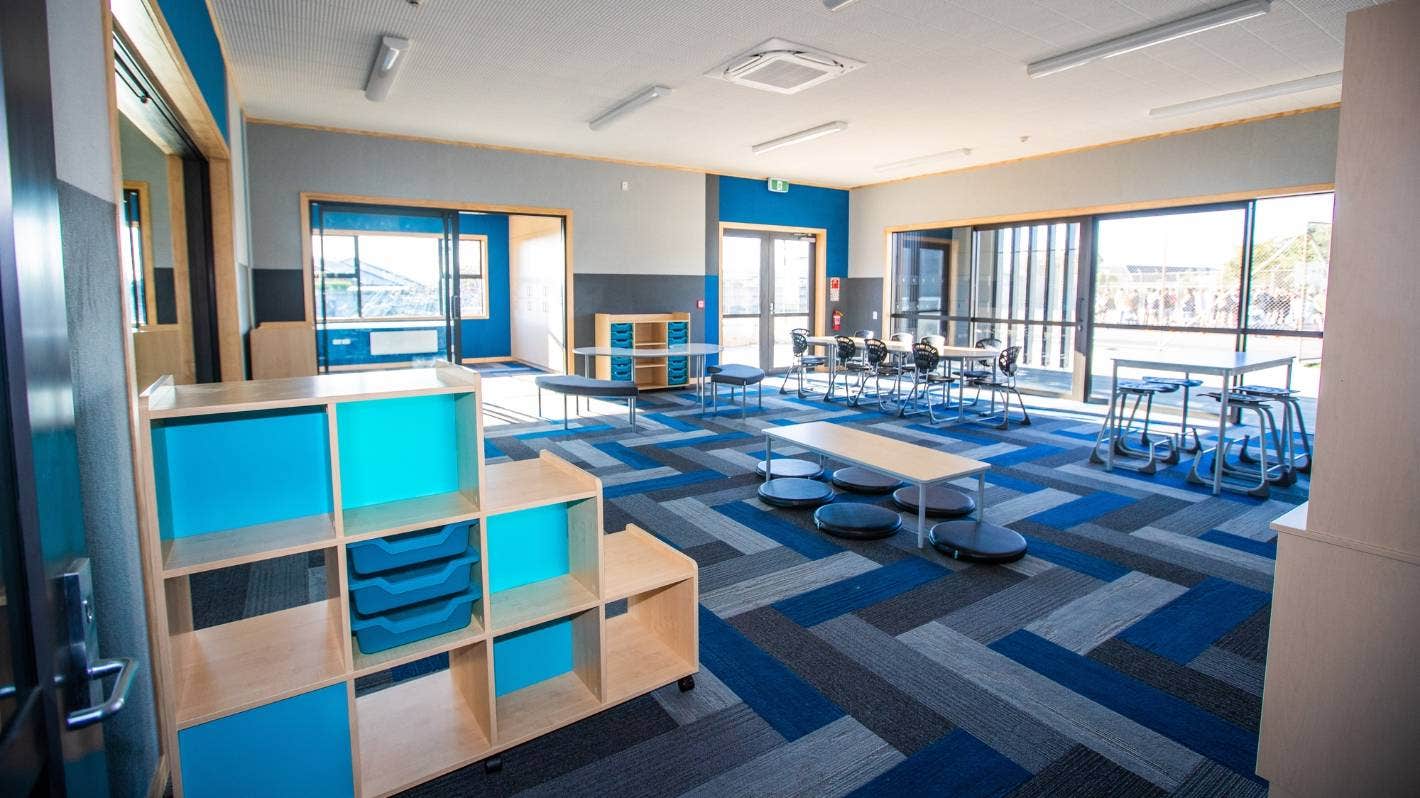 Fixed and awning windows
A variety of fixed and awning windows in Matt Ironsand joinery and double-glazed, laminate glass completed the final touches of this new classroom block project.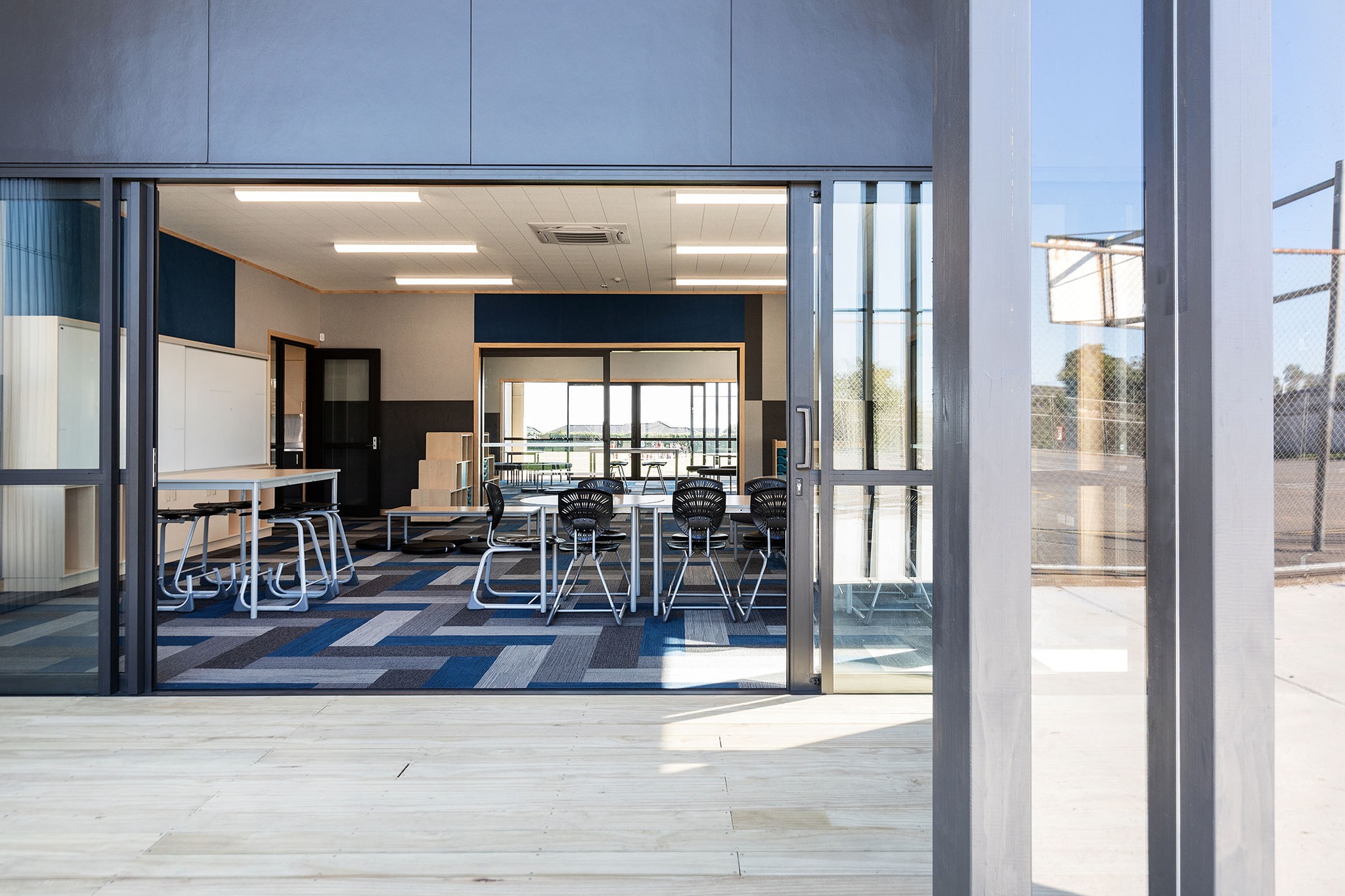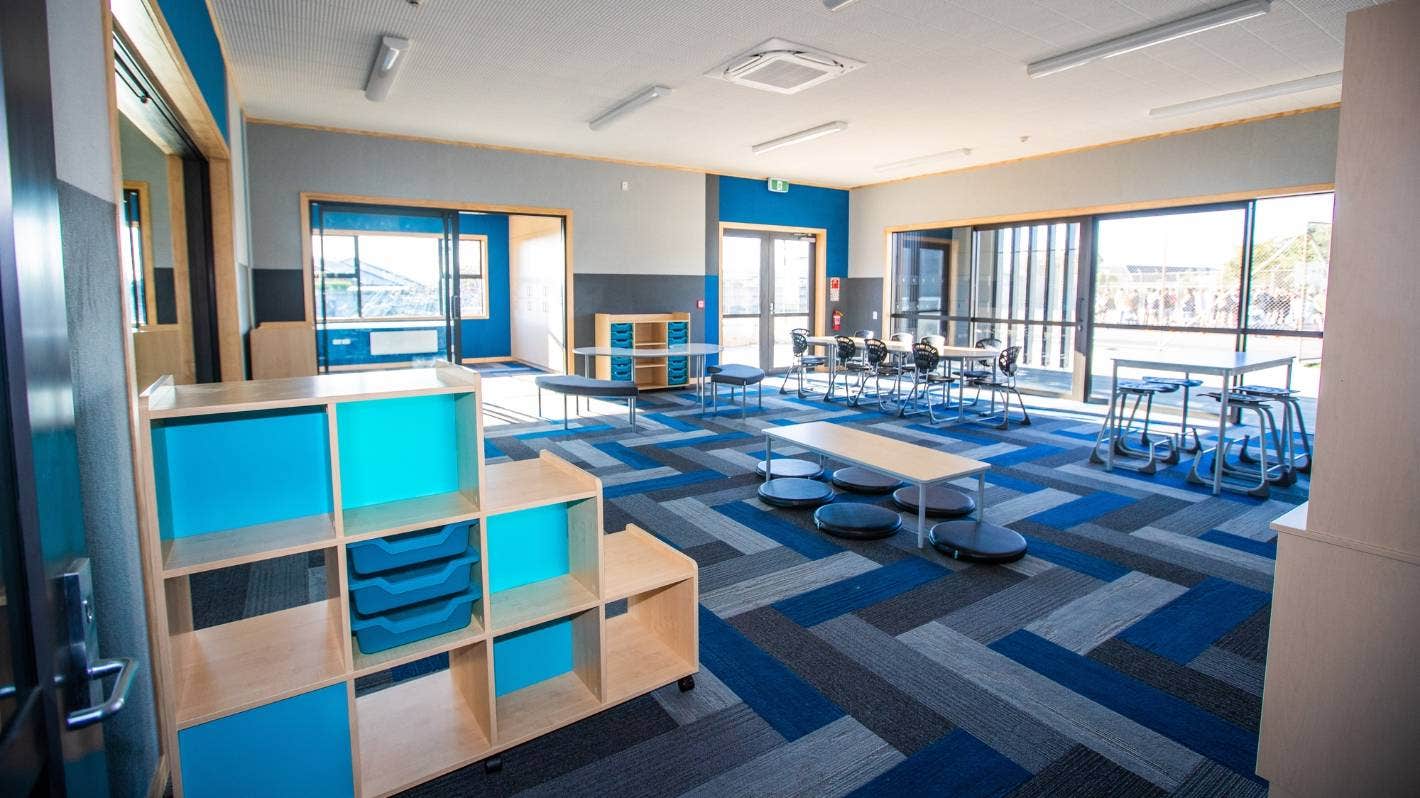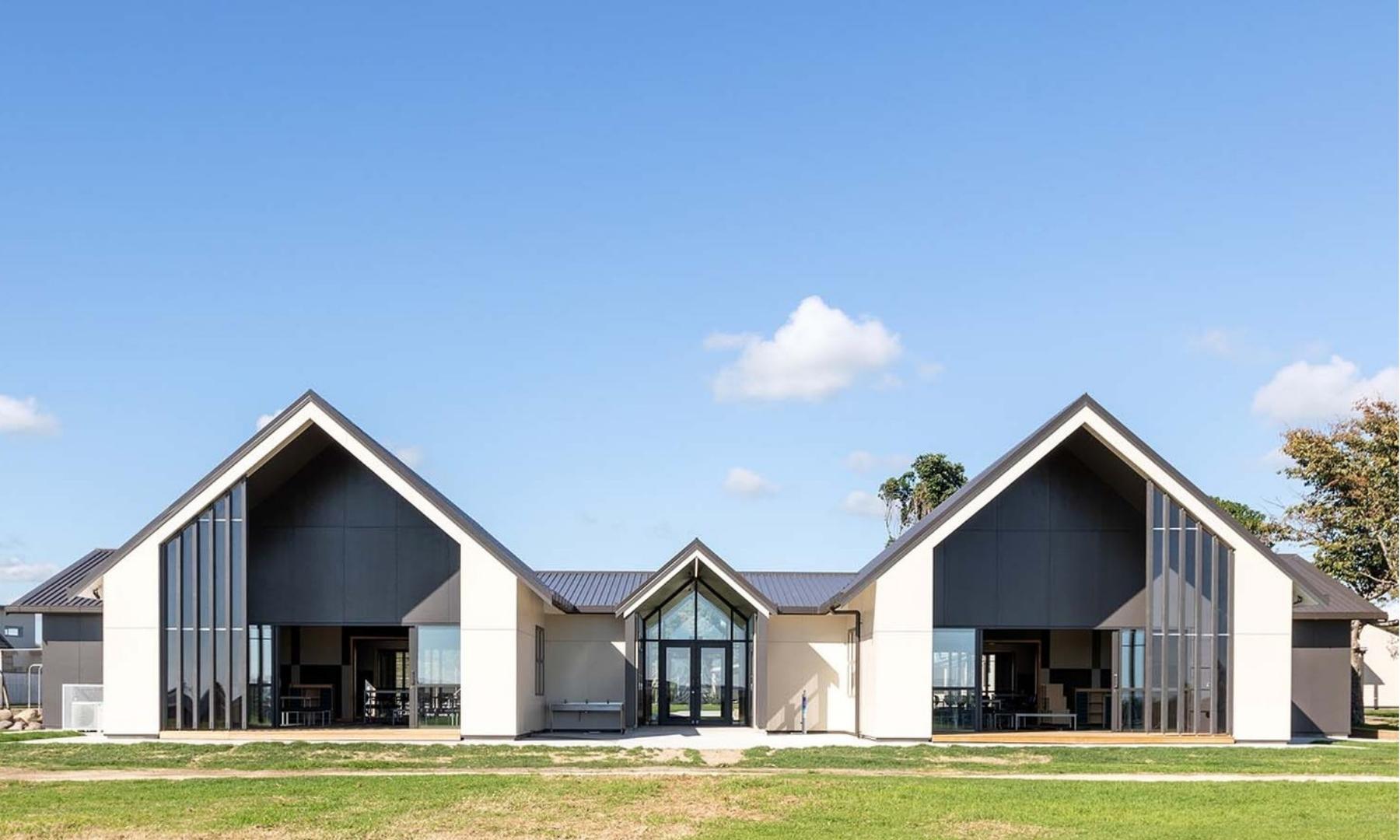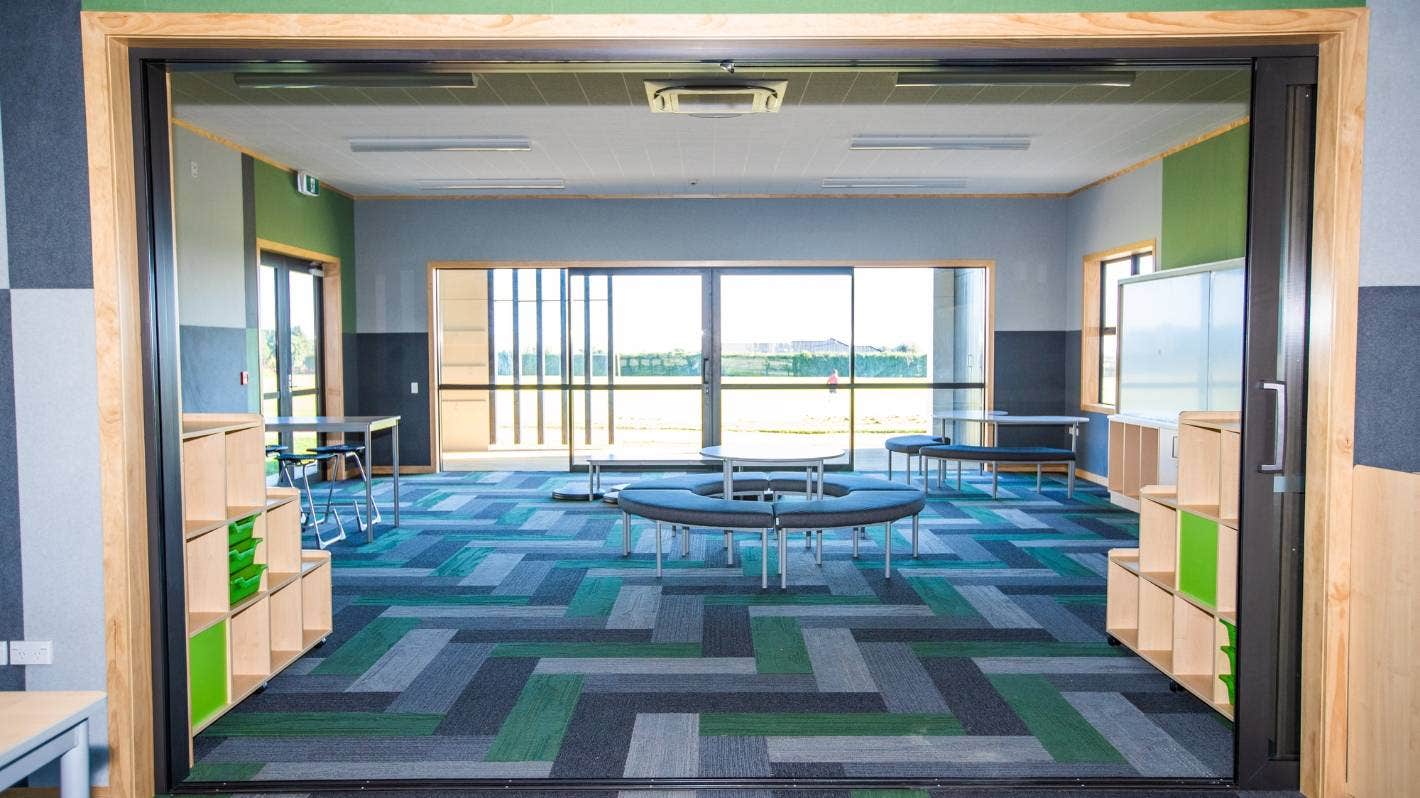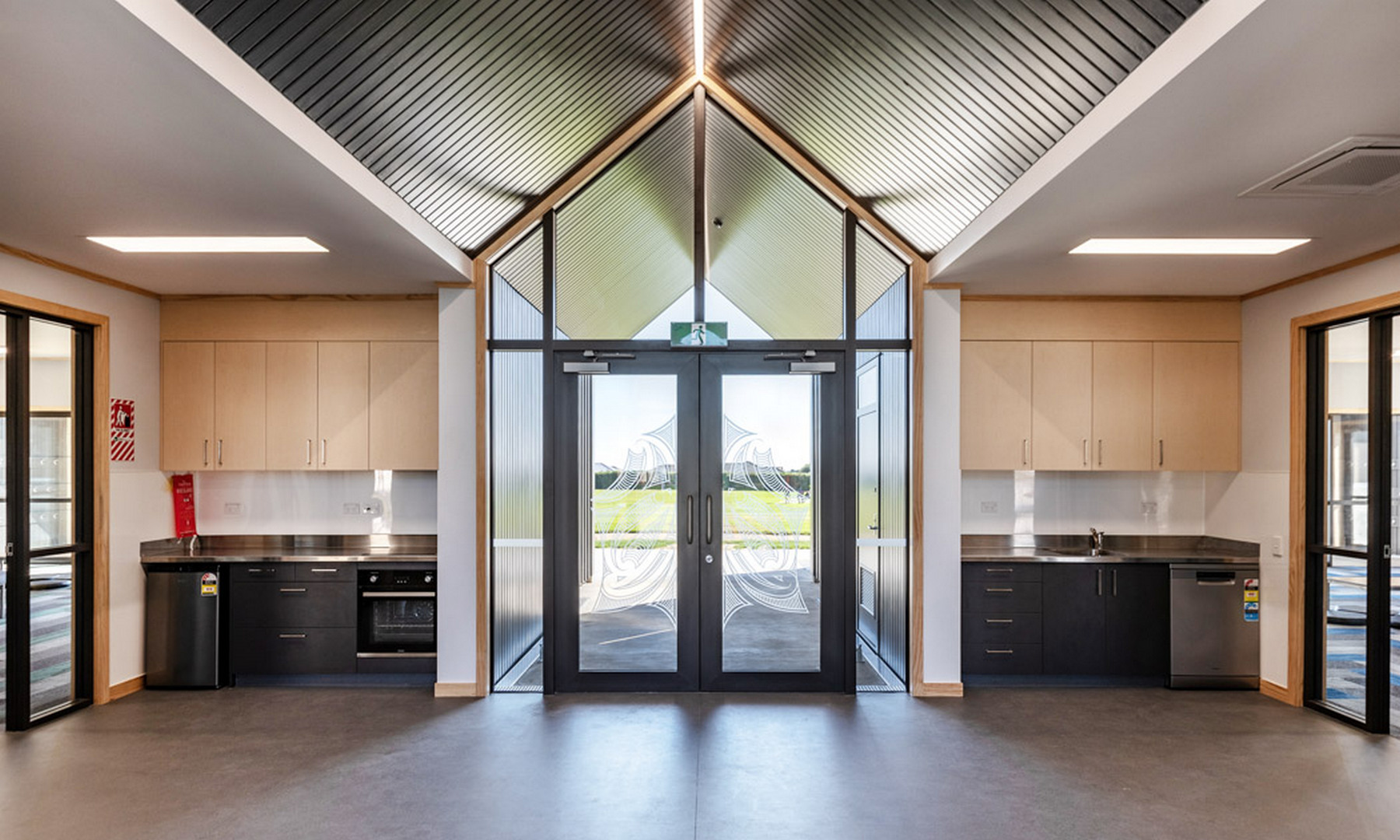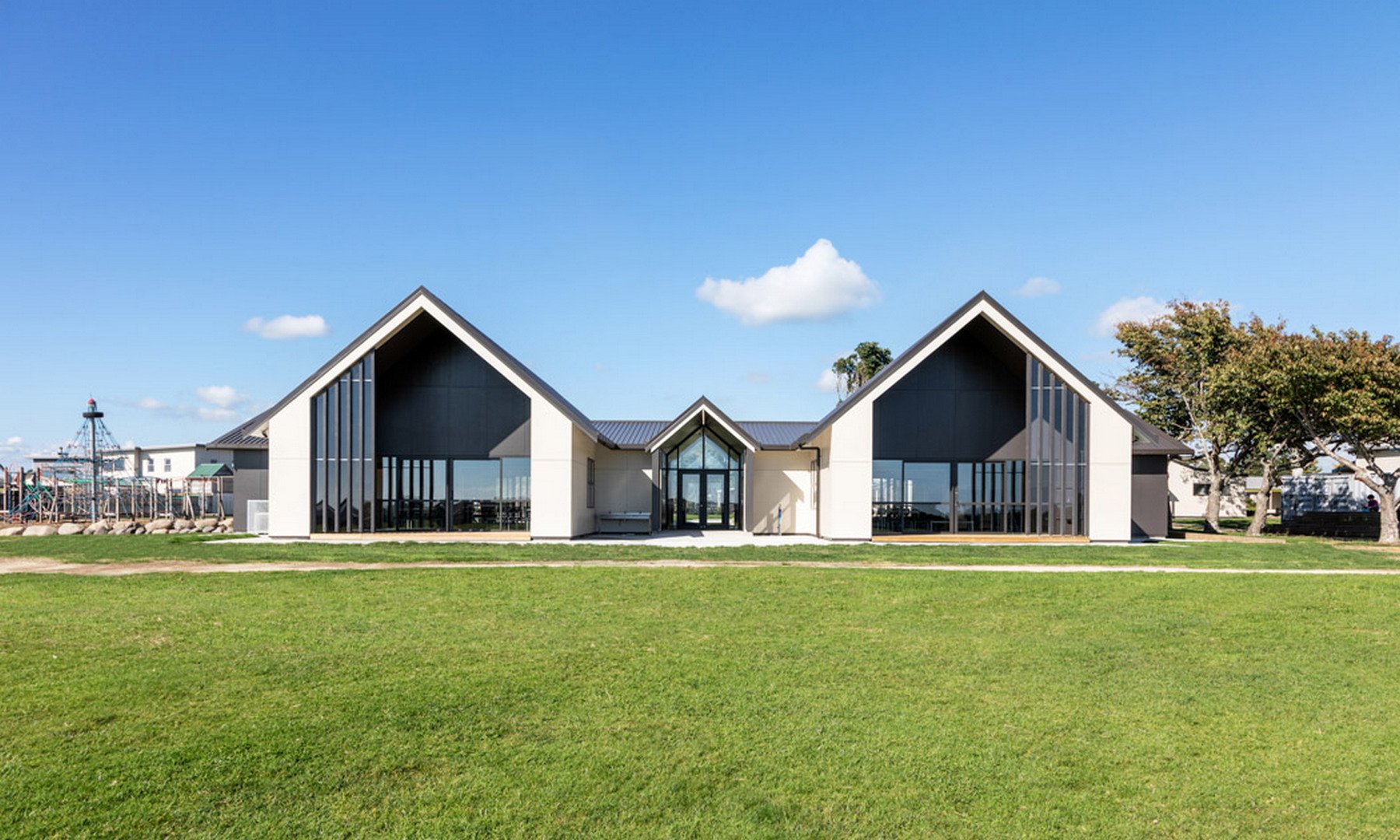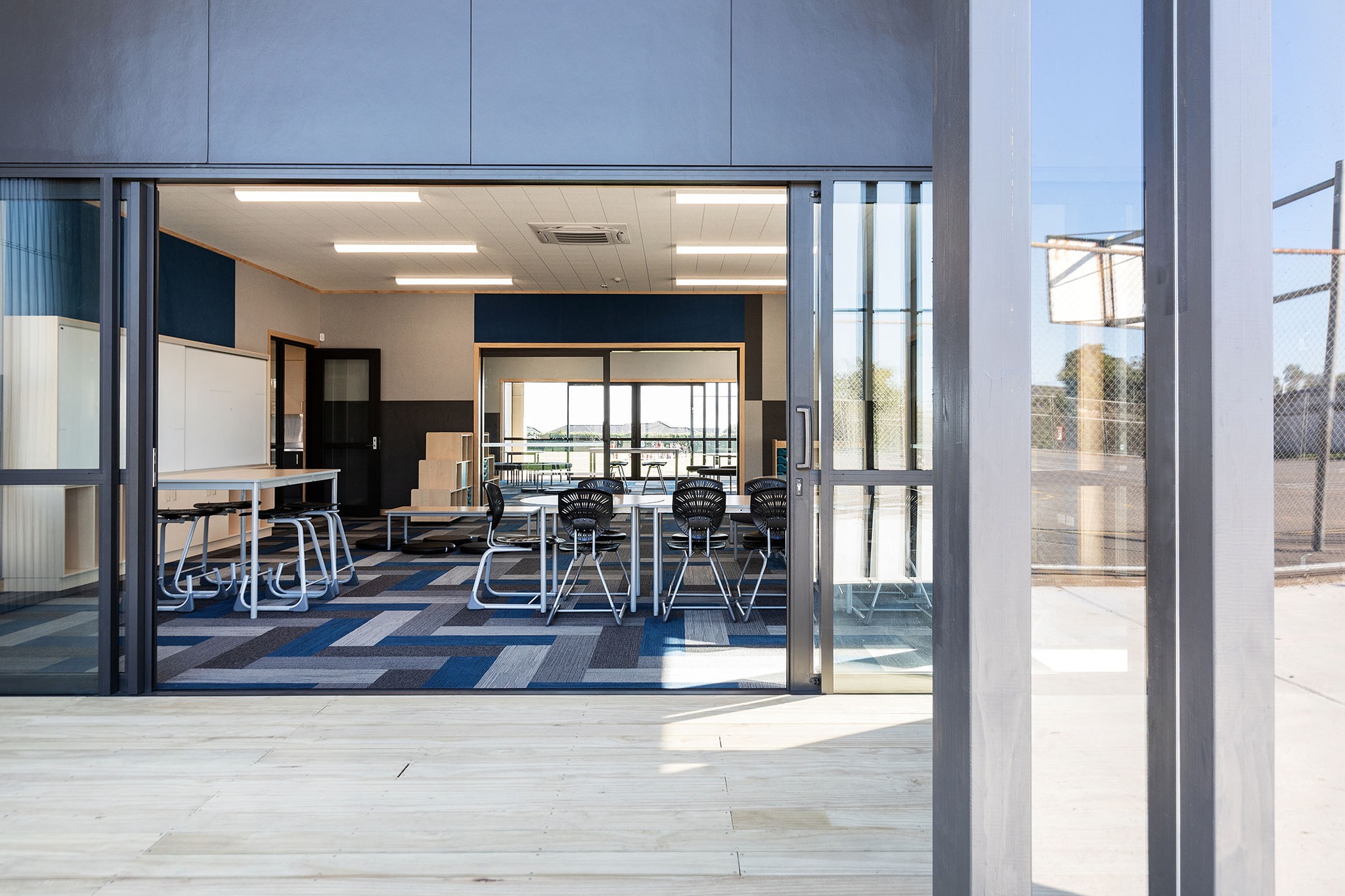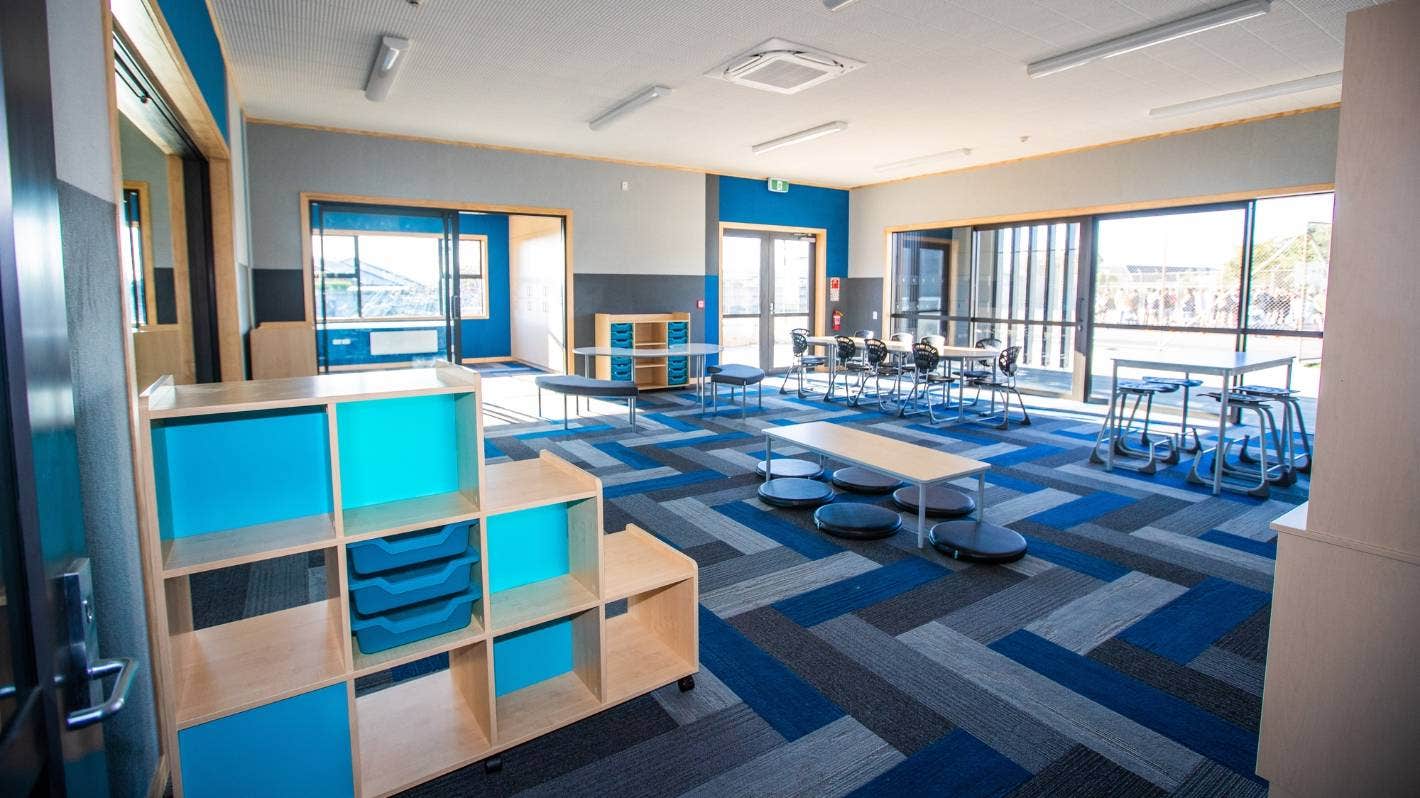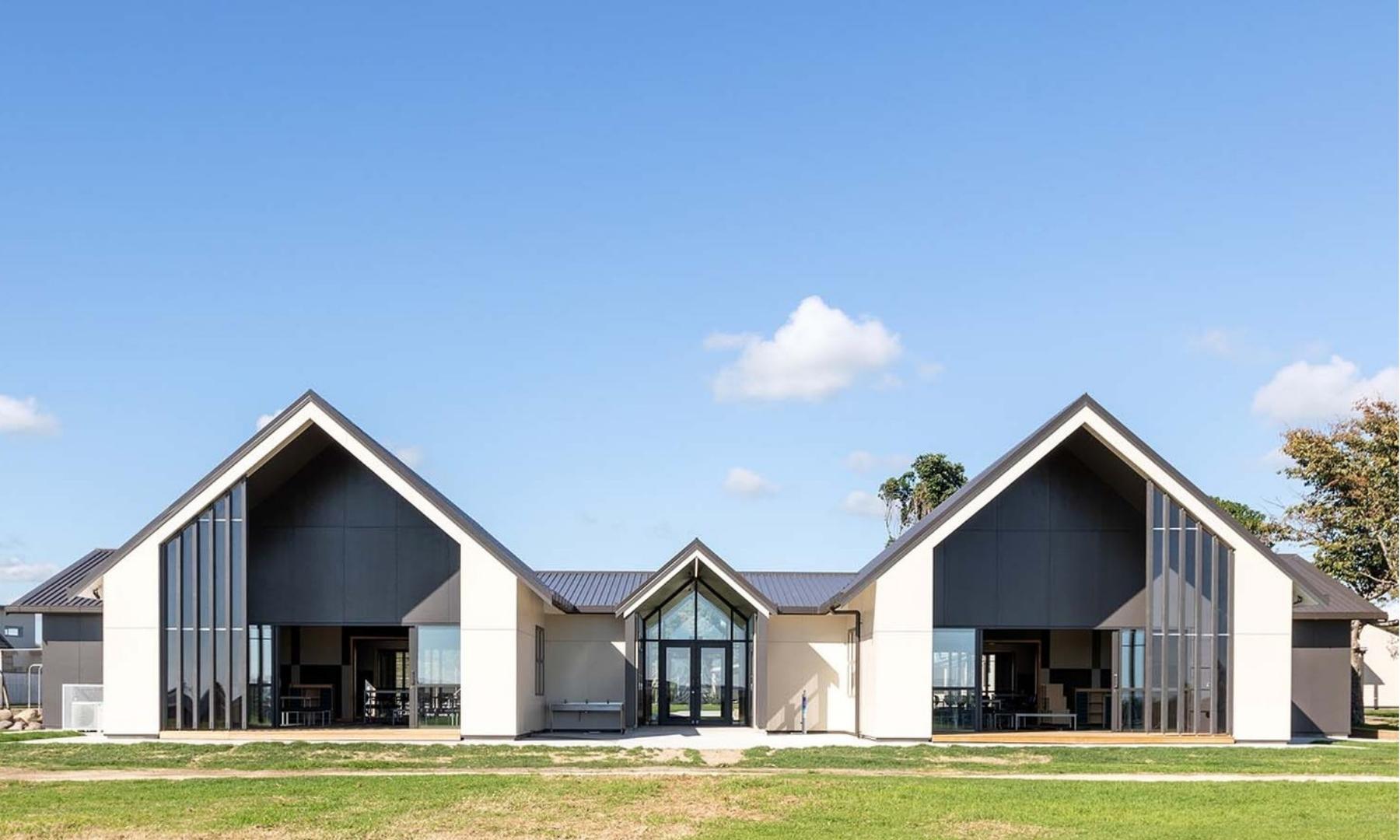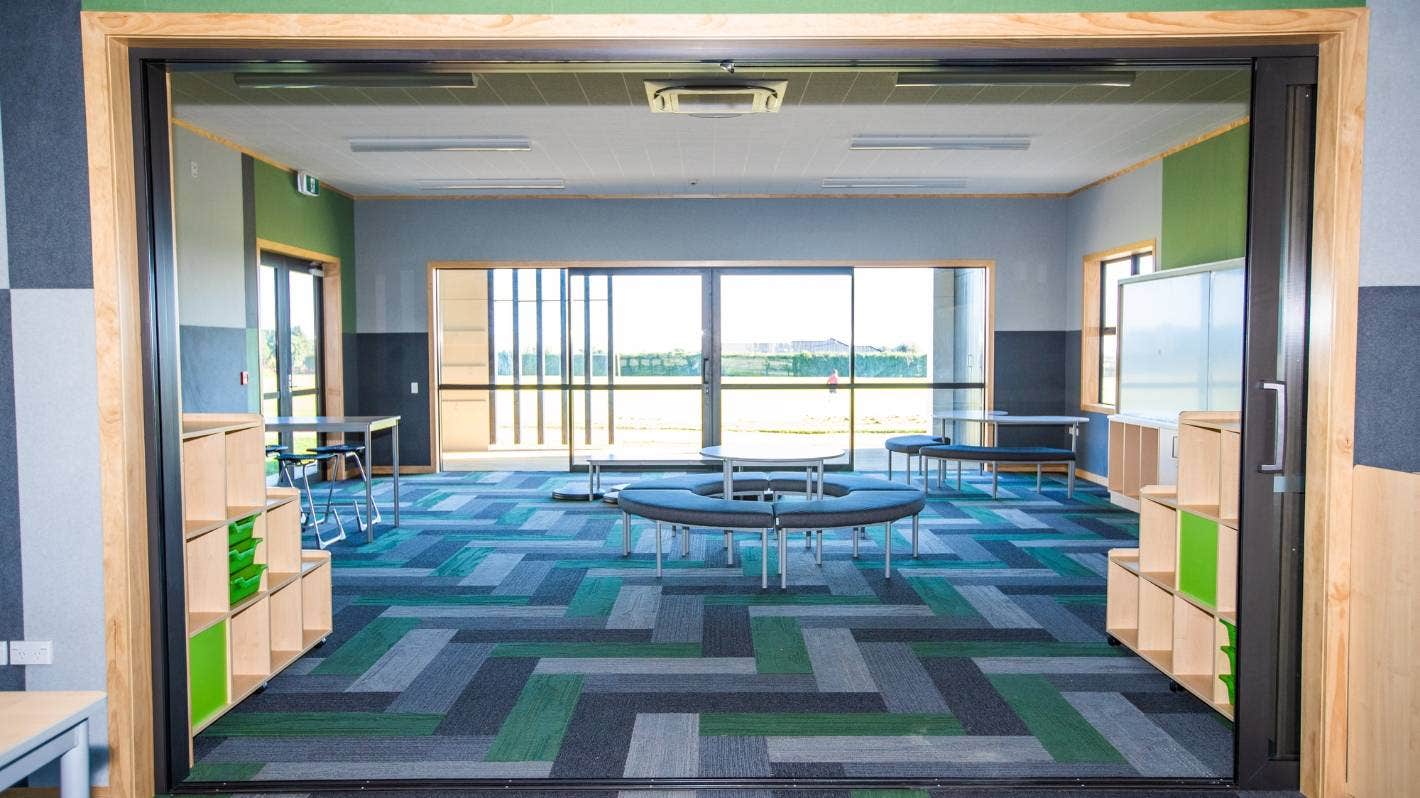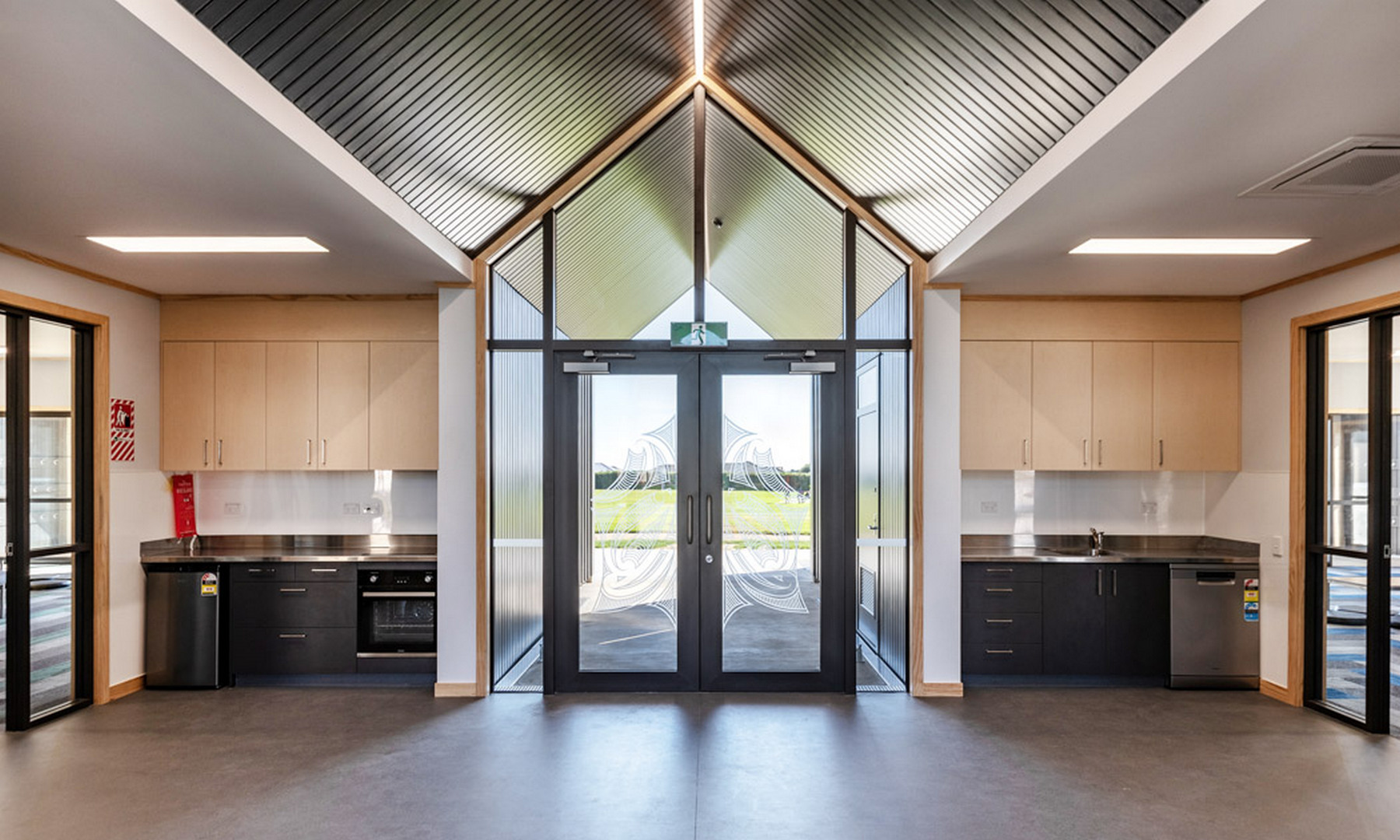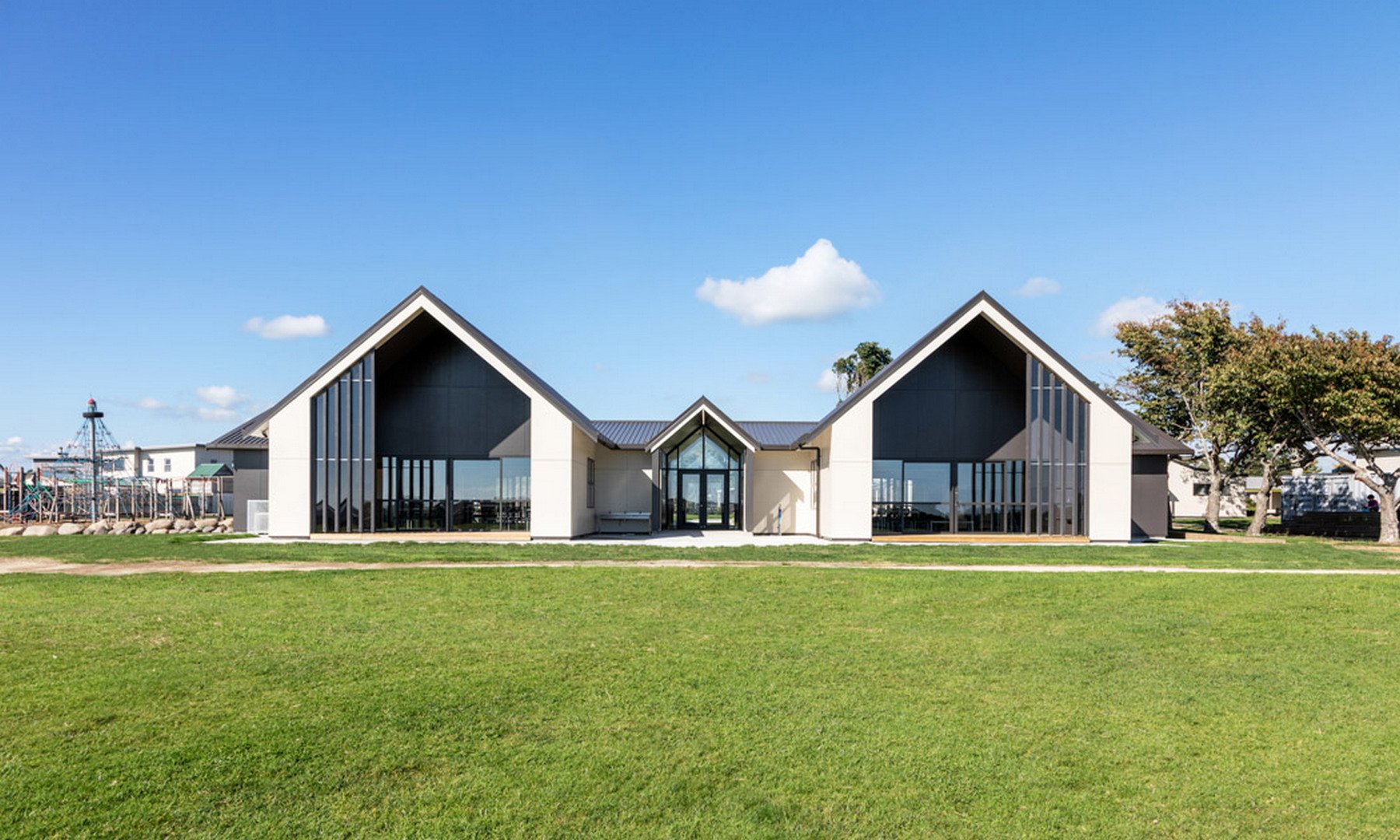 Building a new commercial property? Whether you're a builder or property developer talk to our aluminium joinery experts about your commercial project.
Contact us