Planning your windows involves careful consideration of various factors to ensure they meet both aesthetic and practical requirements. In this article, we explore six key design considerations architects and developers should take into account when planning windows.
1. Powdercoat Colour and Range
When choosing a colour, consider whether or not you want the windows and doors to match the cladding or roof, or if you want them to contrast. Consider the interaction of interior and exterior colour schemes. Think about timelessness. Bold colours may be trendy now, but will they look dated later?
The choice of powdercoat for window frames is more than just a matter of aesthetics – it also impacts durability and performance. When selecting a powdercoat, you should consider the building's proximity to the coast and other harsh environments.
Here at UNO, we use Interpon powdercoat colours across all windows and doors. In harsh conditions, we often recommend using D2525 powdercoat for enhanced durability. On the other hand, D1010 is suitable for standard homes that are not in highly acidic or caustic environments.
Interpon D1010 Premium - Residential
For homes, we recommend the D1010 Residential range. This is a warranty-grade powder coating, engineered
specifically for residential aluminium. It includes several coating technologies designed to meet the AAMA standards and it also offers excellent colour retention.
However, please note that the D1010 range is only suitable for coastal environments that are further than 100m from the high tide line and are not suitable for strongly acidic or caustic environments where the pH is below 5.1 or above 8.9.
Interpon D1010 Premium - Commercial
For commercial applications, we recommend Interpon the D1010 Commercial range. This warranty-grade powder coating is engineered specifically for any architectural aluminium applications. It includes several coating technologies designed to meet the AAMA standards requirements and offers excellent colour retention.
Interpon D2525 Futura
For the next level of durability, suppliers recommend using D2525 Futura. If you are building in a location close to the coast or any other harsh environment, we recommend the D2525 Futura range. This is a super durable TGIC-free powder coating designed for architectural applications requiring colour retention and film integrity.
Order colour samples
To help you make informed decisions, you can request samples of our key colours samples straight to your door. Simply fill out the form on our website and select the samples you wish to receive.
2. Glass
Choosing the right type of glass can significantly impact energy efficiency and comfort within a building. You should carefully consider Low-E glass, solar heat gain, pane sizes, and glass impact rules.
Low E Glass
Low-E glass has a coating which improves its thermal efficiency. The coating is virtually invisible but reduces heat transfer through the glass.
From November 2023 all climate zones in New Zealand will require Low-E glass as a minimum to meet the required R-values. However, there are different levels of Low-E to consider depending on the R-value, solar heat gain, and more. See the table below for specifications.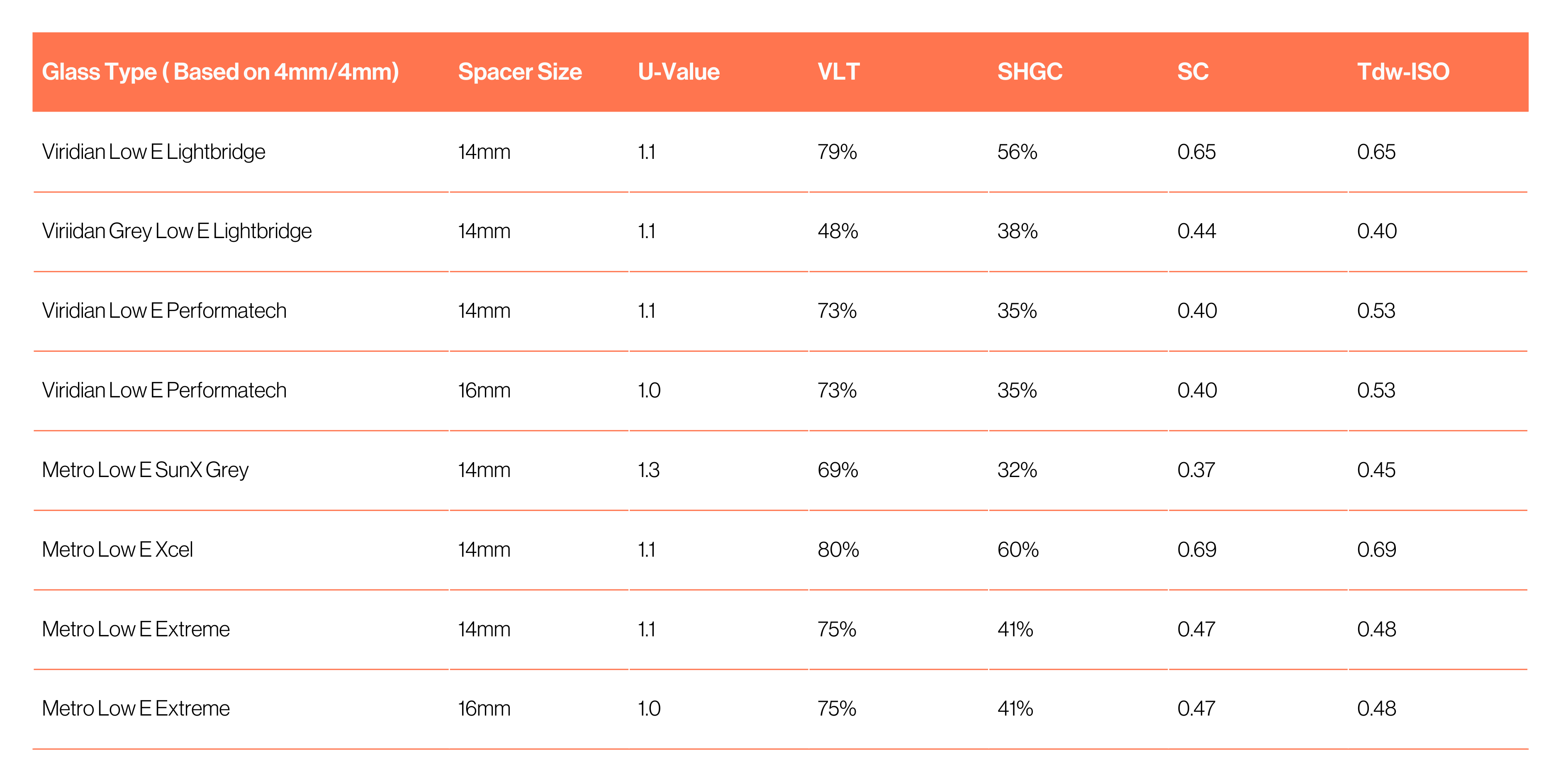 Key:
VLT= Visible Light Transmission
SHGC= Solar Heat Gain Co-efficient
SC= Shading Co-efficient
Tdw-ISO= Fading Value
For more information on glazing, please find all the glass specs on our website for the best solutions, depending on what you are trying to achieve.
Solar Heat Gain
Solar heat gain is crucial in ensuring the building does not overheat, particularly on the north-facing side. This is especially important in the hotter months of the year when solar energy is at its peak. To fully consider solar heat gain, we recommend sending us your plans and using the Modelling method as explained in our R-value guide.
Glass pane sizes
Another key consideration is the size of your window panes. The common Low-E glass thickness is 5mm and has a toughening size limit of 1800mm by 3000mm. For 4mm Low-E glass, the maximum size that can be toughened is 1000mm by 2200mm. For thicker panes, such as 6mm to 19mm, the toughening limitation is 2800mm x 4800mm.
Glass Impact Rules
All glass rules are based on the Human Impact Safety Glazing requirements as outlined in NZS 4223.3:2016. One crucial factor to consider is the distance from the finished floor level.
Ground Floor
Where possible, try to position the sill of all ground floor windows at a minimum of 800mm from the finished floor level. This will minimise extra costs for your client.
First floor and above
Try to ensure the sill height of all ground floor windows is at a minimum of 800mm-1000mm from the finished floor level. This will help to minimise extra costs for your client.
Glass Impact Online Tool
To help you with the glass impact requirements, the Window and Glass Association has a useful tool to guide you. Simply answer the questions to get your recommendations.
View our range of glass options
3. Window and door configurations
Your window and door configurations play a pivotal role in both aesthetics and functionality.
Windows
For a more economical and visually appealing building, we recommend opting for simple window designs and fewer total openings. For example, full-height sashes provide ample natural light and look uncluttered, compared to mullions and transoms.
View our range of window configurations
Doors
We recommend sticking with sliding doors and full-height panes of glass for a stylish and functional combination. These maximise natural light without compromising the aesthetics of your building.
4. Windzone
Always ensure you have the correct wind zone noted in your plans and there are requirements to consider according to the scope of NZS3604. These depend on the building's structural design, such as the number of stories, E2 Risk Matrix, and other factors.
This could result in your project becoming a Special Engineering Design (SED) and require wind calculations in accordance with AS/NZS1170.
For extra high wind zones or Special Engineering Design buildings, we recommend getting a wind report completed. This will show the Ultimate Limit State (ULS) and Serviceability Limit State (SLS) pressures on the face of the building.
5. Frame Types
Window frame materials
When choosing window frames, start by choosing the best window frame material. Wood and uPVC are used, however, they are more likely to deteriorate over time when exposed to the elements. Aluminium, on the other hand, is more commonly used as it is known to be strong, durable, and low maintenance. It's also recyclable, corrosion-resistant, UV-resistant, and lightweight.
Insulation
Secondly, think about insulation. In aluminium frames, thermal breaks help to reduce heat transfer. Also, it's important to consider the number of cavities and the size of polyamide strips as these impact the thermal performance of aluminium window frames.
For example, let's compare a UNO thermal frame with two inferior frame configurations.
A frame with 10mm smaller thermal strips and similar cavities results in a performance reduction of approximately 23%.
A frame with single skin (fewer cavities) and smaller thermal strips results in a performance reduction of approximately 27.5%.
Window Profile Size
When comparing the size of the profile's heights, the uPVC profiles are much bulkier and approximately twice as high as aluminium. This impacts the amount of visible glass area and therefore reduces natural light. On a 1200mm by 1800mm window, you can lose around 10%* of the visible glass area by using a uPVC frame instead of aluminium.
*Taken from the top of the sill.
Design flexibility
To ensure your windows complement the rest of your building's design, you need to decide on colours and finishes. Unfortunately, uPVC frames are available in a very limited colour range. However, aluminium can be coated with various colours, such as those in our Interpon Powdercoat range.
6. H1 Consideration
The New Zealand Building Code H1 standards for energy efficiency have increased for both residential and commercial buildings. The standards require certain building elements, including the windows, walls, roof, and floor, to achieve a higher R-value than before.
Here at UNO Windows and Doors, we recommend using the Calculation Method to determine your R-value requirements. For more information on how to calculate an R-value and the best way to comply with requirements, download our helpful guide to R-values and H1 requirements in New Zealand.