From housing projects to farm supply stores, the UNO team has completed a variety of projects around the North Island.
In this article, we share some of our favourite projects around the Auckland, Waikato, Taranaki, and Wellington regions. Read on to get inspired for your next project and see how our windows and doors look in various residential and commercial settings.
Taranaki
From our factory in Hāwera, we have worked on many exciting projects around the Taranaki region.
Commercial
Todd Energy
In 2018, we supplied windows and doors for the purpose-built Todd Energy commercial facility in Tikorangi. This office building was built to accommodate employees and link a new control centre to the existing McKee Mangahewa Production Station in North Taranaki.
The main requirement for this 940m² facility was that it could withstand high winds and earthquakes, due to the location of the premises. Additionally, it needed to be durable enough for a commercial setting while adhering to the strict project timeline.
We supplied 25 window and door units with a selection of large windows, awning sashes, and commercial hinged doors and automatic doors. The Silver Star Kinetic Duratec powdercoat was chosen for its hard wearing finish and excellent colour retention.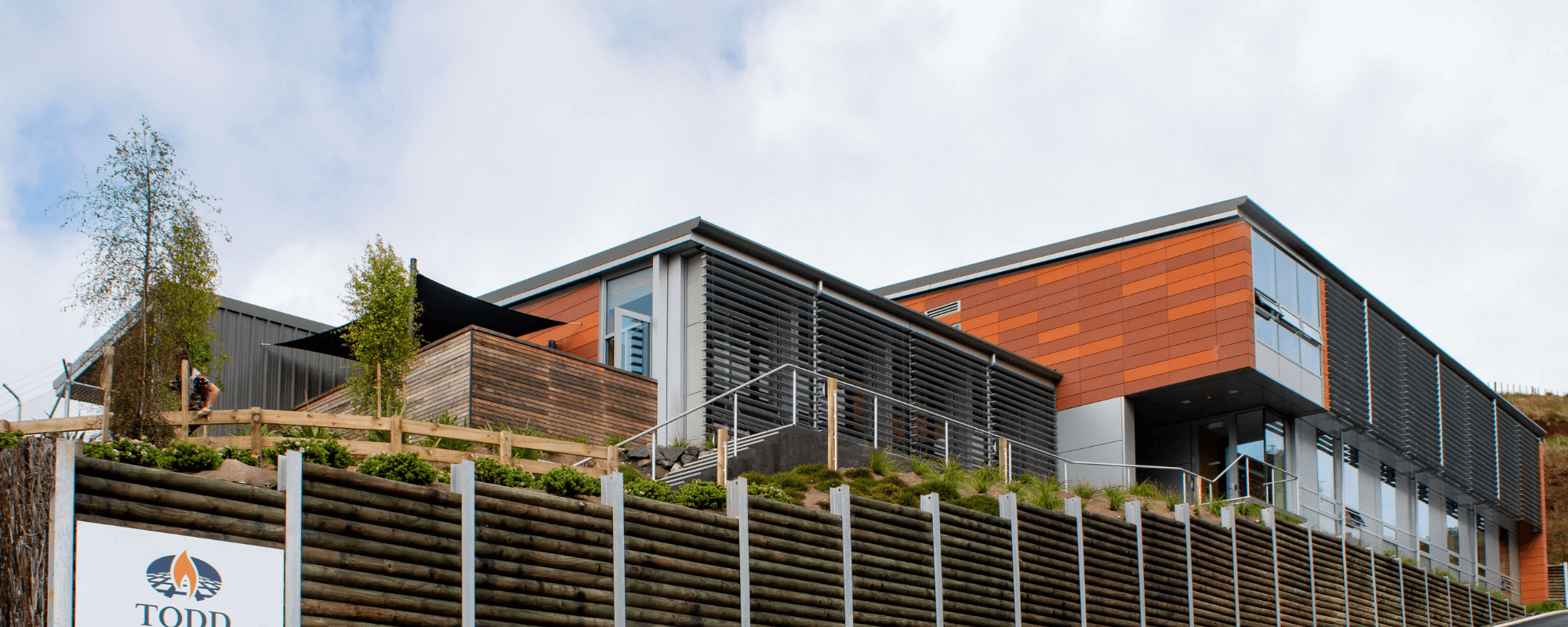 New build
Mangorei Road home
This Kiwispan home in Mangorei is a perfect combination of rustic charm and modern living. The brief for the windows and doors was focused on functionality, elegance, and ease of use. It was also vital that they tie in with the timber cladding, ebony steel, and the surrounding rural landscape.
We supplied 20 premium window and door units for this home, all with clear double-glazing to highlight the extensive views. We also colour-matched the joinery to the Ebony Colorsteel to complement the architectural design.
For maximum functionality and safety, the sliding doors also have flush sills, flowing out to the expansive deck. Another highlight of this home is the large angled windows on the northern side which align with the roofline.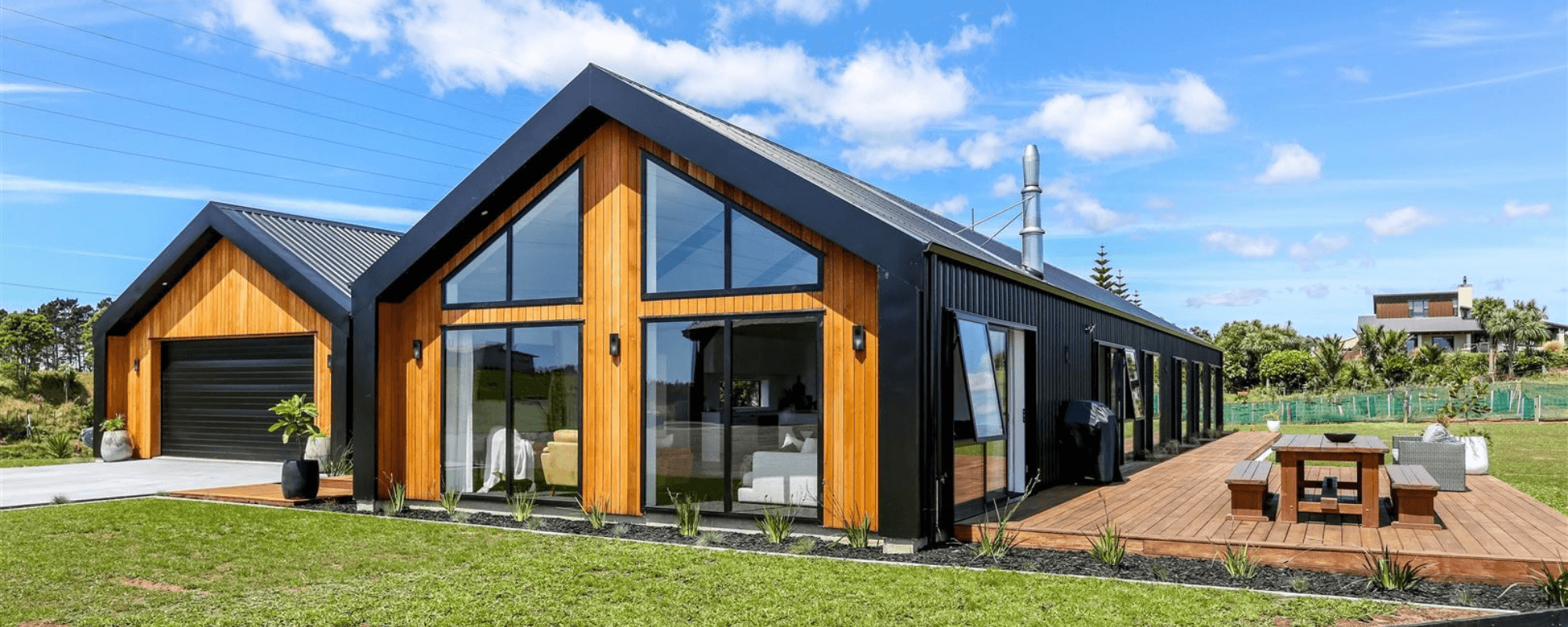 Multi-Residential
Waiwaka Apartments
These contemporary townhouses in Strandon were designed with a focus on minimalism, practicality, and effortless elegance. The black exterior is striking against the pōhutukawa trees, with vertical louvres and cladding creating a subtle linear effect.
With so much exposure to coastal air, the joinery for this project needed to be durable. To achieve this, the UNO team used entrance doors, slider doors, and awning windows that are expertly designed to withstand the elements. This development features 24 window and door units in Matt Black powdercoat, one of our most popular key colours.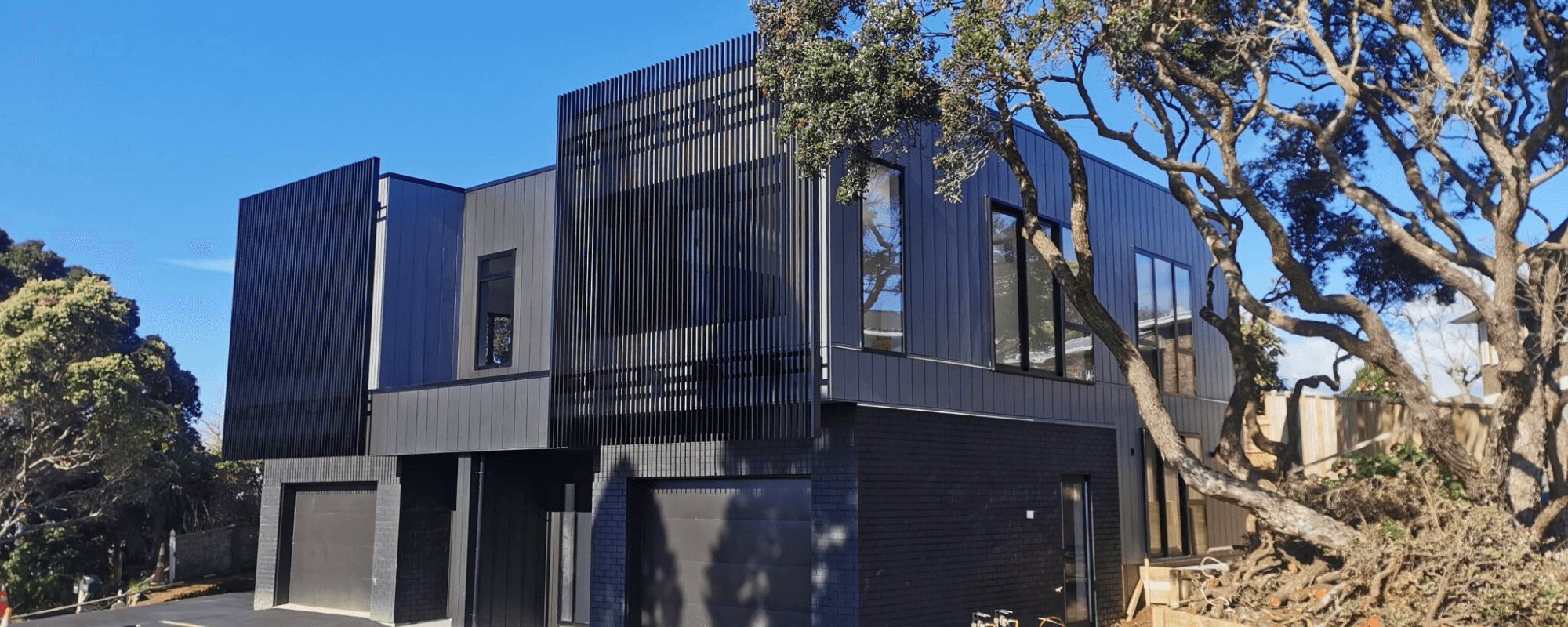 Waikato
We often supply windows and doors for various clients in the Waikato region. These are some of our favourite projects we have completed in the mighty Waikato.
Commercial
Bidfood Hamilton
This Bidfood distribution centre in Hamilton was built to meet regional demands and support local suppliers. The objective of this new office and warehouse complex was to increase their capacity for product distribution within the North Island.
For this project, we worked with Q Construction, supplying aluminium windows and doors of commercial grade. It was also critical that they were installed accurately and on schedule so that the new site was ready for use.
We supplied and installed 22 shopfront units from our commercial suite. Each unit is complete with Stopsol double glazing for privacy, and finished with the Duralloy Silver Pearl Kinetic powdercoat finish.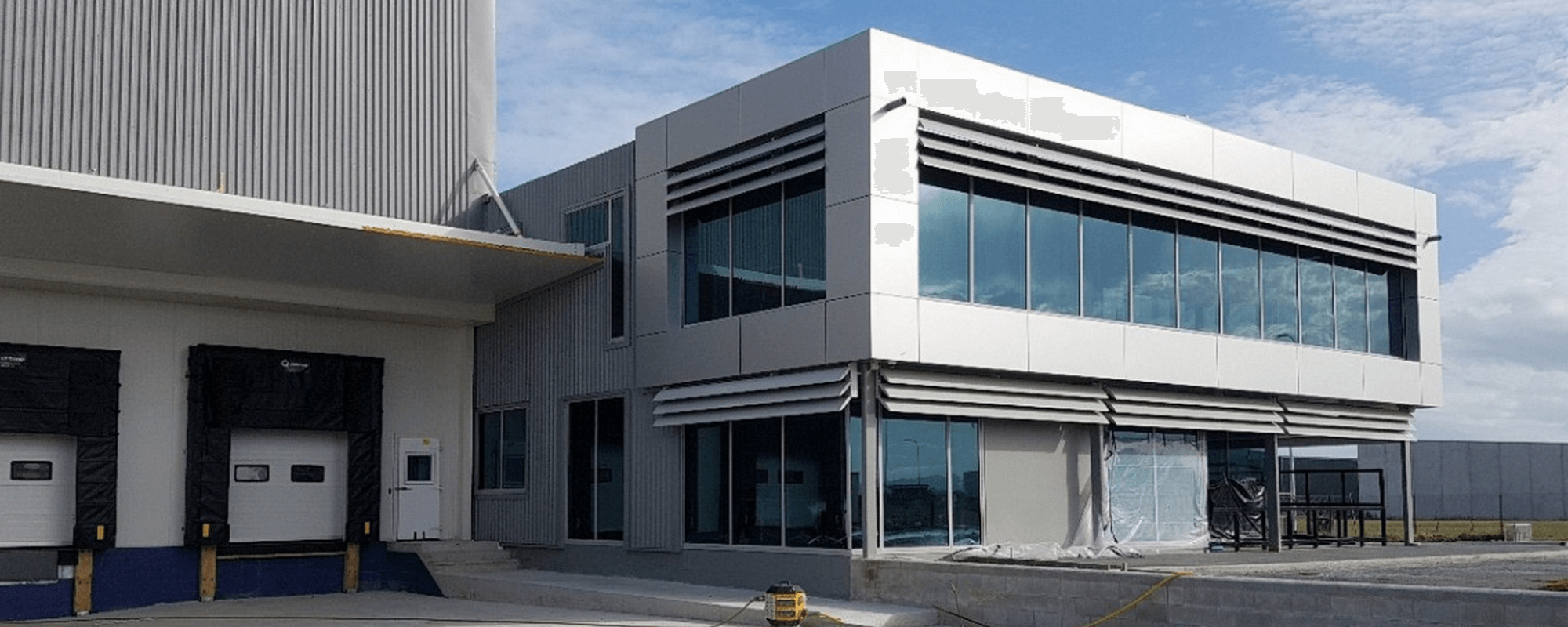 Kmart Hamilton
The Hamilton Kmart store was a large project, with 6 window and door units supplied by UNO. The priority for this project was durability and functionality, ensuring the building was built to last in a commercial setting.
We manufactured and installed all 6 of the windows and door units from our commercial suite, this included large flushglaze shopfront and 3 auto doors. The selected colour was Silver Star, tying in with the rest of the building and the Kmart branding.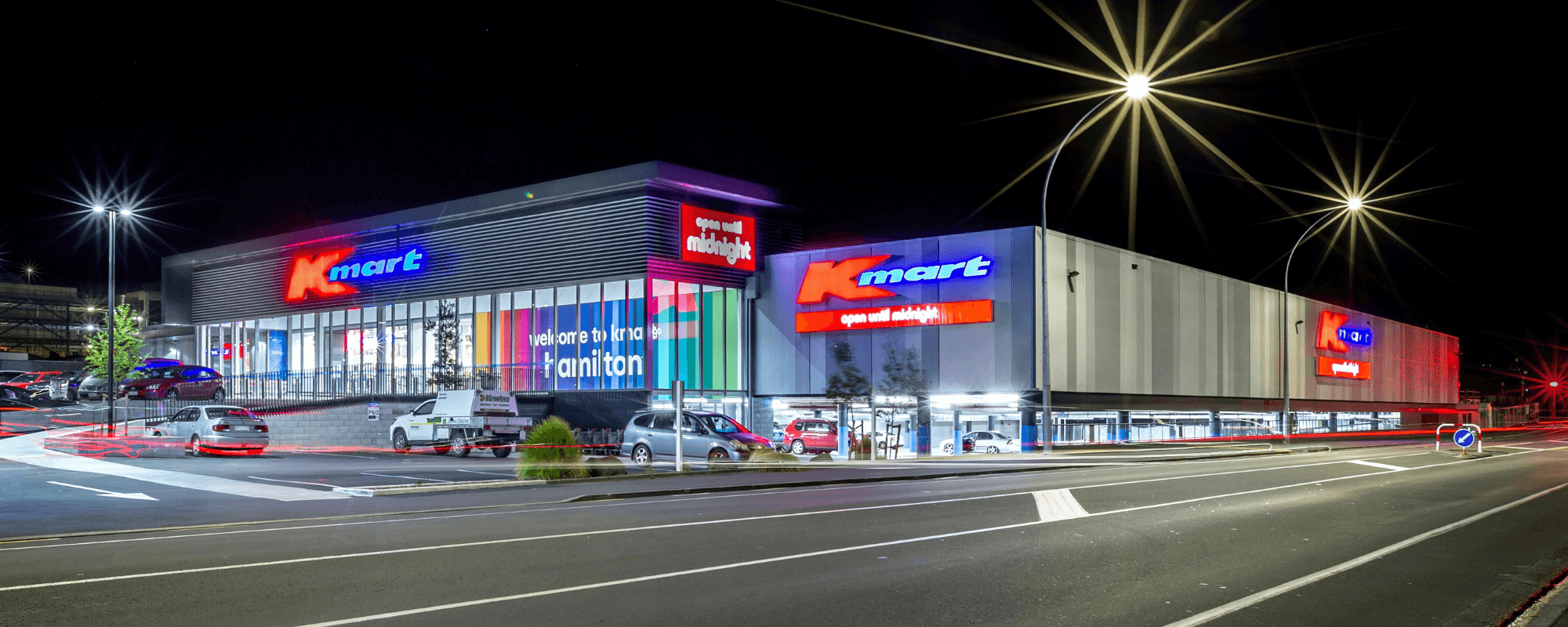 Multi-Residential
UOW apartments
This recent project for the University of Waikato was proof of our factory efficiency. With 117 window and door units required and a strict deadline, we had to work quickly to supply the units on time.
Completed in 2019, these student apartments on Silverdale Road are highly functional and durable. The joinery consists of awning windows, sliding doors, and hinge doors, all finished with a Matt Black powdercoat.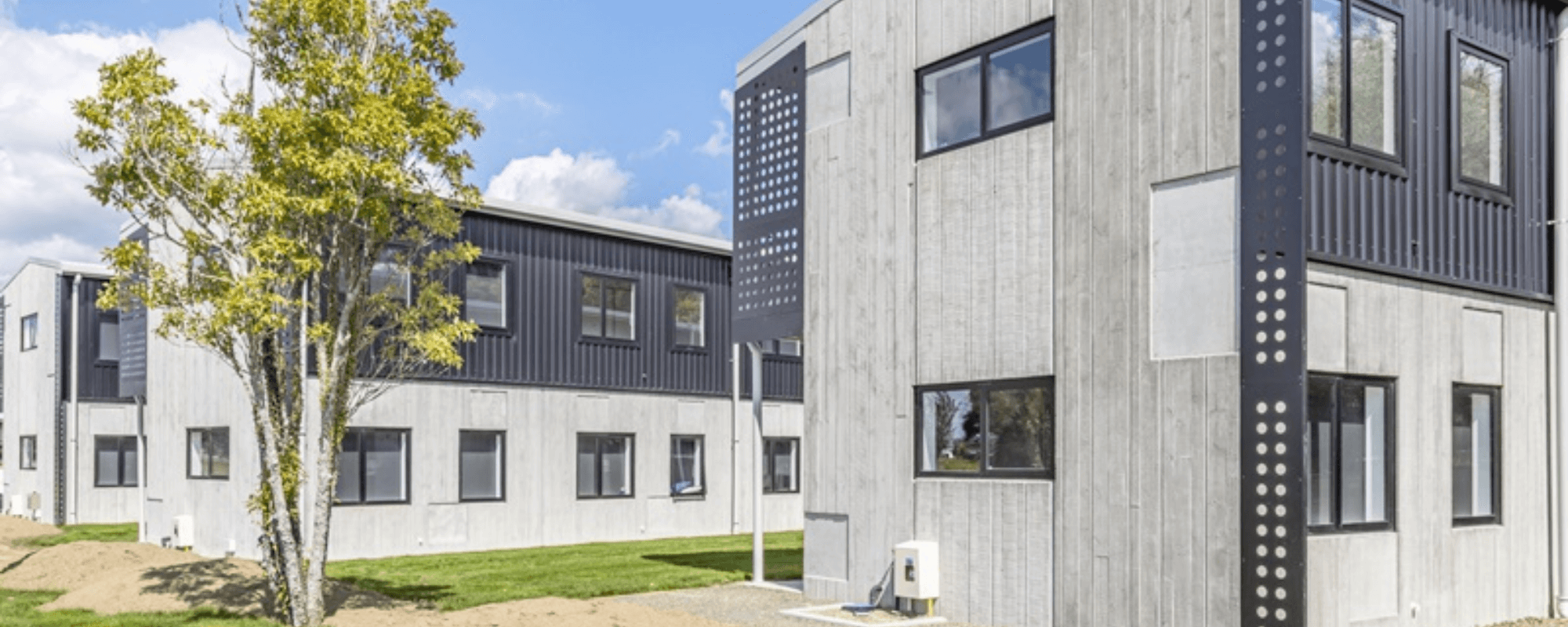 Wellington
Just three hours away from our factory, Wellington is one of our most common project locations.
Commercial
ABI Rehabilitation
In Porirua, the ABI rehabilitation centre was built to provide Traumatic Brain Injury (TBI) and Stroke rehabilitation services. The new building is opposite Kenepuru Hospital and is 2,000m².
Completed in June 2020, the main theme of this project was to foster a connection with nature and stimulate a calming environment. To achieve this, we supplied 102 windows and doors to maximise views and provide access to the sheltered courtyard.
The joinery is all from the UNO commercial suite, complete with fixed windows, casement windows, and automatic doors. The client chose to finish them with Matt Black powdercoat and opted for clear double glazing.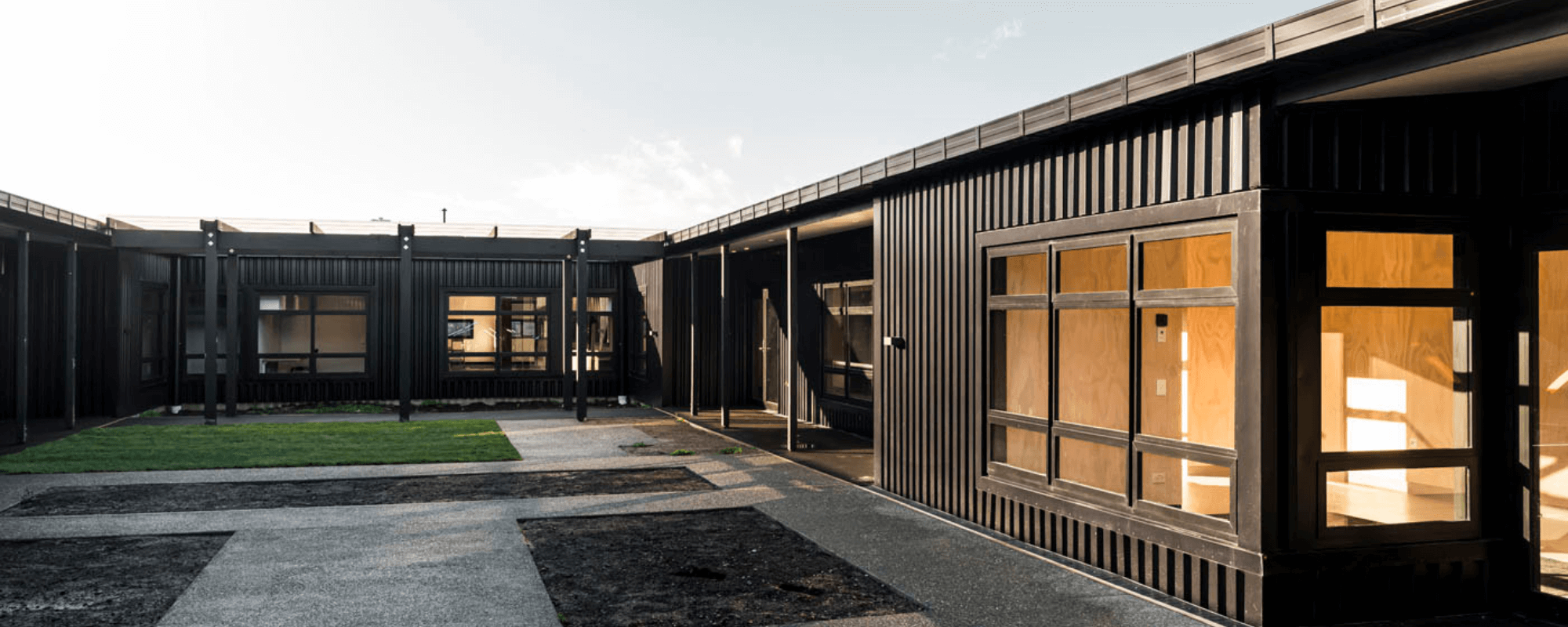 New build
Birdwood Road
Every detail in this 236m² Birdwood Road home is expertly designed to maximise space and enrich the homeowner's lifestyle. The strategic layout features 4 bedrooms, 2 bathrooms, 3 car garaging, a walk-in scullery, a private courtyard, and an open stairwell.
We were proud to work alongside Friday Homes in bringing this creative project to life. With large windows, sliding doors and a sleek entrance door, this home is ideal for entertaining and enjoying some seclusion from the bustling city.
We supplied and installed 26 window and door units from our residential suite, complete with grey-tinted double glazing and Matt Black powdercoat. The configurations include double awning windows, sliding doors, and a 10TV entrance door to create a lasting first impression.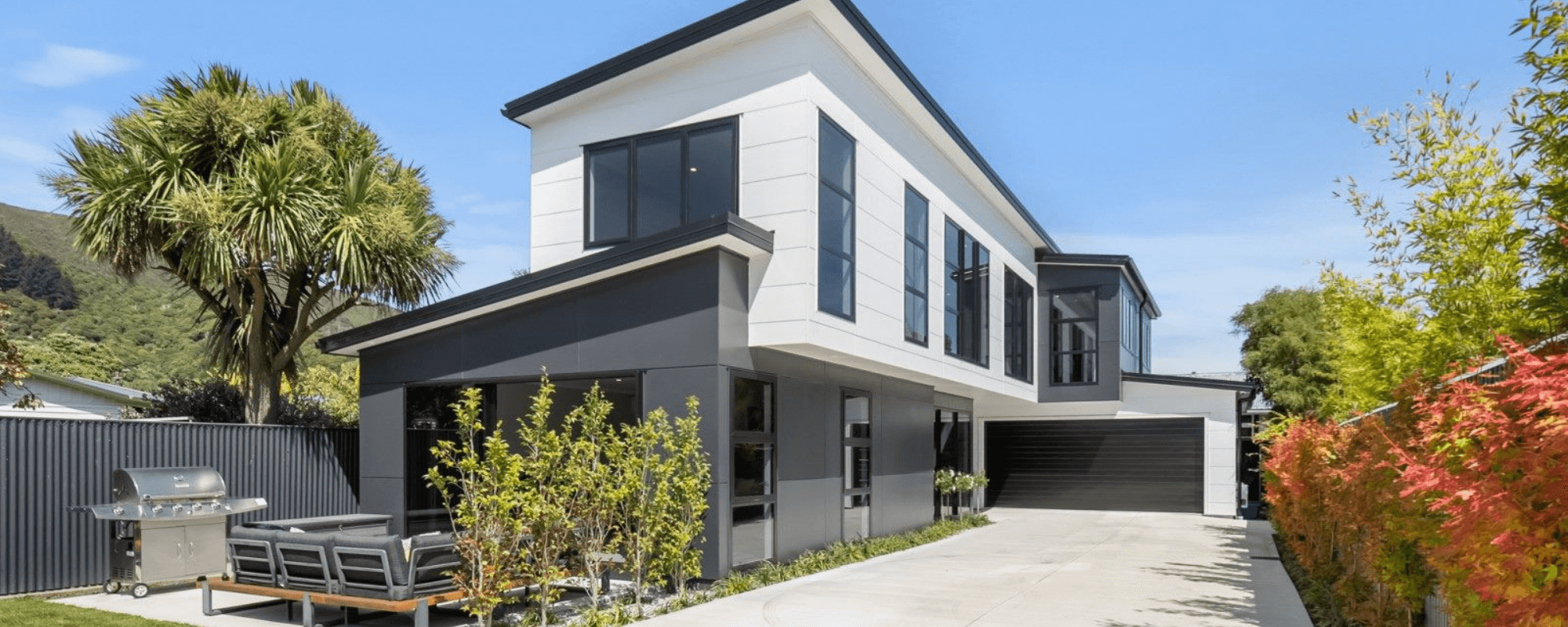 Multi-Residential
Spenmoor Street
This residential development on Spenmoor Street features 15 townhouses with economical design and modern architecture. Having struggled to find reliable suppliers in the past, the client was referred to our team here at UNO. We worked closely with them to ensure all deliveries were on or ahead of schedule.
We supplied and installed 116 window and door units from the UNO non-thermal suite. The houses feature sliding doors, awning windows, and entry doors, each finished with a Matt Ironsand powdercoat and clear double glazing.

Auckland
With such high demand for housing in Auckland, it's no surprise that we have many partners building new residential developments in and around the city.
Multi-Residential
The Nest Townhouses
As the first multi-residential project for JLS Residential Ltd, this Henderson project called for our expertise and experience. With a tight timeframe for suppliers, efficiency and accuracy were paramount.
Named The Nest, this housing development features 8 townhouses perched on the edge of the Waitakere Ranges. To transform these homes into a residential haven, we supplied 46 window and door units from our residential suite.
The client chose a range of awning windows, sliding doors and hinged doors, each with clear double glazing and a Matt Appliance White Duralloy powdercoat finish.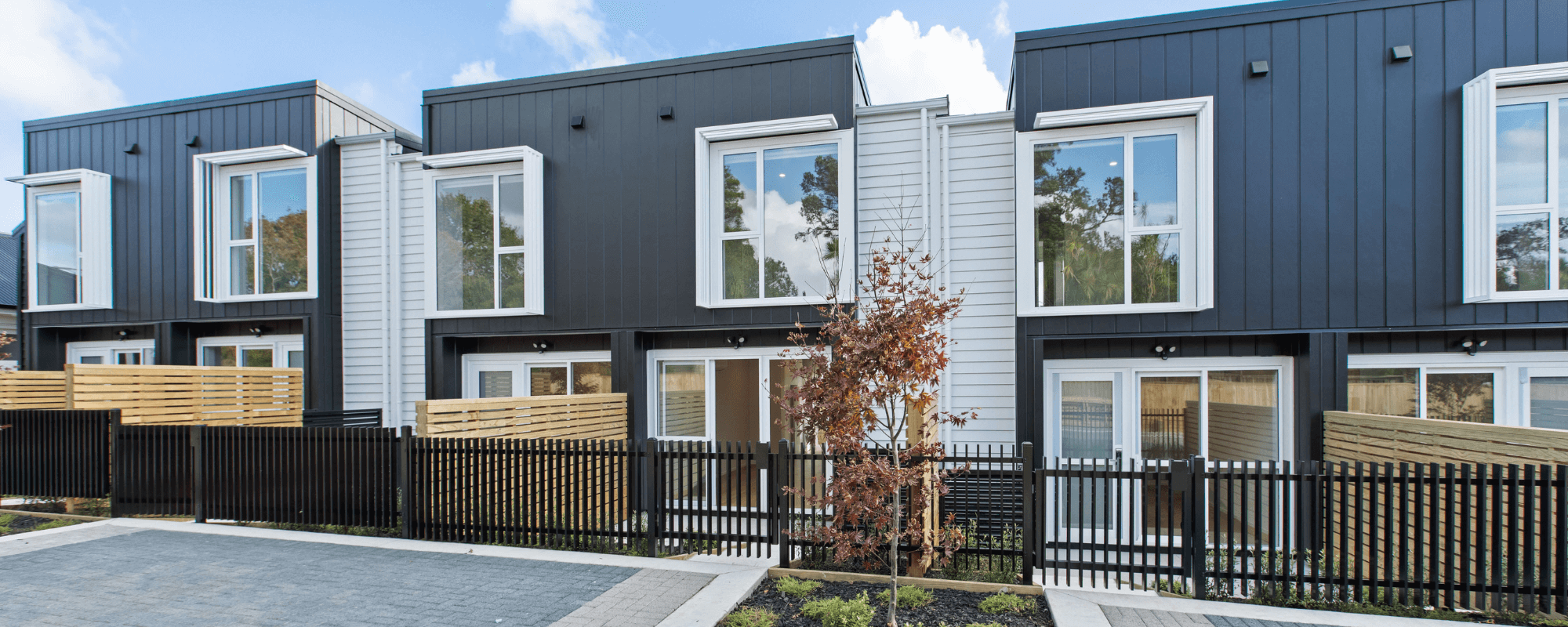 22 James Laurie St
Just down the street from The Nest, 22 James Laurie Street features another ideal residential design for modern living. The interior is complete with timber floors and minimal fixtures while the exterior is sleek and low maintenance.
Our main objective for the windows and doors was to maximise natural light and expansive views, while still creating a sense of privacy. The range of sliding doors and awning windows also makes it easy to create airflow and increase sunlight.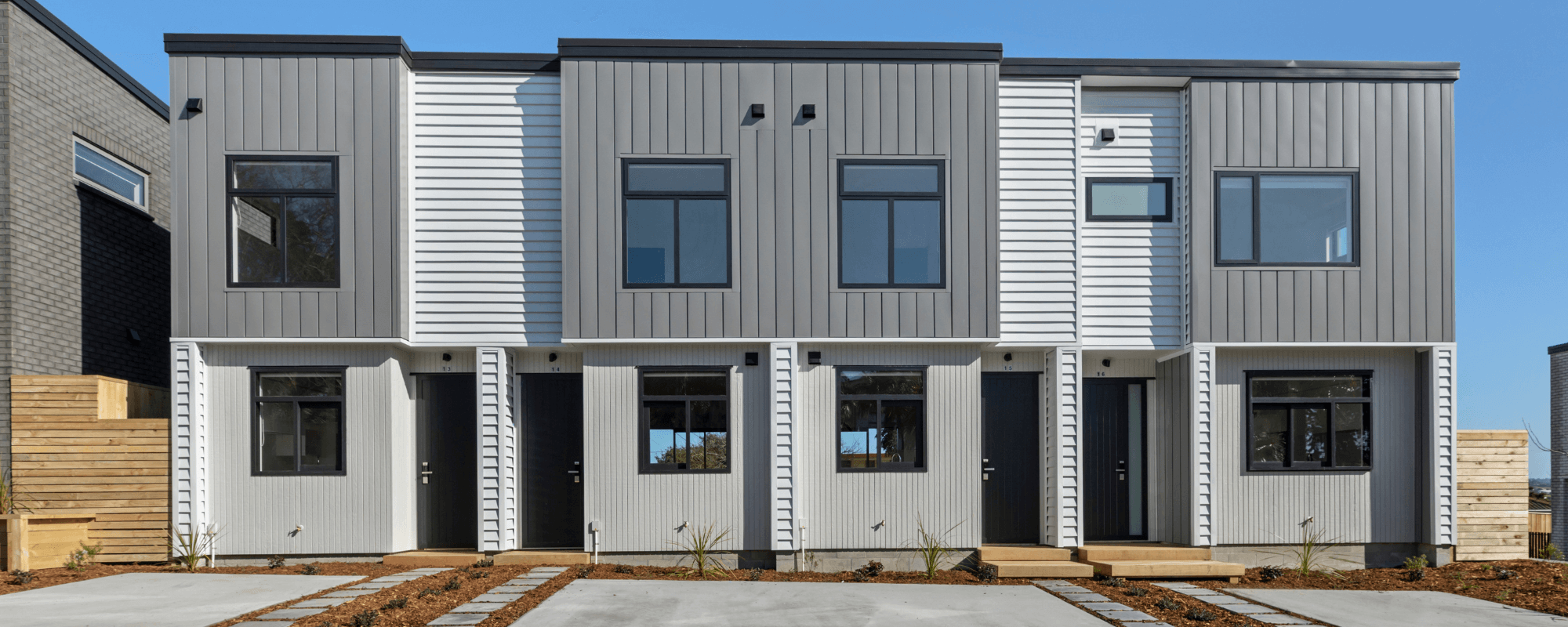 Windows and doors NZ
Here at UNO, we love working on both commercial and residential projects. We are proud of our aluminium windows and doors – and for good reason. They're tested to meet and exceed NZ Standards, they're extremely durable, the frames are consistent across our entire range, and they're easy to clean.
To get started, you can download our technical files or request colour samples to inspire your architectural design. Or, find other useful resources from our residential and commercial suites below.
Residential windows
Ask our team about the UNO Residential Suite, complete with a wide range of configurations. You can also download our multi-residential brochure or our new build residential brochure for more details.
Commercial windows
Ask us about the UNO Commercial Suite. You can also download our light commercial brochure, filled with specifications and inspiration from other commercial projects we've completed.